Introduction.
To survive in a competitive market, you need to be aware of new trends in your industry. You should also know that over 72% of companies use social media data to make informed enterprise decisions.
So how can you rise from the competition and ensure your business is successful? Is by using social media from the get-go.
Social media has an advantage over traditional media because it can get your brand in front of people quickly and easily.
Furthermore, it gets your audience looking at your brand even when they aren't thinking about your brand or product, and we all know that it can spark particular interest.
Another benefit of using social media is that One of the most significant benefits of social media marketing is a bump in search rankings.
Did you know Google looks at your social media presence when determining where your business will rank on SERPs (search engine results pages)? This is called EAT (Expertise Authoritativeness and Trustworthiness).
I wrote a comprehensive guide on understanding EAT; you should follow the link below to the article.
Social media has become a perfect place to go if you want to learn more about your customers. Knowing your audience is crucial to the success of your business.
Social media can also show you all you need to know about your audiences, such as demographics and feedback.
But the bad news happens when you have to manage them all at once yourself; imagine having to post one at a time across social media platforms such as Twitter, Facebook, and Google my business.
The good news is that various tools have been designed to make managing your social media an easy task.
I did my research before highlighting this singular platform to be reviewed in this article, and you can check them out by following the link to the article below.
Disclaimer.
Readers are acquainted with affiliate links, and when a user clicks one of those links and makes a purchase, the blog owner makes a small commission.
What is Missing Lettr?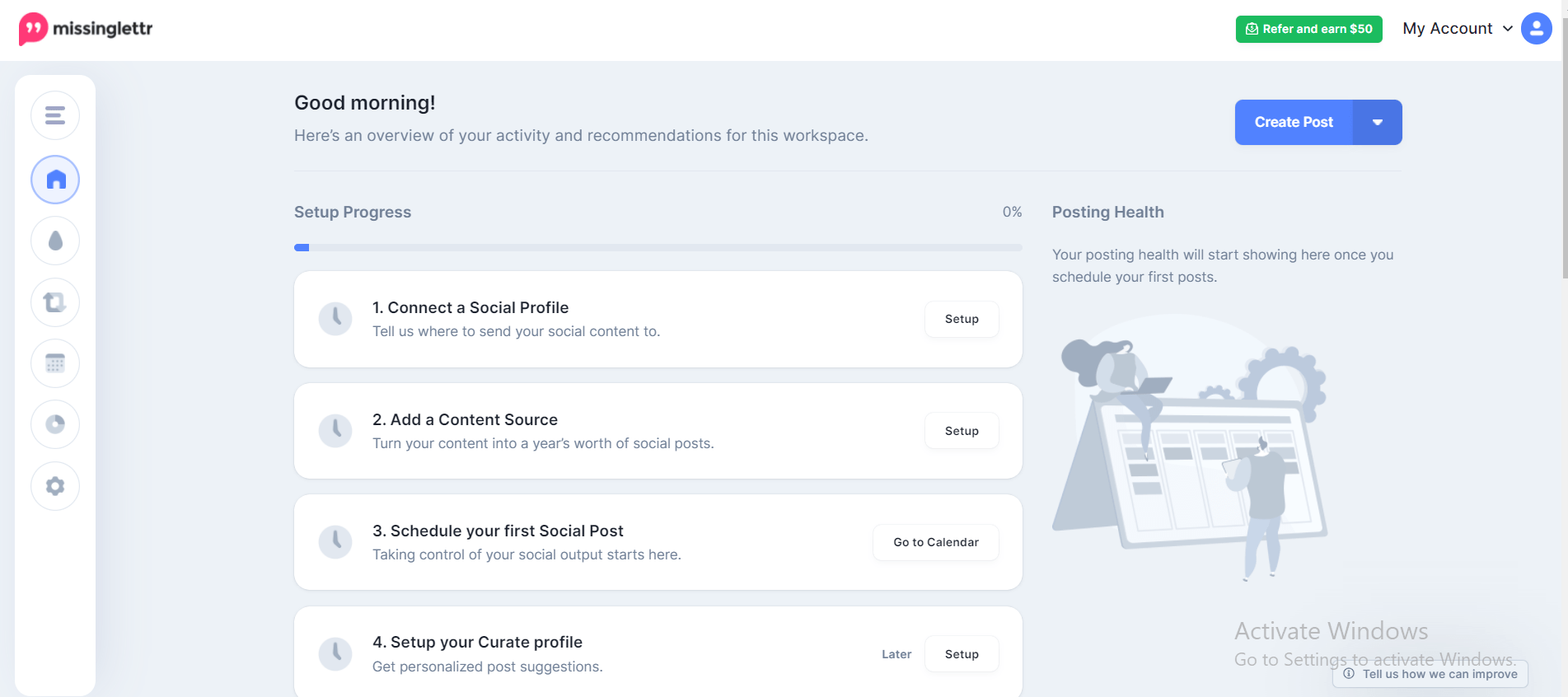 Missinglettr is a social media campaign and management tool designed to automate your campaigns across various social media platforms such as Facebook, Twitter and LinkedIn and Google my Business.
With MissingLettr, you have all you need in just a click of a button; you need to register, connect your social media profiles, and configure a few campaign settings.
As soon as setup is completed, Missinglettr will run on autopilot through artificial intelligence and deliver a year's worth of social media posts while you relax and enjoy the ride.
I was wondering how that happens? It combines your blog post entries and curated content from other resources in your niche afterwards, aggregates them, and sends out the best that suits your business.
Why Manage Your Social Media Presence with Missinglettr.
Content marketing is one of the most cost-effective ways to bring traffic to your website, and more and more businesses are getting on board with this by writing and sharing helpful blog posts for their audience.
Creating great content for your blog is not enough. Also, it would help if you considered sharing it and re-sharing it across various social media platforms to reach a broad audience.
This is often overlooked because of the time it takes from your already busy schedule, and you are prone to forget.
MissingLettr as a social media management tool helps businesses achieve so much leveraging on minimal effort.
1. It Utilizes Drip campaigns.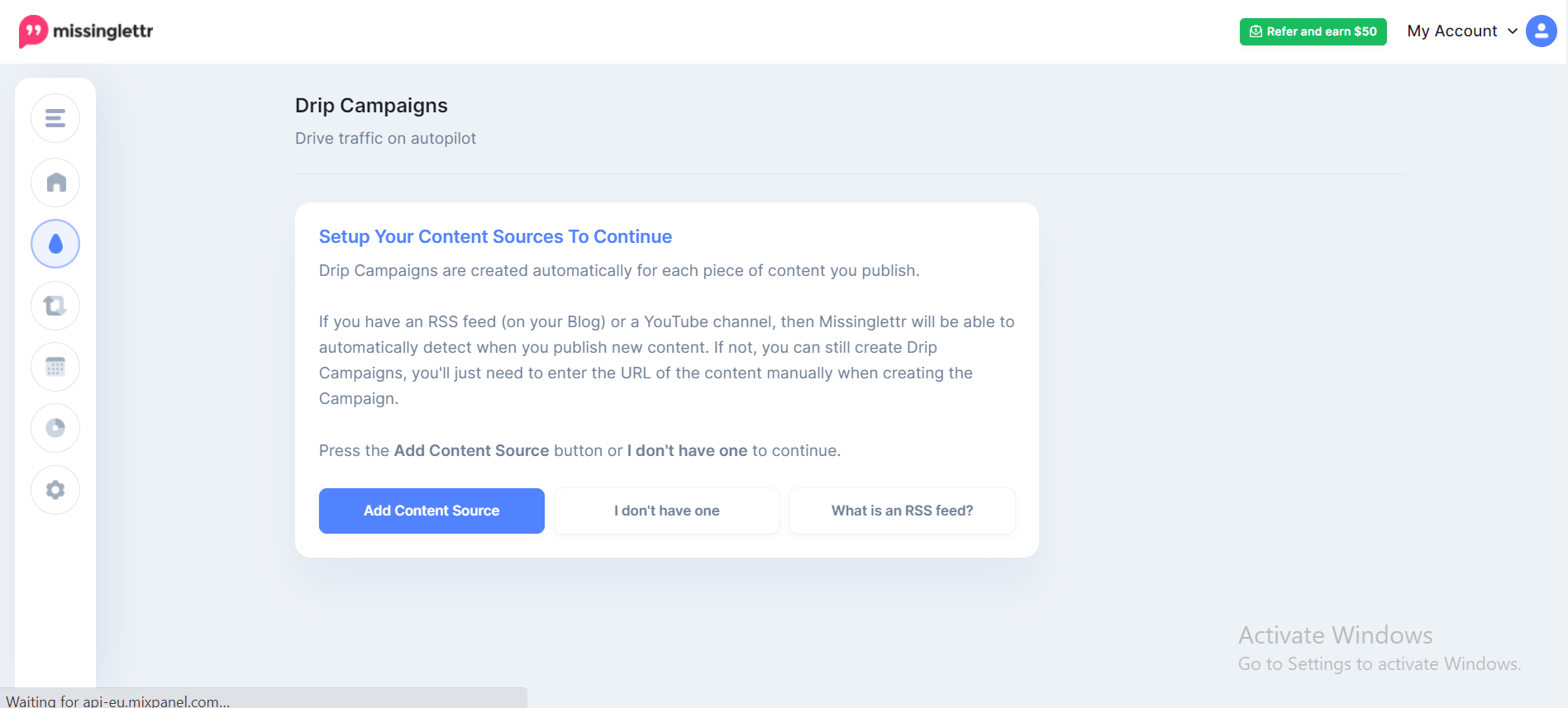 Drip campaigns allow you to turn every post you publish on your blog into social media content.
The Missinglettr's AI technology is designed to go through every blog post on your site and analyze them.
It looks for your best blog posts and finds the right hashtags and images to use before publishing them on your social media accounts.
This brings new life to all of your previously published blog posts, and if you add recent blog posts, Missinglettr will automatically add them to your social media calendar.
2. Schedule posts with Calendar.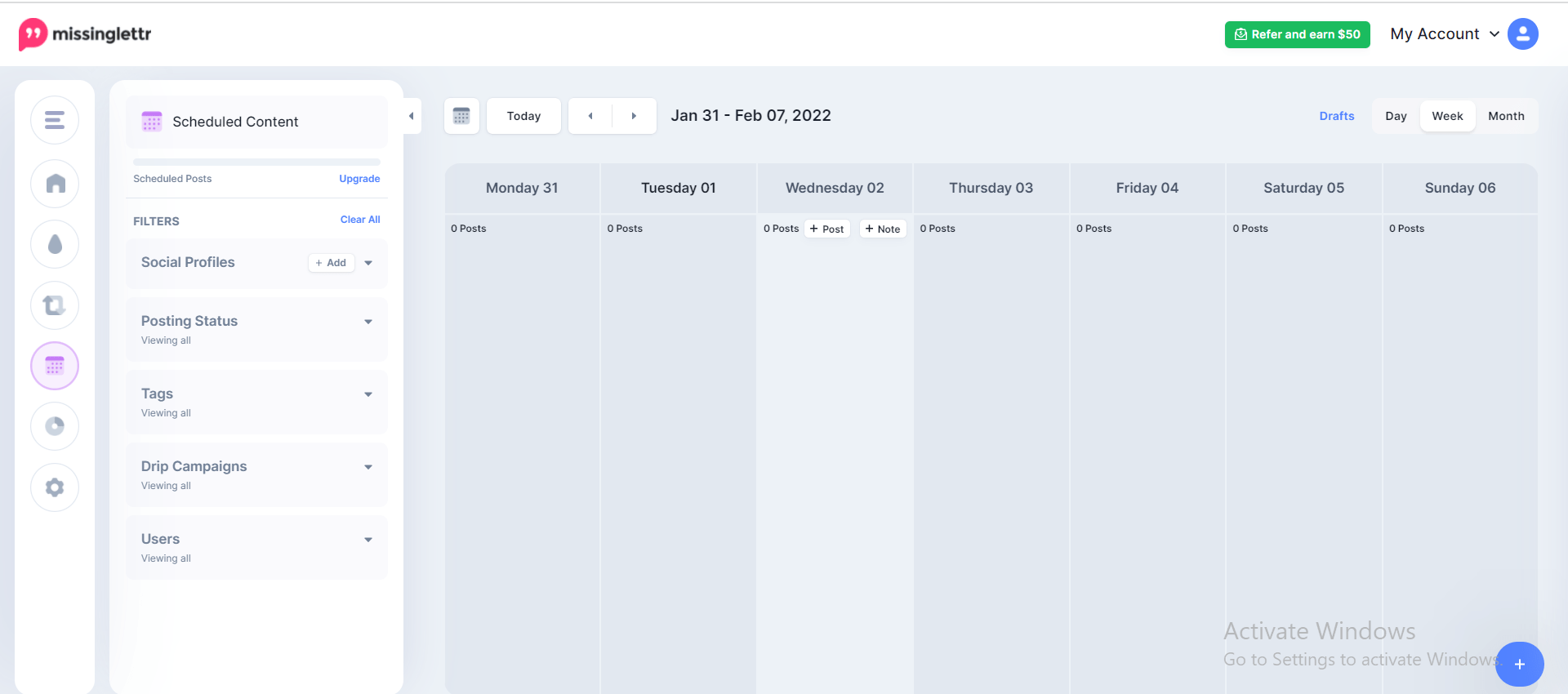 A content calendar is an editorial calendar or publishing schedule. Failing to plan equals planning to die; a detailed calendar is a key to keeping your social media campaign as organised and strategic as possible.
Social media manager uses Calendars to control the content across different social media. You don't want always to be online all the time; you need proper budgeting and planning.
At the heart of Missinglettr is its Calendar feature, which allows content creators to build up their marketing schedule.
The Missinglettr calendar is where you handle everything. It lets you review scheduled posts, but it also gives you an overview of your drip campaigns and curated content.
3. Getting Access To Detailed Analytics.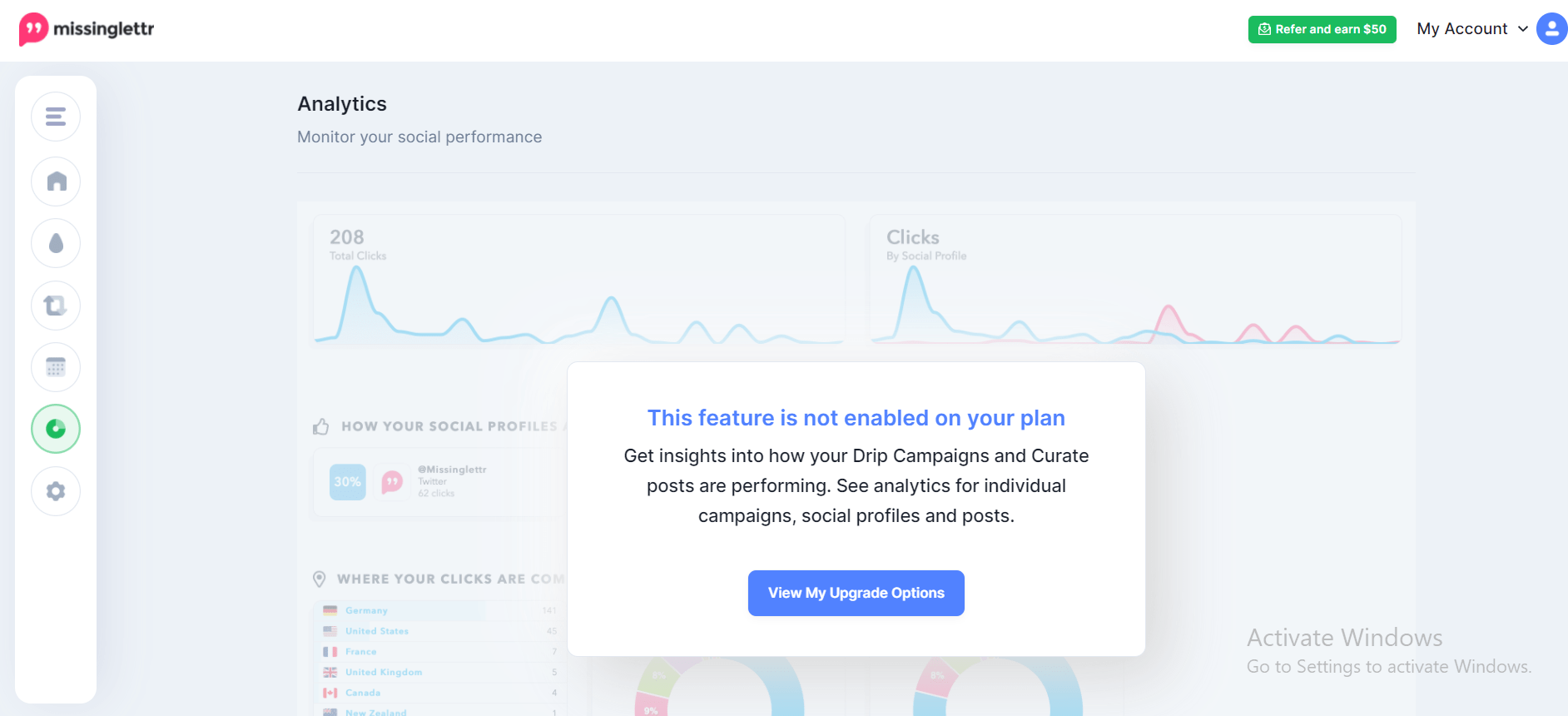 Businesses collect customer data from many channels, including physical retail, e-commerce, and social media.
Missinglettr analytics tools give you insight into your campaign performance across all social media platforms.
The good news is that you no longer have to log into different social media sites to see other metrics. Instead, all can be accessed from within Missinglettr.
You will know which social media channels are best for your business, but you also get to know what time is best for publishing your content.
And finally, you will find a breakdown of your audience demographics such as browser, location, and lots more.
4. In-built Curation activities.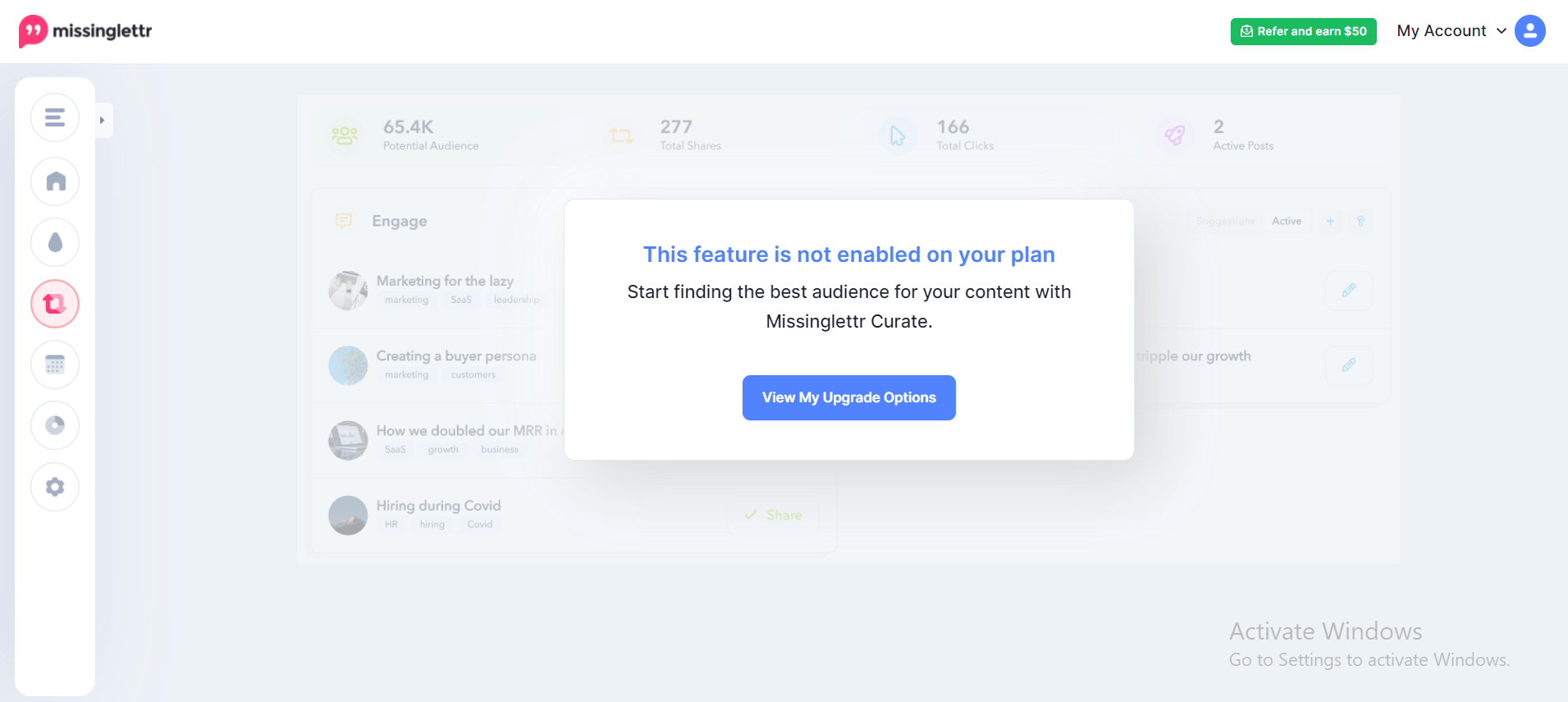 Finally, another social media marketing feature that Missinglettr offers is an optional add-on called Curate.
Curate allows you to find engaging content to share with your audience. You can also use the platform to share your content with other Missinglettr users.
Missinglettr comes built-in with a library of more than 4M content ideas alongside its platform.
This is a great feature to use, especially for users who don't have the time to find content to share with their audience.
It would help if you searched for a particular topic and you get various suggestions that suit your use case.
MissingLettr Plans and Pricing.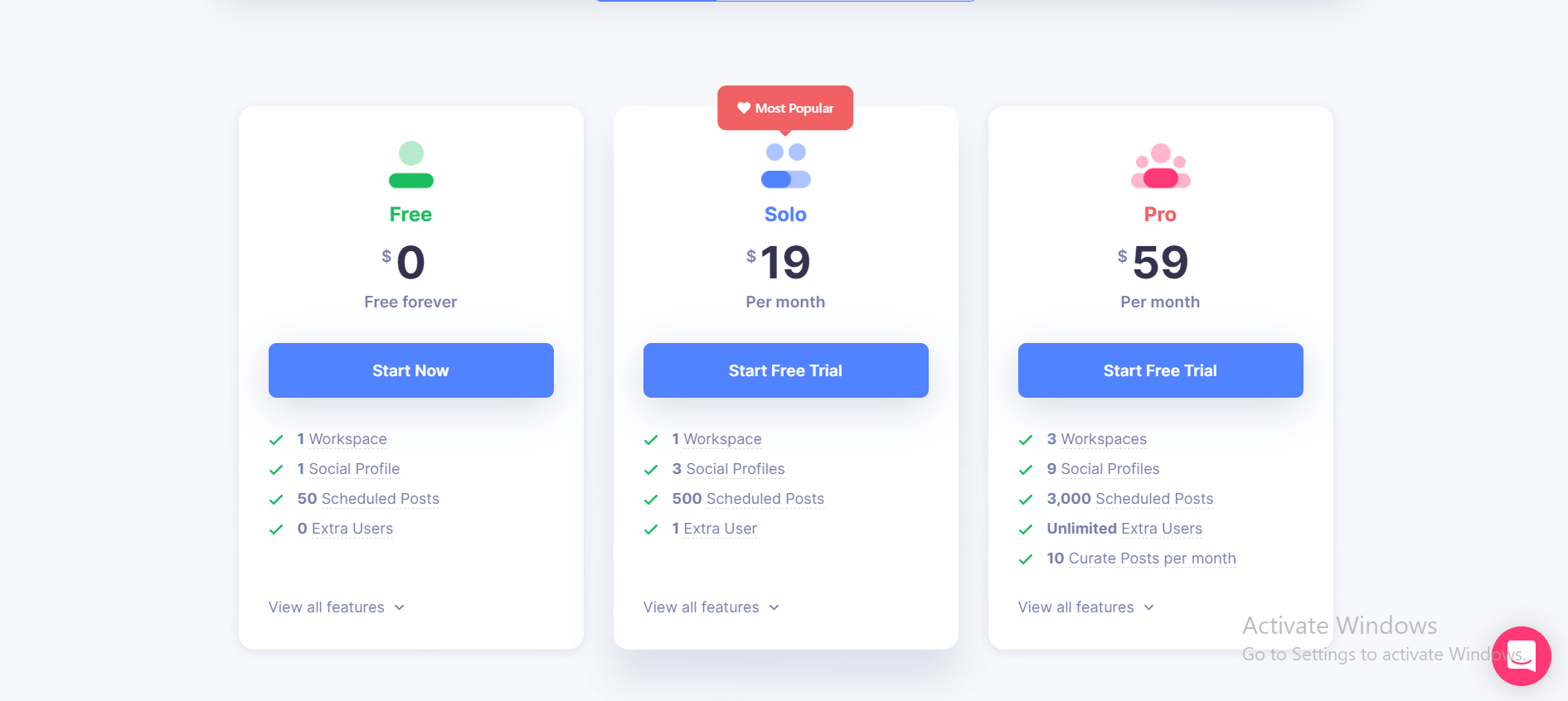 Missinglettr has three different pricing plans, depending on your business needs; these plans are described below.
The first plan, called the 'Free ' plan, is targeted at independent bloggers and costs $0
With this plan, you get one content source, three social media profiles, schedule 50 posts and have one admin user.
You also have access to features such as automating campaigns, Manual campaigns, a campaign editor, and the URL shortener for advanced analytics.
Next in line is the 'Business' plan targetted at more prominent businesses, which costs $19/month; it includes all of the features discussed in this review.
This plan lets you have up to 3 content sources, eight social media profiles, and 500 scheduled posts.
And finally, there is the "Pro" plan which costs $59/month. The agency plan includes all of the 'Business" plan features but lets you have up to 7 content sources, 9social media profiles, 3,000 scheduled posts, and unlimited users.
The Pro plan also has added benefits such as priority support, a white labelling option, client accounts, individual PDF reporting for clients and a multi-site dashboard and calendar.
The Pros and Cons of Using Missinglettr
As with all software, Missinglettr has its upsides and downsides; in this section, let's take a look at the pros and cons to decide what to take and not to take out.
Missinglettr Pros
1. You can start for free, with the free plan integrated.
2. Missinglettr makes social media marketing for blogs easy and helps you share them.
3. You can automatically generate years worth of content from your existing and new blog posts in just a couple of minutes.
4. Missinglettr generates recommended hashtags for you to choose from, and you can also set default hashtags that get used on every post.
5. Templates are provided for you to choose from for your social media campaign, and you can customize them to match your branding.
6. The software is easy to learn and use, and there are webinars and training available if you need any help getting started.
Missinglettr Cons
1. The analytics provided by Missinglettr isn't great, and it's severely lacking.
2. Limited templates to choose from. However, with only a handful of templates to choose from, you are hamstrung to create imaginative designs that stand out from the pack.
Conclusion.
Missinglettr is a great tool that you should use to promote your blog content. Missinglettr helps you as a content creator squeeze every last bit of juice out of each piece of content you have created so that you get to make the best use of your content.
No matter what type of business you run, you should integrate content marketing as part of your marketing strategy.
Missinglettr can save you hours each week by taking each of your blog posts and creating a 365-day social media campaign from each one.
The truth is that there are other social media scheduling tools and marketing tools out there. Still, the thing that makes Missinglettr unique is that it does the hard work of putting together each post for you and sets it to a schedule, which you would need to do yourself on most other social media scheduling tools.
Like I always say to my audience, a trial will make a difference. So here is a link below to get started.
TRY IT NOW – MissingLettr.com