Introduction.
Everyone needs additional income, no matter how small that could be.
Having additional sources of income is a necessity these days, and must always be worked for.
Due to the disruption happening in every industry, the high rate of unemployment & innumerable lost jobs is keeping the salaried & self-employed worried.
There's no guarantee for how it can be tackled & securing your present job.
Having a side hustle is one possible means that can help mitigate the effect of the current job loss.
In this article, I will share one of those side-hustle that can help add some income to your pocket, and that business is ride-hailing.
Do you have the following Questions;
how to start an uber fleet business

how to start your own uber business

how to start a business like uber eats

how do I start an uber business

how to start a ride-share company

how to start a cab company like uber

how to start a company like ola

how to start an uber cab business

how to set up uber eats for my business

how to start ola uber business

how to start a business like ola
This article has been created to help answer the above questions with clarity. Make sure to stick to the end to get a comprehensive understanding.
What is Ride-Hailing(Uber)?
A ride-hailing company is a company that connects both drivers and passengers via websites and mobile apps, for hire that, unlike taxicabs, cannot legally be hailed from the street.
You need to sign up for their service, via an app or a website using your credentials and payment details to use them.
Various examples of ride-hailing businesses include Uber, Taxify, Bolt and many others.
How Does Ride-Hailing(Uber) Work?
Ride-hailing platforms like Uber provides the drivers on their platform with a robust supply of ride requests to accept, fulfil, and make income.
Ride-hailing apps like Uber act as middlemen. While making a booking, the passenger pays Uber for the ride through the app.
Ride-hailing company then transfers the payment to the partner's account after taking some amount of commission for doing the job of a broker. See The commission rates may vary from 15-30 % depending on the market.
Why Should You Start a Taxi-Hailing Business(Uber) In Nigeria?
Welcome to Nigeria, where everyone needs more than a single source of income, and if you feel you dont need one, maybe you are an In-law to Dangote, Bill Gates or Otedola.
But if you are not directly related to those people, and you have not built a business that makes you a lot of money to cover your expenses and does great things in life, then you should consider reading this section. Here are reasons to start a taxi-hailing business in Nigeria.
1. Nigeria has a huge population with a very poor transport system.
When you take out places like Lagos, and Abuja all you have left is a bunch of underdeveloped regions without a proper transport system.
Even the almighty Lagos, did not roll out a modern transport system until 2009, what we now call the BRT Buses which can be accessed using various terminals in the state.
Starting a Ride-hailing business in places like Lagos, and Abuja can help you tap into the underperforming transport system of the state.
2. You Save More Money.
Things may be going good, financially, for you now. But what if you lost your job, were out of work because of injury, or had an emergency?
A part-time job that provides supplemental income can help you create savings for the unexpected. Starting a ride-hailing business can help you save a lot of money for personal and emergency use.
3. Gain additional career experience.
Starting a ride-hailing business enables you to ride more often than usual, making you develop alternative skills to your college degree.
While most people take a second job to help financially, taking a second job can help add valuable career experience that can, in turn, be used to benefit your future career earnings and growth.
4. Your car is not making money for you.
Welcome to Nigeria where people own more than one car in their garage. Cars are cheap in Nigeria because We import lots of fairly used vehicles from first-world countries such as the USA, UK and many others.
Instead of having those cars rot in the garage, maybe it's you putting those cars to use by starting a ride-hailing business.
5. Take a dream vacation.
You have dreamed of going to Hawaii, Paris, Australia, Spain, or even anywhere in Africa. A second job is a great way to ease the burden of saving for a dream vacation.
You never can tell, starting an Uber business can help you save a lot to flex out, most especially when you convert it to a business.
How Do I Start a Ride-Hailing Business (Uber)?
Starting a Uber business in Nigeria is quite profitable. Notwithstanding, you need to know how to go about it. 
Also, the Uber business can be done part-time if you are doing another job. Here are some of the documents need to start a ride-hailing business in Nigeria, these documents may vary based on a particular ride-hailing company. Here we talk about document requirements for Uber.
1. Prepare your documentation.
The first thing you need to do to start a ride-hailing (Uber) business is to prepare your documentation beforehand. These documents vary by different countries of the world, but for Nigeria, these are what you need.
There are some of the documents we need to see:
Valid Nigerian driver's license

LASRAA card

Valid LASDRI card (Lagos only)

Minimum of 21 years of age

Driver profile photo

Safety screening and virtual info session 

Security Screening 

Virtual Info Session 

Accept and take a trip
2. Get a vehicle.
After preparing these documents, the next step is to make sure you have a vehicle or better still make provision for one that you intend to make use of.
Make sure your vehicle is in excellent working and physical condition to meet our standards in Nigeria.
The model year 2000 or newer

4-door car

Good condition with no cosmetic damage

A working radio

Your paperwork

Vehicle inspection report

Vehicle insurance

Roadworthiness certificate

A valid Hackney permit
3. Sign up online.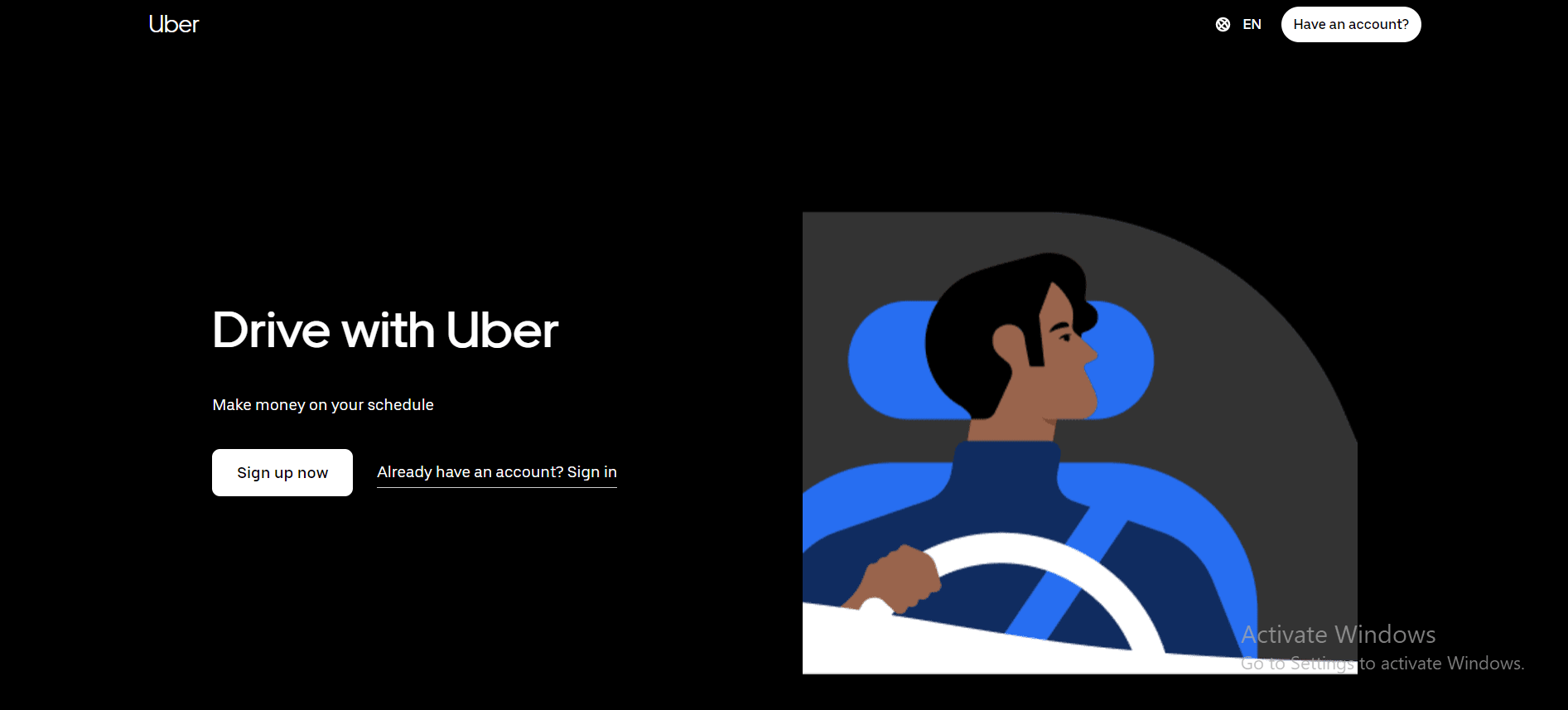 Next is to sign up online via the Uber rider platform, there are two platforms for Uber, which are the User platform and the Rider platform. 
All you need do is visit or download the rider's taxi-hailing app and sign up. Once you've completed all the above steps, congratulations! You're ready to activate your account and start making money.
4. Understand how the ride-hailing Uber Business model works
One thing I always want drivers to know is the revenue model of a ride-hailing app, here is how Uber splits revenue with its partners.
Uber drivers get 75% of the fare, while the remaining 25% goes to Uber. You might think that too much, but it is what it is.
Uber pays weekly with the business week ending at 4 am on Monday. 
On Tuesday, you'll get a report showing your activities for the week and how much you're due. Thursdays are paydays, and that's when the credit alert from your bank will come in.
As for cash rides, you're a cash collector, so you're to submit all cash accrued to your corresponding Partner. 
Uber never asks for cash. They take their percentage from whatever card transactions you might have gathered over the week, so don't worry about owing Uber cos it never happens.
5. Promote Your Uber Business.
The most important purpose that a promotion serves is that it sets a business apart from its competitors.
No business will ever need to run any promotions if there was no competition You have to stay ahead of your competitors for customers to keep doing business with you.
If there is a company that sells similar products or services to yours, you can only make customers buy from you if you have a special promotion going on.
As an Uber business owner, you can decide to rely on the platform to help serve clients while you do nothing but just ride around busy cities or decide to build your clientele.
Having your private clientele allows you to make more money because you can decide to book offline outside the Uber platform and charge at whatever cost you desire.
There are many ways to promote your Uber business, and some of them are stated in this section.
1. Tell Your clients to refer you.
Good customer service will effectively assist and empower your customers through the entire purchasing process. From pre-purchase, through their purchase and to their post-purchase experience.
If you are someone with knowledge of good customer service then willing clients over will not be as difficult as you imagine. The way you treat your clients as Uber drivers determines if they will come back or not.
One thing I always advise Uber drivers is to be at their best at all times. Make sure the air condition of your car is fixed, greet the customers as soon as you pick them off, ask them what their favourite music or radio channel is, and if your service area is Lagos where you are mostly stuck in traffic, you can offer to buy them a snack or water.
2. Share on Facebook.
Facebook's News Feed shows users the content that's most relevant to them. That means only 0.5% of your current followers will see your posted content. But if you want to reach potential customers, you can create a social media ad strategy.
Facebook ads can target your ideal audience, are measurable, and have a great ROI as a low-cost marketing option for small businesses.
The next thing you can do to promote your Uber business is to share it with your friends on Facebook.
You never can tell your next booking can come from someone on your Facebook timeline.
I wrote a comprehensive guide on how you can grow your business on Facebook. Check out the link to the article to learn more.
3. Twitter can help you a whole lot.
With millions of daily users, Twitter can be a powerful tool to raise awareness about your business, engage with customers and develop leads.
Setting up a Twitter for Business profile is simple, but it needs to be used regularly to achieve optimum results.
With the right marketing plan, businesses can use the platform to increase sales, boost brand recognition and improve customer service.
Twitter is also another platform to tell the world about your Uber business, all you need do is share a link to your followers and you might be lucky enough to land a booking closer to you.
I wrote a comprehensive guide on how you can grow your business on Twitter. Check out the link to the article to learn more.
4. Instagram is a free place.
The business spent more than $7 billion spent on Instagram advertising last year, it's clear that brands are investing in this channel.
There is always a place for any kind of small business on Instagram no matter what you do.
Don't fall into the trap of thinking your business doesn't have anything visually interesting to post.
With a little creativity and strategic planning, you'll find there's plenty you can post on Instagram.
Sharing your ride-hailing business on Instagram can boost your visibility and land you clients if you know how to do it well.
I wrote a comprehensive guide on how you can grow your business on Instagram. Check out the link to the article to learn more.
5. Tiktok serves as a platform.
TikTok has quickly become one of the most popular social media platforms in the world. TikTok now has over 1 billion users, and the brand estimates the same 1 billion being active per month.
Many business owners are now starting to see that they could be missing out on this major marketing opportunity because TikTok is so different from other social media platforms.
You can decide to leverage the power of TikTok as an Uber driver, like I always say you never can tell who is willing to book your service.
I wrote a comprehensive guide on how you can grow your business on TikTok. Check out the link to the article to learn more.
Conclusion.
Uber taxi cab business is now a lucrative business that's creating many job opportunities for the unemployed here in Nigeria.
If you want fast cash, this is one business that anyone can start and make a whole lot of money without any hassle.
The teeming population and people's desire for a comfortable ride service have made the ride-hailing Uber business spread to major metropolises such as Lagos, Abuja and other cities in Nigeria.
Notwithstanding, you can decide to try out other business ideas if you have a bad feeling about this business.
I wrote a comprehensive guide on how you can make money online in Nigeria and some of the most profitable businesses you can start as a Nigerian. Check out the link to the article to learn more.