Introduction.
Do you want to invest in a business that holds so much potential both now and in the nearest future, real estate is that business.
Nigeria, one of the most prominent countries in Africa, not only has the largest economy but is also the most populous country on the continent.
The world bank pegged Nigeria's annual urban growth rate at 4.3% making it one of the highest in Africa.
There was an increase in housing demand in Lagos, Kano and Ibadan by 20%; and other major cities and this alone estimated that by 2037, the urban population in Nigeria will have doubled.
As widely reported, Nigeria is estimated to have a housing deficit of about 20 million housing units as of October 2021.
Do you have the following Questions;
This article has been created to help answer the above questions with clarity. Make sure to stick to the end to get a comprehensive understanding.
Are you seeking opportunities in the Nigerian real estate sector? This article has been created to guide you on your path to starting a real estate business in Nigeria.
What is AirBnB?
Airbnb is an online marketplace that connects people who want to rent out their homes with people who are looking for accommodations in specific locations all around the world. Airbnb has its roots in various countries all over the world including Nigeria.
The idea behind Airbnb is easy, all that is needed to be accomplished is to help local people to make some extra money renting out their spare homes or room to people visiting the area.
Hosts using this platform get to advertise their rentals to millions of people worldwide, with the reassurance that a big company will handle payments and offer support when needed.
Why Should You start an Airbnb business?
Are you interested in making extra money, by hosting people via an Airbnb business, this article has been written to help you learn more.
1. You are Interested in Real Estate.
Real estate is one business that will continue to exist as long as the civilization of man remains. You cannot exist without having an interest in real estate, every human being alive needs shelter to survive.
If real estate is one business you have an interest in, then starting an Airbnb Business is a sure path to the real estate industry.
2. You have an Extra-home.
Here in Nigeria, owning a home is as easy as anything, anyone can decide to acquire more than a single home depending on their capacity.
I have some people narrate how they own homes across the entire country, instead of allowing them to lie wasted, it's time to put them to use.
3. You need extra cash flow.
By investing in real estate, you can generate a passive income that is nearly tax-free. Your rental properties will work for you even when you are sleeping.
By buying several rental properties that generate enough income to cover your expenses, you have the freedom to do what you enjoy, instead of spending all of your time at work.
4. Airbnb is more Lucrative Than Traditional Renting.
Here in Nigeria, rent is collected annually, and might be difficult to renew because most people cannot renew the rent which usually leads to a court case or you having to eject them manually yourself.
A solidly booked Airbnb rental may be more profitable than renting the same property to a long-term single tenant because you charge daily.
How To Start an Airbnb Business In Nigeria.
Airbnb has its roots in various countries all over the world including Nigeria. So, you heard how Airbnb is making people Millionaires In Nigeria, and you want to try it now, here is how to do so.
1. Understand The Real Estate Business.
A real estate business is a business entity that deals with the buying, selling, and investing of real estate properties.
Starting a real estate investment business will not be easy, but it will be well worth the work with the right preparation. Best of all.
Airbnb works with closeness to the central business district, of any city. You cannot develop a property in a rural area and expect Airbnb to work out.
Starting in real estate requires you to learn and understand various concepts. To help you grasp the basic concepts of real estate, I wrote a comprehensive guide on how you can get started in real estate as a beginner, check out the link to the article to learn more.
2. Get an Apartment.
Getting an apartment in Nigeria is real work. Even when you have money.
It is possible to be a victim of fraud or not to get the kind of apartment you want.
You need to be intentional when getting an apartment to be used for your Airbnb business, you dont want to get an apartment in the rural part of the country, hoping to host a guest who will pay, because that would be a failed project.
To build an Airbnb business, you need your apartment close to the city, airports or a commercial location.
You also need to make sure your apartments are as furnished with the necessary facilities such as Internet, Fridge, electricity and with running clean water.
3. Sign up and List on Airbnb.
Airbnb is free to sign up and it's free to list your property. Only after you receive a booking will you need to pay Airbnb hosting fees – generally 3% of what you initially charge as your listing fee.
Here are some key fields you should look out for when listing your property on Airbnb.
1. Home Type.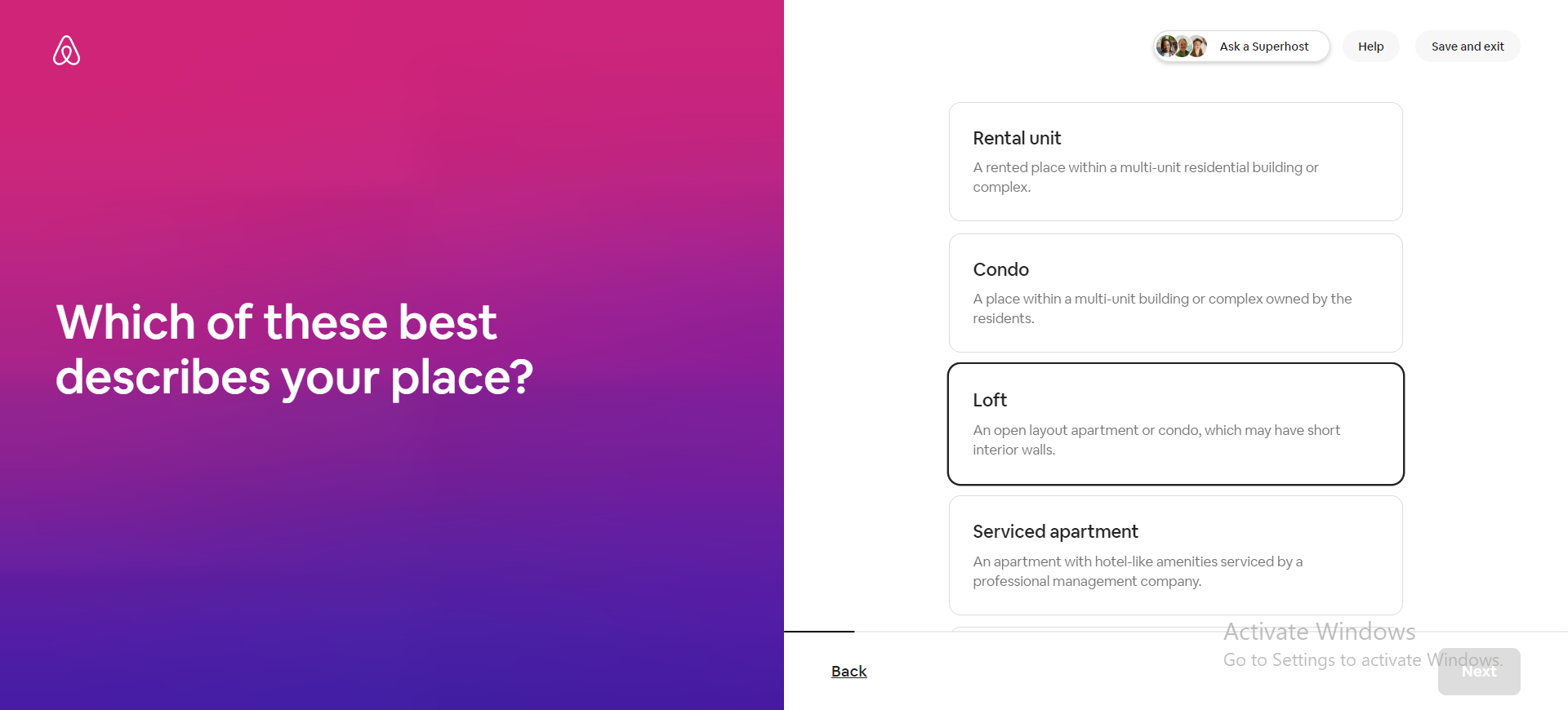 Select what kind of property you'd like to advertise. There is a whole range of options you can select from the 'Other' dropdown if your place doesn't fit into the common categories.
2. Room Type.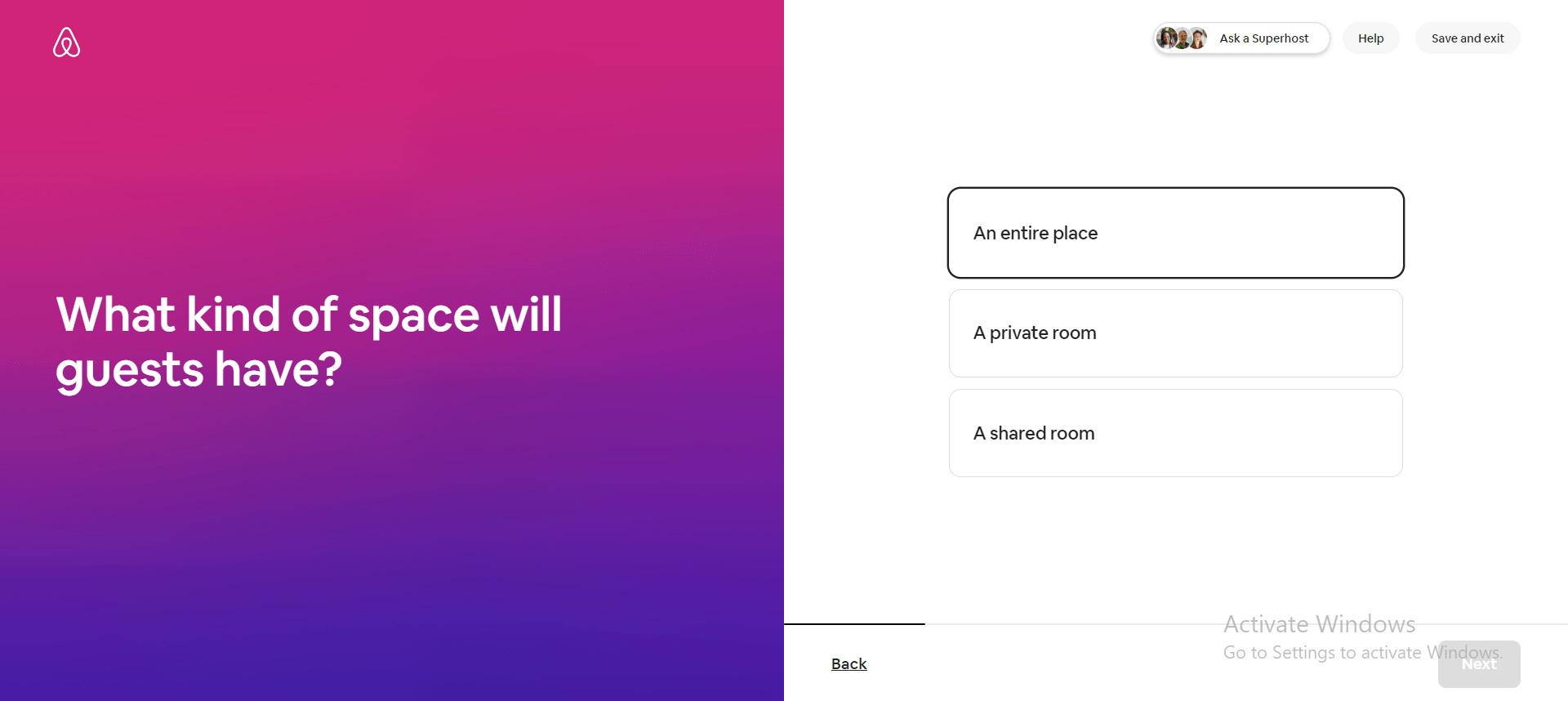 For vacation rentals or serviced apartments, you will most likely select "Entire home/Apartment".
3. Accommodates.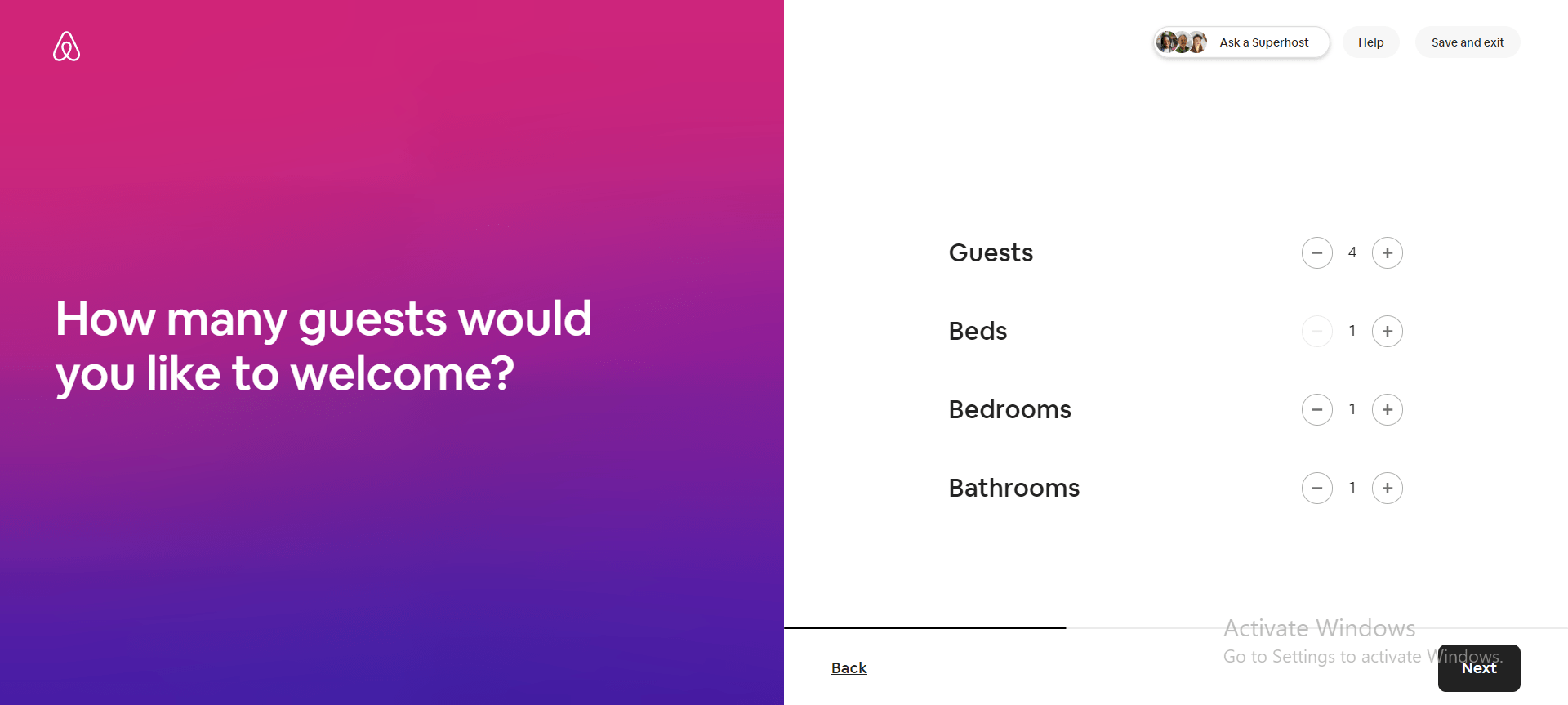 Enter the maximum number of people that your space can comfortably accommodate. This doesn't mean you'll only be visible to the maximum number but it is good to be flexible (Airbnb is like that).
4. City.
Doesn't have to be a city, just wherever your place is.
5. Calendar.
You'll be asked to choose between three options of how available your property is: "Always", "Sometimes" and "One Time".
Choose "Always" if you want your place to be listed indefinitely, "Sometimes" if you have specific dates you'd like to advertise, and "One Time" if you only have one period of time available.
6. Pricing.
Airbnb will suggest a price for your listing based on their algorithm. If it's the first time you're listing, Airbnb will suggest pricing lower to entice guests, who will then leave reviews and build your reputation.
You can also set weekly and monthly prices if you are planning to have guests at your vacation rental for longer.
An Airbnb-certified channel manager makes it even easier by automatically synchronising your availability and rates with Airbnb without making an account – all you need to do is opt in with one click!
7. Overview.
This is the title and summary that potential guests will see when browsing. You only have 35 characters to make an impression in the title so use descriptive and appealing adjectives to entice guests.
For the summary, you have 250 characters, so really try and sell your place as succinctly as you can. Feel free to use bullet points!
8. Photos.
The optimal number of images for an Airbnb listing is 10 but you can add more if you like, as long as you make sure they are high resolution (around 1024 x 683px).
Show a varied selection and showcase the best angles and rooms. Airbnb offer free professional photography sessions for properties that match certain criteria so make the most of the opportunity if you can!
9. Amenities & Location.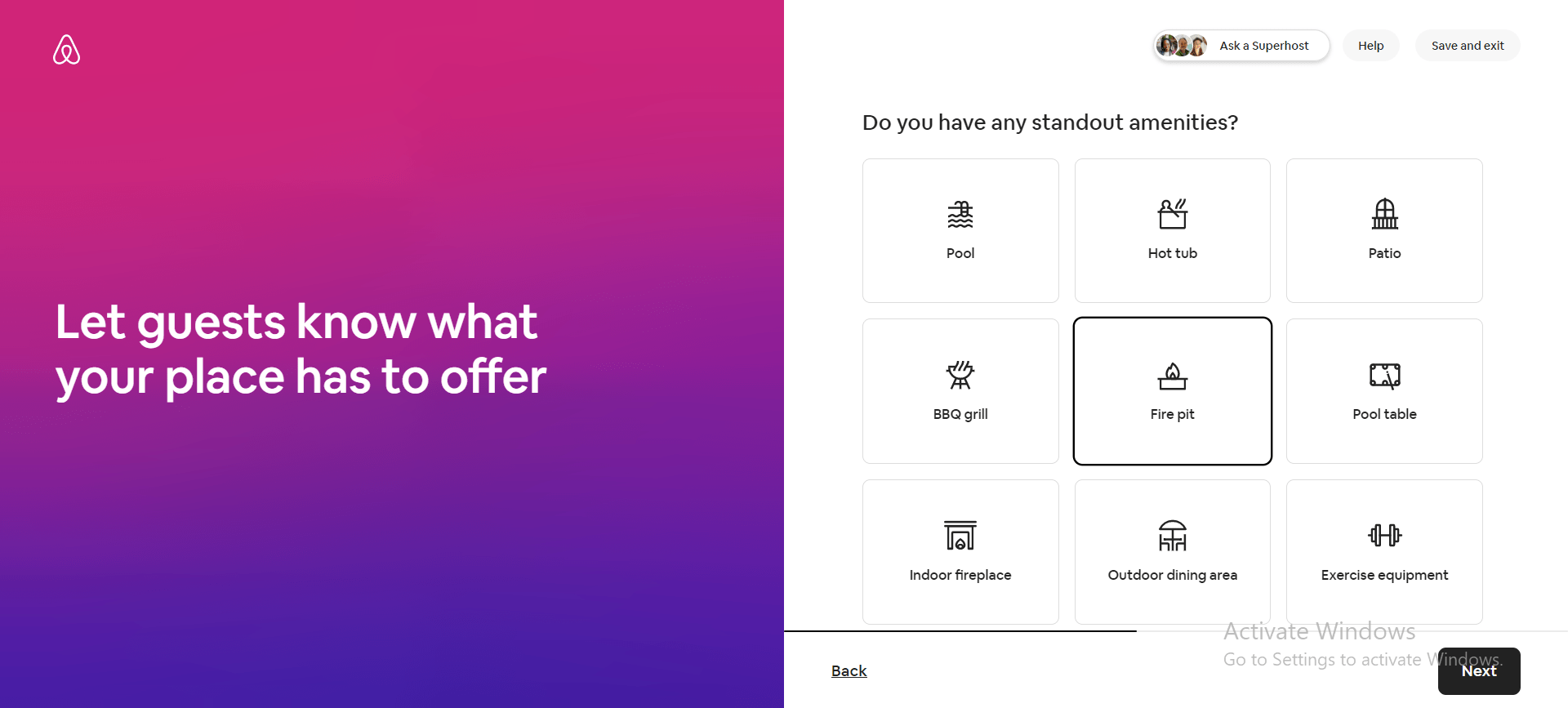 Select all amenities that you have, from the essentials to the extras, so guests have a complete picture.
Then, finish off your listing by inserting the address of your apartment or house. Don't worry, the exact location won't be revealed to guests until their booking is confirmed.
4. Promote Your Business.
Now that you have listed your Business on Airbnb, it's time to start telling people about your new business.
Mind you that this section is not compulsory because Airbnb already has an algorithm that recommends your listing to potential buyers on the platform.
In the same plight, you do not have to wait for its algorithm to recommend your product because many people are fighting for that placement.
Here are some strategies that can help you get ahead.
1. Use Facebook.
Facebook is the biggest social networking site. It is still one of the most used sites even though there are many alternatives available.
Everyone knows how to use it. not everyone understands how it can be used to grow a business.
When there are a huge number of people present, it is automatically an amazing opportunity for marketers to promote their business.
You can leverage the power of Facebook to promote your Airbnb business such as using a Facebook page to advertise your Airbnb Listing.
I wrote a comprehensive guide on this blog on how you can leverage Facebook as a means of promoting your business, check out the link to the article to learn more.
2. Share on Twitter.
If you're looking to develop your brand and give it the exposure it needs to grow, you need to be on Twitter.
Twitter has more than 330 million active monthly users, which can be seen as a huge market in the world.
Twitter, like Facebook, can also be used to leverage your business.
All that is needed to be done is to create a Twitter profile, customize tweets to suit your brand, reach out to influencers and finally start creating paid ad campaigns.
I wrote a comprehensive guide on how you can grow a business using Twitter. Check out the link to the article below to learn more.
3. Blog about your new Business.
Beyond your company website, a blog is a fantastic tool to educate your audience about your business.
While a website might be more practical in content and straightforward in tone, a blog offers more flexibility to connect with customers and to share updates in a way that shows who you are, and what problem you intend to solve.
A chief reason every company needs a blog is to increase its visibility. Put simply, the more blog content you create, the more opportunities you'll have to show up in search engines and drive organic traffic to your website.
Blogging allows you to promote your business for free. I wrote a comprehensive guide on how you can start blogging around your business. Check out the link to the article below to learn more.
4. Use TikTok.
TikTok is currently the fastest growing social media platform if not the most used social media platform in the world.
It also creates an atmosphere to promote your business without any hassle.
TikTok is available in 150 countries and 75 languages, has been downloaded over 2.6 billion times worldwide; and has over 1 Billion active users on its platform.
It is the world's leading destination for short-form video entertainment that consists of a variety of full-screen vertical video content pioneering the trend of video consumption around the world.
It allows users to create, watch and share videos that have a duration of 15 seconds to 60 seconds.
With the majority of Tiktok users being Gen Z and Millennials based in major cities around the world, businesses can use this avenue to showcase their products or services and connect with them.
Contents on TikTok tend to go viral more often than any other social media platform, this is I recommend it as a viable tool when it comes to promoting your business.
I wrote a comprehensive guide on this blog on how you can leverage TikTok to promote your business. Check out the link to the article to learn more.
5. Instagram is a better alternative.
Instagram over the past few years has enabled businesses of all sizes in every industry to understand the importance of mobile marketing to their respective businesses.
Instagram now has over one billion active monthly users and 700 million daily active users. Of these, 400 million users check out Instagram stories regularly.
One of the most important stats concerning Instagram for business? 72% of Instagram users have purchased a product or service they saw on their feed. A quick bit of math, and you realize that of the 700 million daily users, just over 500 million purchased Instagram.
Instagram is one tool that can be leveraged by businesses of all kinds to reach out to potential customers.
I wrote a comprehensive guide on how you can leverage your business on Instagram for growth. Check out the link to the article to learn more.