Introduction.
In today's digital age, making money online has become a viable and attractive option for individuals seeking financial independence and entrepreneurial opportunities.
Jumia, Africa's leading e-commerce platform, offers a promising avenue for generating income through online entrepreneurship.
Whether you're a budding entrepreneur, a small business owner, or an individual looking to monetize your skills, Jumia provides a user-friendly platform and a wide customer base to help you make money online.
This article serves as a comprehensive guide on how to harness the potential of Jumia and unlock various avenues to generate income in the Nigerian market.
From setting up your online store to optimizing product listings, utilizing marketing tools, and leveraging Jumia's logistics and fulfilment services, we will explore the steps and strategies you can implement to make money online with Jumia.
By embracing the power of e-commerce and tapping into Jumia's expansive reach, you can establish a profitable online business, reach millions of potential customers, and capitalize on the growing demand for convenient online shopping in Nigeria.
Whether you're looking to sell physical products, offer services, or explore innovative business models, Jumia provides a dynamic platform to turn your online ventures into a sustainable source of income.
So, if you're ready to embark on a journey of online entrepreneurship and discover the possibilities of making money online with Jumia, let's delve into the strategies and insights that will help you navigate this exciting landscape and maximize your earning potential.
What is Jumia?
Jumia is an e-commerce platform that operates across several countries in Africa, including Nigeria. It is often referred to as "Africa's Amazon" due to its similarities in business model and scale.
Jumia provides a digital marketplace where individuals and businesses can buy and sell a wide range of products, including electronics, fashion, home appliances, beauty products, and more.
Founded in 2012, Jumia initially focused on Nigeria and has since expanded its operations to multiple African countries, including Kenya, Egypt, Morocco, Ghana, and South Africa.
The platform aims to make online shopping accessible and convenient for African consumers, overcoming the challenges associated with traditional retail, such as limited product availability, long distances, and unreliable logistics.
Jumia offers a user-friendly website and mobile app that allows customers to browse through a diverse selection of products and make purchases with ease.
Sellers, both large companies and individual entrepreneurs, can create their online stores on Jumia and list their products for sale.
Jumia provides various tools and resources to assist sellers in managing their inventory, processing orders, and handling customer inquiries.
In addition to its e-commerce marketplace, Jumia has expanded its services to include other verticals.
These include Jumia Food (food delivery service), Jumia Travel (online travel agency), Jumia Pay (digital payment solution), and Jumia Services (logistics and fulfilment services).
Jumia has played a significant role in driving the growth of e-commerce in Africa, providing opportunities for entrepreneurs and businesses to reach a wider customer base and offering consumers a convenient and reliable online shopping experience.
With its robust infrastructure, marketing support, and customer-centric approach, Jumia continues to shape the e-commerce landscape in Nigeria and other African markets.
Why Should I Join Jumia In Nigeria?
In a rapidly evolving digital landscape, online marketplaces have become the go-to platforms for entrepreneurs and business owners seeking to tap into the vast potential of e-commerce.
Jumia, Nigeria's leading e-commerce marketplace, offers a host of compelling reasons for individuals looking to establish a strong online presence and unlock their entrepreneurial potential.
This article aims to highlight the key benefits and reasons why you should consider joining Jumia in Nigeria.
1. Reach Millions of Potential Customers.
One of the most significant advantages of joining Jumia is the unparalleled reach it offers. With a customer base comprising millions of active users, Jumia provides you with access to a vast pool of potential buyers.
By leveraging the platform's wide reach, you can showcase your products or services to customers across Nigeria, including remote areas that may be challenging to reach through traditional retail channels.
2. Trusted and Established Marketplace.
As the largest e-commerce marketplace in Nigeria, Jumia has gained the trust and confidence of consumers over the years.
Joining Jumia allows you to leverage its established reputation, benefiting from the trust customers have in the platform.
By associating your brand with Jumia, you can enhance your credibility and instil confidence in potential buyers, increasing the likelihood of attracting and retaining customers.
3. User-Friendly Platform and Tools.
Jumia provides a user-friendly and intuitive platform designed to simplify the selling process. Setting up your online store on Jumia is a straightforward process, with comprehensive tools and resources to guide you every step of the way.
From listing products to managing inventory, processing orders, and handling customer service, Jumia offers a robust suite of tools and features that streamline your operations, allowing you to focus on growing your business.
4. Extensive Marketing and Advertising Support.
One of the key advantages of joining Jumia is access to marketing and advertising support. Jumia offers various promotional campaigns, including flash sales, discount vouchers, and seasonal campaigns, that can significantly boost your product visibility and sales.
Additionally, you can take advantage of Jumia's advertising services, such as sponsored product ads and banner ads, to increase the visibility of your products and reach a wider audience.
5. Logistics and Fulfillment Services.
Managing logistics and order fulfilment can be a complex and time-consuming aspect of running an online business. However, Jumia offers comprehensive logistics and fulfilment services to simplify this process.
Through Jumia's partnership with logistics providers, you can benefit from reliable and efficient delivery services, ensuring your products reach customers promptly. This allows you to focus on core business activities while Jumia takes care of the logistical aspects.
6. Data and Analytics Insights.
Jumia provides valuable data and analytics insights that can help you make informed business decisions.
Through Jumia's seller dashboard, you can access key performance metrics, customer behaviour data, and sales trends.
This information allows you to gain a deeper understanding of your target market, identify growth opportunities, and optimize your product offerings and marketing strategies.
7. Support and Training.
Jumia is committed to the success of its sellers and provides dedicated support and training resources.
You can access comprehensive seller guides, webinars, and workshops to enhance your knowledge and skills in online selling.
Additionally, Jumia offers customer support services to address any queries or issues you may encounter, ensuring a smooth selling experience.
8. Flexibility and Scalability.
Joining Jumia offers you the flexibility to run your business on your terms. You have the freedom to set your prices, manage your inventory, and determine your business strategies.
Moreover, Jumia's platform is scalable, allowing you to expand your product offerings and reach new customer segments as your business grows.
Whether you're a small business owner or an aspiring entrepreneur, Jumia provides you with the flexibility and scalability needed to adapt to changing market dynamics and seize new opportunities.
9. Networking and Collaboration.
Jumia's vibrant online community creates opportunities for networking and collaboration. Engage with other sellers, share experiences, and exchange insights through Jumia's seller forums and social media groups.
Collaborate with complementary businesses to create mutually beneficial partnerships. The connections you establish within the Jumia ecosystem can open doors to new collaborations, business opportunities, and valuable industry knowledge.
10. Embrace the Digital Future.
By joining Jumia, you embrace the digital future of commerce in Nigeria. With a growing number of consumers preferring the convenience of online shopping, establishing your presence on Jumia positions you at the forefront of the e-commerce revolution.
By leveraging Jumia's platform and resources, you tap into the immense potential of online retail, positioning your business for long-term growth and success in the digital age.
How Do I Make Money Online With Jumia In Nigeria?
In the digital age, opportunities for generating income online have expanded exponentially. One prominent platform that offers substantial earning potential is Jumia, Nigeria's leading e-commerce marketplace.
1. Sell products On Jumia.
Jumia provides a versatile and user-friendly platform for individuals to sell products, offer services, and engage in various business ventures.
This article aims to guide aspiring entrepreneurs on how to make money online with Jumia in Nigeria.
1. Identify a Profitable Niche.
To maximize your chances of success on Jumia, it's essential to identify a profitable niche. Conduct thorough market research to identify product categories that are in high demand but have limited competition.
Look for unique product offerings, identify gaps in the market, and consider the preferences of Nigerian consumers.
Choosing a niche you are passionate about will also help you stay motivated and engaged in your online business.
2. Set Up Your Jumia Store.
Creating a Jumia store is a straightforward process. Visit the Jumia website and click on the "Sell on Jumia" tab.
Follow the step-by-step instructions to register as a seller and provide all the necessary information, including your business details, bank account, and contact information. Once your account is verified, you can start listing your products and services.
3. Optimize Product Listings.
To attract potential customers and increase sales, optimize your product listings on Jumia. Use high-quality product images, write compelling descriptions, and include relevant keywords that align with what customers are searching for.
Highlight the unique selling points of your products to differentiate them from competitors. Regularly update and optimize your listings based on customer feedback and market trends.
4. Provide Excellent Customer Service.
Customer satisfaction is crucial for the long-term success of Jumia. Respond promptly to customer inquiries, address any concerns or issues, and maintain a high level of professionalism.
Provide accurate and detailed information about your products, including shipping details, return policies, and warranties.
Positive reviews and ratings from satisfied customers will enhance your credibility and attract more buyers.
5. Leverage Jumia Advertising Services.
Jumia offers various advertising services to help sellers boost their visibility and sales. Consider investing in sponsored product ads, banner ads, or top placement ads to increase the visibility of your products.
Take advantage of Jumia's marketing tools and promotional campaigns to reach a wider audience and generate more sales. Monitor the performance of your ads and optimize them accordingly to achieve better results.
6. Utilize Social Media and Online Marketing.
To expand your reach and attract more customers, leverage social media platforms and online marketing strategies.
Create engaging content related to your products and services and share it on platforms such as Facebook, Instagram, Twitter, and YouTube.
Collaborate with influencers or bloggers who have a significant following to promote your Jumia store. Implement effective SEO techniques to improve your store's search engine rankings and drive organic traffic.
Here are some strategies that can help you get ahead.
1. Use Facebook.
Facebook is the biggest social networking site. It is still one of the most used sites even though there are many alternatives available.
Everyone knows how to use it. not everyone understands how it can be used to grow a business.
When there are a huge number of people present, it is automatically an amazing opportunity for marketers to promote their business.
You can leverage the power of Facebook to promote your Jumia business by creating a Business page on Facebook, creating paid ads on Facebook and posting consistently on Facebook.
I wrote a comprehensive guide on this blog on how you can leverage Facebook as a means of promoting your business, check out the link to the article to learn more.
2. Share on Twitter.
If you're looking to develop your brand and give it the exposure it needs to grow, you need to be on Twitter.
Twitter has more than 330 million active monthly users, which can be seen as a huge market in the world.
Twitter, like Facebook, can also be used to promote your Jumia business All that is needed to be done is to create a Twitter profile, customize tweets to suit your brand, use relevant hashtags and finally make use of paid Twitter ads.
I wrote a comprehensive guide on how you can grow a business using Twitter. Check out the link to the article below to learn more.
3. Blog about your new Business.
Beyond your company website, a blog is a fantastic tool to educate your audience about your business.
While a website might be more practical in content and straightforward in tone, a blog offers more flexibility to connect with customers and to share updates in a way that shows who you are, and what problem you intend to solve.
A chief reason every company needs a blog is to increase its visibility. Put simply, the more blog content you create, the more opportunities you'll have to show up in search engines and drive organic traffic to your website.
Starting a blog about reviewing products and recommending Jumia as a store to be purchased from can generate tons of Affiliate revenue.
Blogging allows you to promote your business for free.
I wrote a comprehensive guide on how you can start blogging around your business. Check out the link to the article below to learn more.
4. Use TikTok.
TikTok is currently the fastest-growing social media platform if not the most used social media platform in the world.
It also creates an atmosphere to promote your business without any hassle.
TikTok is available in 150 countries and 75 languages, has been downloaded over 2.6 billion times worldwide; and has over 1 Billion active users on its platform.
It is the world's leading destination for short-form video entertainment that consists of a variety of full-screen vertical video content pioneering the trend of video consumption around the world.
It allows users to create, watch and share videos that have a duration of 15 seconds to 60 seconds.
With the majority of Tiktok users being Gen Z and Millennials based in major cities around the world, businesses can use this avenue to showcase their products or services and connect with them.
Contents on TikTok tend to go viral more often than any other social media platform, this is I recommend it as a viable tool when it comes to promoting your business.
I wrote a comprehensive guide in this blog on how you can leverage TikTok to promote your business. Check out the link to the article to learn more.
5. Instagram is a better alternative.
Instagram, over the past few years, has enabled businesses of all sizes in every industry to understand the importance of mobile marketing to their respective businesses.
Instagram now has over one billion active monthly users and 700 million daily active users. Of these, 400 million users check out Instagram stories regularly.
One of the most important stats concerning Instagram for business? 72% of Instagram users have purchased a product or service they saw on their feed.
A quick bit of math, and you realize that of the 700 million daily users, just over 500 million purchased Instagram.
Instagram is one tool that can be leveraged by businesses of all kinds who will patronize your Jumia business.
I wrote a comprehensive guide on how you can leverage your business on Instagram for growth. Check out the link to the article to learn more.
7. Offer Competitive Pricing and Discounts.
Price your products competitively to attract price-sensitive Nigerian consumers. Monitor the pricing of your competitors and adjust your prices accordingly.
Consider offering discounts, special promotions, or bundle deals to entice customers to choose your products over others.
Regularly analyze your pricing strategy and make necessary adjustments to remain competitive in the market.
8. Expand Your Product Range and Diversify.
Once you establish a strong presence on Jumia, consider expanding your product range to cater to a wider audience.
Identify complementary products or related niches that align with your existing offerings.
By diversifying your product range, you can tap into new markets and increase your overall revenue.
2. Become an Independent Sales Consultant (J-Force).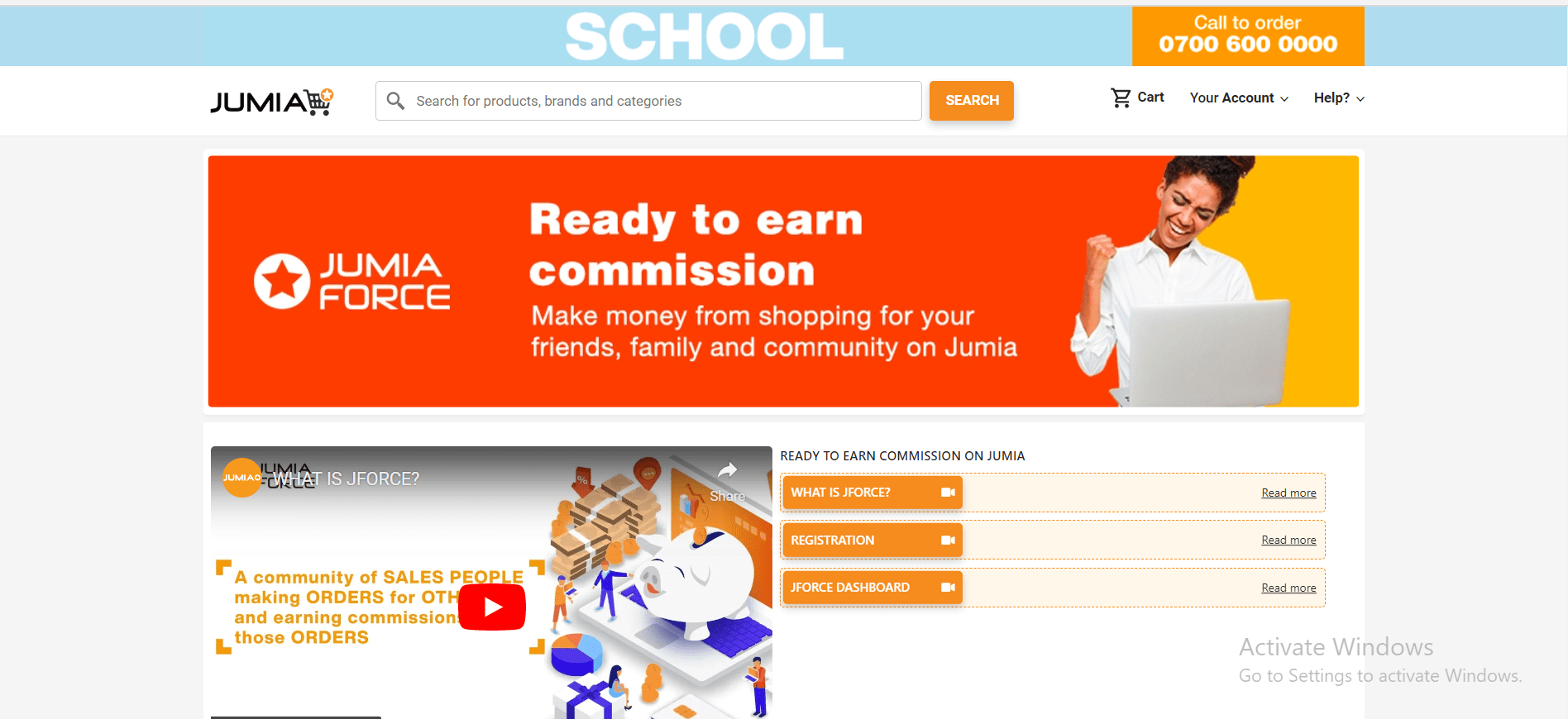 Not everyone knows how to shop using Jumia, and not everyone is as tech-savvy as they ought to be, and this is why J-Force was created to solve that problem.
JForce is a community of salesmen and women making orders for themselves, friends, family and others in their community to get paid commissions for every order. With JForce, you are empowered to own and run sales as your own business and be your boss.
To be a sales consultant with Jumia Nigeria, you will be required to register, create your team (a network of other sales consultants) and then start selling Jumia products and make money doing so. You can make up to ₦1,000,000 monthly doing this.
TRY IT NOW – JForce.
3. Become an Affiliate Partner.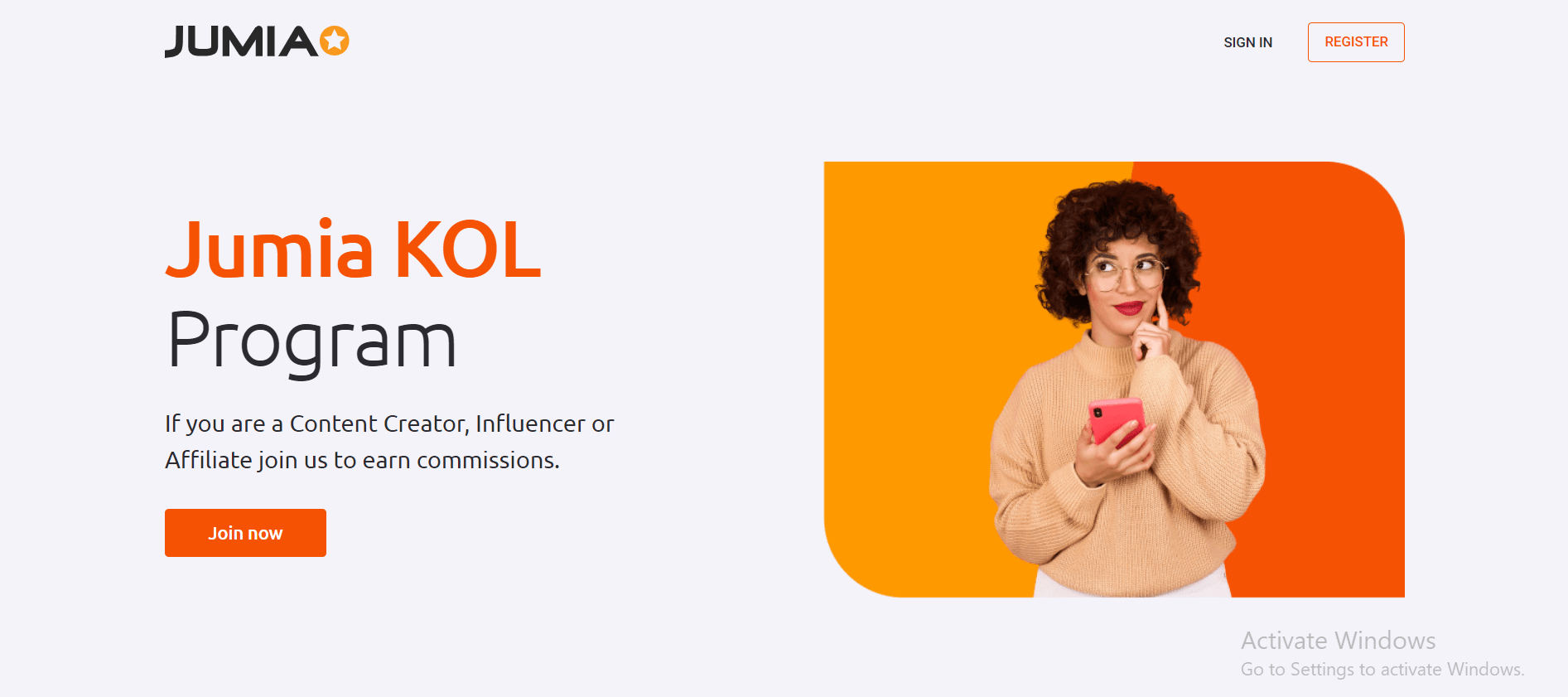 Affiliate marketing is a process where publishers earn a commission by promoting a product or service made by another retailer or advertiser.
The affiliate partner has rewarded a payout for providing a specific result to the retailer or advertiser.
Typically, the result is a sale. but on the other hand, you might get rewarded for performing a different task if need be.
Affiliate programs are usually free to join, so you don't have to worry about high startup costs.
The Jumia affiliate program is one platform that allows anyone to make money sharing links to a desired product or category.
Affiliate partners can promote the products on Jumia and can get up to 11% commission on every successful order made a click via your affiliate link.
The Jumia Affiliate program is called KOL by Jumia, You can make easy money online if you own a website, blog or just any useful social media account
To begin, you need to sign up for the affiliate program, find products you know people want or the products you want to promote and start selling them,
All that is needed is to Promote the products, get people through your link, track your sales and earn commissions.
When your payout is ready, you would be asked to provide your preferred bank details where you would be paid. All Nigerian bank account details are supported.
TRY IT NOW – Jumia KOL
Affiliate marketing is not restricted to Jummia only, you can decide to sell through other affiliate marketing networks or programs.
I wrote a comprehensive guide on this blog on how you can start an affiliate marketing business and make money, check out the link to the article below to learn more.
Conclusion.
By selecting a profitable niche, optimizing product listings, providing excellent customer service, leveraging Jumia advertising services, utilizing social media and online marketing, offering competitive pricing and discounts, and expanding your product range, you can unlock the full potential of making money online with Jumia in Nigeria.
Remember, success on Jumia requires dedication, perseverance, and continuous adaptation to market trends and customer preferences.
Stay updated with the latest e-commerce practices, monitor your store's performance, and embrace innovation to stay ahead of the competition.
In addition to financial rewards, establishing a thriving online business on Jumia can provide you with flexibility, independence, and the opportunity to reach a vast customer base across Nigeria.
With the right mindset, strategic planning, and consistent effort, you can turn your Jumia store into a profitable venture and achieve your entrepreneurial goals.