Introduction.
When you first launch your business, your main goal is to establish your brand and start growing into profit.
The truth is that this growth does not happen overnight. Instead, growing a business is a gradual process that requires hard work, patience and dedication.
If you started a business and are still struggling with the process, there is light at the end of the tunnel. Of course, the whole process will be challenging, but If you buckle down, clear your mind, and look at things from a standpoint, you can quickly identify ways to grow your business and make more money fast.
As earlier said, Rapid growth does not happen overnight, but there are several steps you must take to get your business off the ground to a certain point where it begins to yield its fruits.
New business owners have little or no resources when it comes to starting a business, so they have to bootstrap the whole process from the ground up, which might be a little stressful and expensive.
But with the rise of a freelance platform like Fiverr, anyone can choose to outsource the task to specific talents sitting around the globe.
What is Fiverr?
Fiverr is an online marketplace created to connect freelance services with bidders from across the globe.
Fiverr was created to streamline hiring or getting hired as a freelancer. The online marketplace cuts out the middleman of hiring, firing and HR departments.
Fiverr lets clients pay in advance for Gigs, which constitute any digital service ranging from WordPress design, logo design, writing services, to even voiceover work.
Payment is remitted when work is completed, and the buyer approves of the work.
There are two ways to view the site, as a freelancer or a buyer. A Freelancer bids for work, while a buyer is someone who provides such work with payment in return.
Why Businesses Choose Fiverr
Fiverr is currently the largest and most popular freelance marketplace, with more than 7 million users and freelancers showcasing all skillset.
Fiverr is vast that, according to statistics, a freelancer gets a job assigned every 4 seconds on this platform. Here are some of the reasons you should utilize Fiverr as a resource when starting your business.
1. Cheap Labour.
You are using Fiverr as a business helps you get access to a vast pool of talents for a relatively small amount of money.
There are expensive gigs on Fiverr for sellers who have built credibility on the platform. Still, as a new business with little money at your disposal, you can decide to go a little bit low to select brand new talents on the platform who will charge relatively low.
It would help if you were mindful that these cheap gigs are not reliable as they can become spammy and incompetent; the best thing to do is to make your judgment using customer reviews of such gigs.
2. Benefit from a Better and Larger Pool of Expertise.
According to expert predictions, by 2020, almost 48% of the global workforce will be freelancers, and the majority will be working remotely or on Fiverr.
Fiverr provides a large and diverse source of human capital with various expertise. Based on your requirements, you can select people with the right skills that you need for your business venture.
3. Faster Growth and Better Results
When seeking to hire people in your traditional business, you need to sign up to a job listing website like LinkedIn and make a job post; companies often hire recruiters to do the work on their behalf, which becomes a cumbersome task.
Using a freelance platform such as Fiverr can make things a lot easier for you to handle without having to go through those processes.
According to a study, 33% of all Fortune 500 companies go for freelancer skills and services.
4. Increased Ability to Focus on Vital Issues.
When you plan on doing everything yourself or through a specified number of employees, there are chances of burnout.
Hiring freelancers help you focus on the decision-making and actual business logic that makes your business work.
How To Grow Your Business with Fiverr.
For every new business, the first few years of business, most companies are focused on survival, making little profit.
Prioritizing the growth of your business is one of the best ways to increase the chances that your company will become profitable.
Here are some tips on utilising Fiverr as a go-to platform to start and grow your business.
1. Start With a plan.
Maybe you don't have a business idea yet, or you have one already in place; drawing a business plan is one thing that should be important to you. A good business plan guides you through each stage of starting and managing your business.
A business plan can be used as a guide to planning a roadmap on how to structure, run, and grow your new business. In addition, business plans can help you get funding or bring on new business partners and investors.
2. Set up a Business structure.
A business structure helps you determine how your business will operate. There are various ways to structure a business; let's assume you intend to start an eCommerce business; your business would require you to have an IT team, Sales Team, Marketing and social media team, accounting team, and many more.
Putting proper structure in place helps you focus more on productive things.
3. Split responsibility.
Now that you have these structures in place, its now time to begin splitting responsibilities.
The downside of running a business is that you want to do everything yourself.
Remember, "Jack of all Trades is a master of none". As a founder, you want to focus on the most productive part of your business rather than try to be everything.
4. Develop a website for your business.
The next step is to develop a website. Regardless of the industry, a business's online presence can have a tremendous impact on its success. 
So many businesses still don't realize that most of their customers will visit their website before making a purchase.
Having a solid online presence, particularly a website, can be a make or break for generating more revenue. 
Business owners should know that the quality of your website impacts results, but the purpose of this article is to stress the importance of making sure you have a website.
The truth about developing a website for your business is that you need to understand basic website design concepts, and if you don't have that in place, one place to look out for is Fiverr.
You can get comprehensive web design services for less than $5; remember all services on Fiverr start from $5.
Before buying a web design gig on Fiverr, you want to make sure you have already purchased your domain and hosting plans. One platform that I recommend for anyone is Namecheap.
I wrote a comprehensive guide on buying a cheap domain and hosting services on Namecheap. Check out the link to the article below.
After which, you must have acquired web hosting, and domain plans; next is to check out gigs on Fiverr to give you a befitting design.
TRY IT NOW – Fiverr.com
5. Design a logo.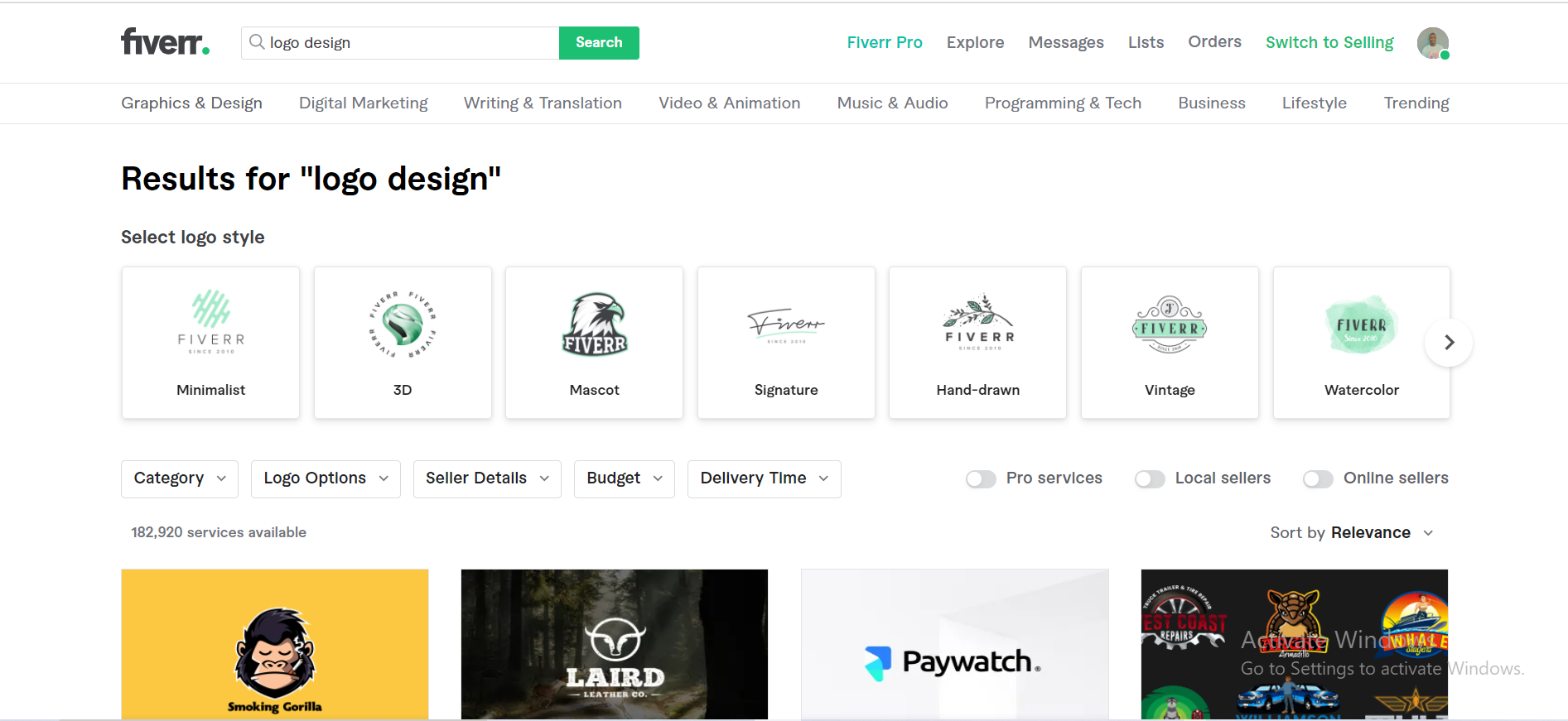 When building a successful business, one of the critical factors you need to consider is your logo. 
Creating a logo may not be the top of your plan. However, it's an essential component of making your brand successful.
Having a logo for your business is essential Because it grabs attention, makes a solid first impression, is the foundation of your brand, separates you from the competition, fosters brand loyalty, and is expected by your audience. 
A logo represents your business; take a look at logos of companies that have existed in the past and still exist, such as Coca Cola and Pepsi; these brands have been able to live because they have made a huge impression with their brand logo.
A logo is a company's first introduction to consumers. If designed well, it can pique the public's interest and invite them to learn more about the company, which is what every business needs to watch out for.
If your logo looks unprofessional, people will undoubtedly question how well you can deliver your products and services. 
Every business requires a logo, so you need to design one; not compulsory by yourself, but it can be outsourced to someone.
I recommend Fiverr; you can get an intelligent logo designer on Fiverr for as low as $5. check out the link below to get started using Fiverr.
TRY IT NOW – Fiverr.com.
6. Search engine optimization is Key.
New businesses usually think they don't need a blog when starting their business because they think it's unnecessary. After all, it takes a while for results to show.
As a business owner, you should know that customers respond to leadership. Integrating a blog into your business allows you to demonstrate your expertise in a particular area.
Take your time and write in-depth articles that offer your readers some "news they can use." 
Be sure to write with some frequency to show your readers that you're on top of change trends.
As a small business, your advertising budget is probably slim. A blog can offer a cheap alternative.
Running a blog alongside your business enables your business to tap into organic search traffic, which comes at no cost.
To build a profitable blog, you need to understand a bit of SEO to boost your search engine rankings. You might want to pick up a how-to book to guide you through the process.
This process might be so complicated for you to grasp as a beginner; I recommend Fiverr as a one-stop-shop for freelancers to start. Check out the link below to start buying excellent SEO gigs from Fiverr.
TRY IT NOW – Fiverr.com
7. Go on social media.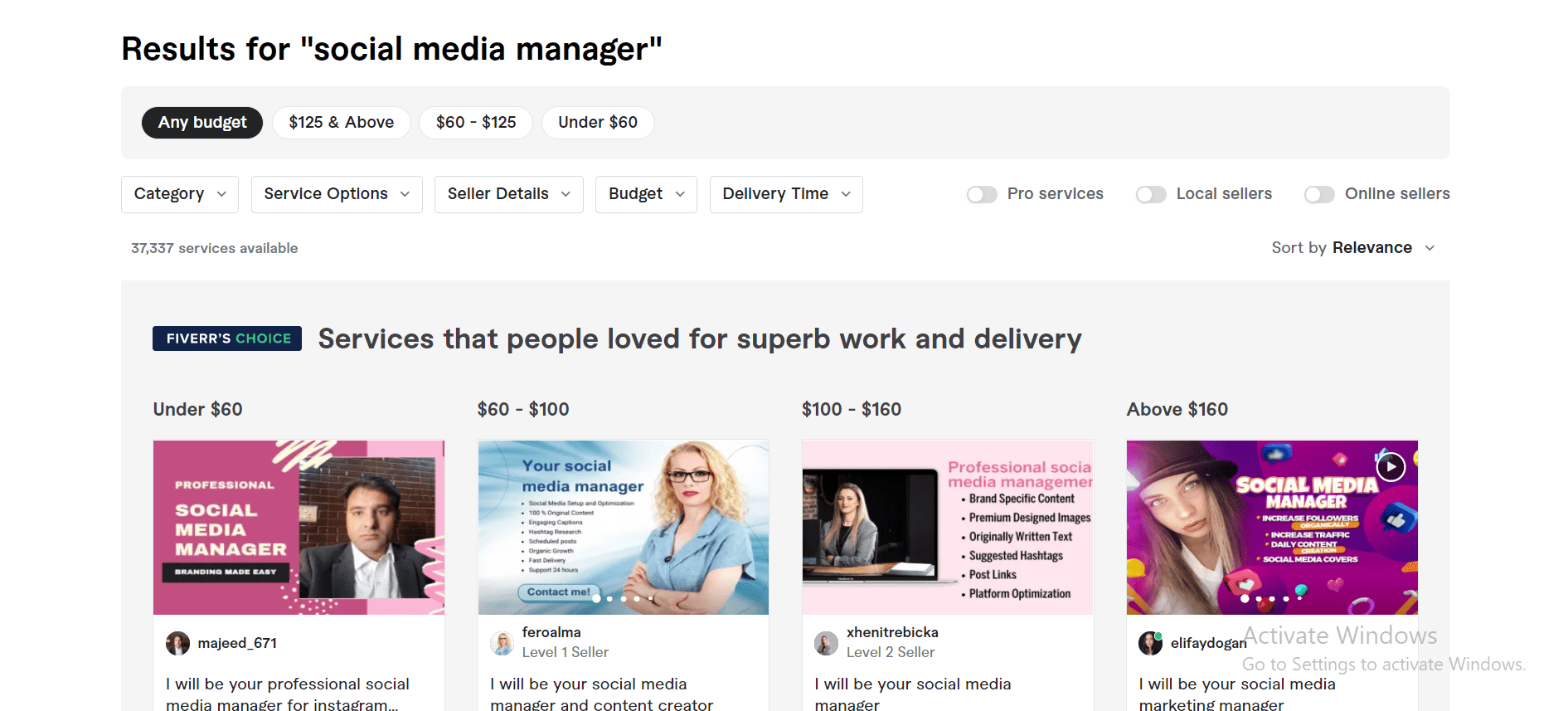 Social media platforms like Facebook, Twitter, and Instagram have more than 2 Billion people hosted on them.
Every business wants to increase traffic and user engagement, but it may not be possible if your prospects cannot find you on the internet.
Creating your company's social media profiles allows your business to dominate the search results.
Having a presence on social media channels will enhance brand positivity.
Establishing your brand on social media enables business owners to keep their clients updated on the company's activities.
The downside of putting your business up on social media is that you have to think of a way to run it; even though you are this social media guru, it can become tiring.
As I said earlier, your business needs to grow; you have to spend time on what works.
There are various social media tools to help you manage your social media platforms in one spot; I wrote a comprehensive guide on how to access these tools; check out the link below to get started.
If you find it challenging to manage your social media platforms yourself, you can always source for a freelancer on Fiverr, as I always recommend.
TRY IT NOW – Fiverr.com
8. Utilize Paid ads.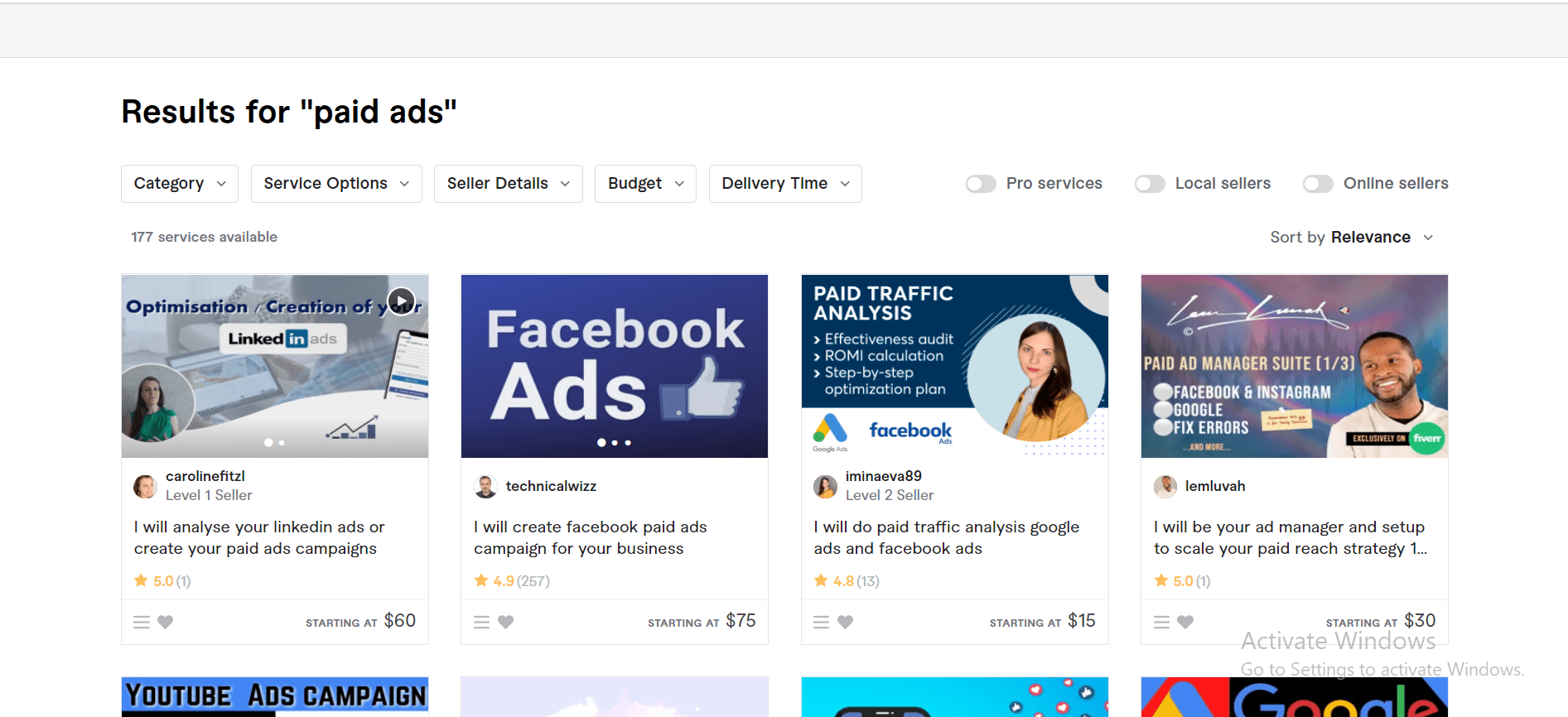 Scaling your business should be your top priority as a business owner. It has been discovered that most Small business owners often dismiss paid to advertise either because they don't understand its benefits or they are trying to save time and money.
Putting even a little cash towards paid advertising can go a long way toward generating business and growing your customer base. 
Beyond revenue, it has a positive impact on the perception of your company and brand awareness.
In the long term, a quality product or service will cement your company's reputation. 
With digital advertising, you can reach out to more people by paying a little in cash.
Digital advertising companies like Facebook and Google have access to a lot of data harvested from their users. 
This means that they can put your ads in front of the right prospects. 
Google won't show an ad for cheap flight tickets to someone looking for spas in the area. While the same goes for Facebook.
Google's AdWords and Facebook's Ads Manager allow you to measure results and see how individual campaigns are doing. 
To put up ads on these platforms, a specific skill set is needed to have under one's belt, and if you don't have that, you should outsource to a freelancer on Fiverr.
TRY IT NOW – Fiverr.com
9. Outsource Your Data Entry Operations.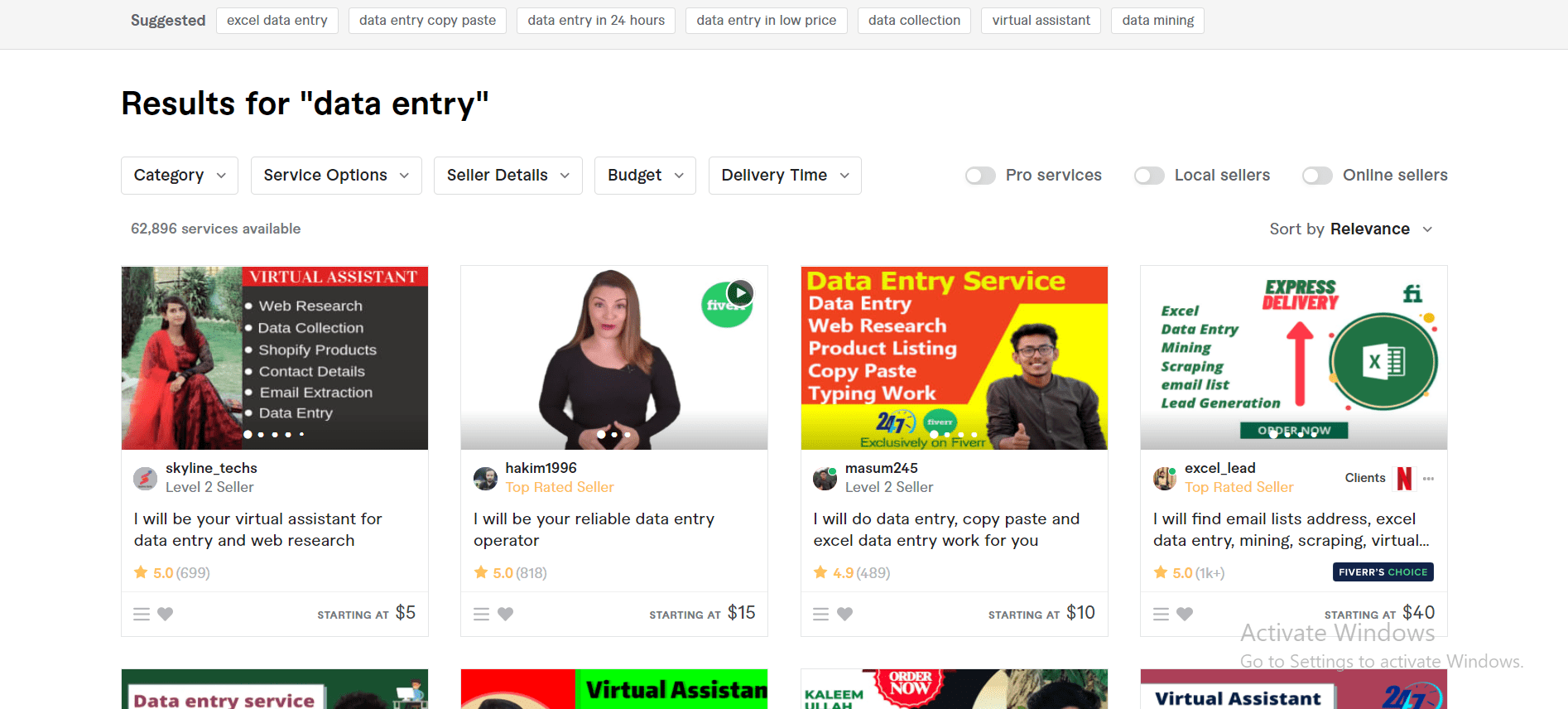 Data entry allows your business to organize all relevant information related to the company in one place and in the correct order for reference.
The absence of data entry in a firm could also cost it hugely due to errors.
Having accurate data is the backbone of every business; data entry tasks require efficient and unique skills that enable companies to maintain up-to-date and accurate records from invoices to contracts. 
However, data entry is tedious and time-consuming regardless of the size of the business. 
It can take away a chunk of precious time from business owners while they can use the same time to focus on strategic decision making to improve core business processes. 
I recommend every business owner outsource their data entry to someone capable of doing it. You can get a cheap data entry freelancer on Fiverr for as low as $5; check out the link below to get started.
TRY IT NOW – FIverr.com
10. Videos Help a lot.
Video marketing means using videos for promoting and telling people about your business, which can be a product or a service.
The full utilization of videos helps increase engagement on your digital and social channels, educates your audience, and allows you to reach them via your prefered medium.
Most times, videos are published on YouTube to generate a passive income or on a social network to create awareness.
Videos are powerful tools used by brands to spread their message; it becomes accessible to a large audience.
Video content is a valuable tool for helping potential buyers learn about a product. 
Ninety-four per cent of marketers say using video content has helped increase user understanding of a product or service.
Customers will only buy your product when they understand what it does and how it will help them. 
Videos are brutal to create if you are not skilled from the start. I, however, recommend you outsource video creation to someone on Fiverr with such skills.
TRY IT NOW – Fiverr.com
11. Choose the right Seller on Fiverr.
The final part deals with how buyers relate to sellers on Fiverr.
Fiverr allows entries from various people from across the globe, so gigs are not well-vetted before they are posted on the website, Fiverr has its process of testing freelancers, but it's not efficient enough.
On a seller's profile, you can see all the possible details that will help you make up your mind: gig description, rating, how many orders they have in queue, their level and service fee.
Most sellers have different rates for three packages: Basic, Standard and Premium. The difference between the packages is the time of delivery, workload, scope, and number of revisions.
You can choose the right sellers on Fiverr, irrespective of when you initially started on the platform.
1. Narrow Down Your Requirements.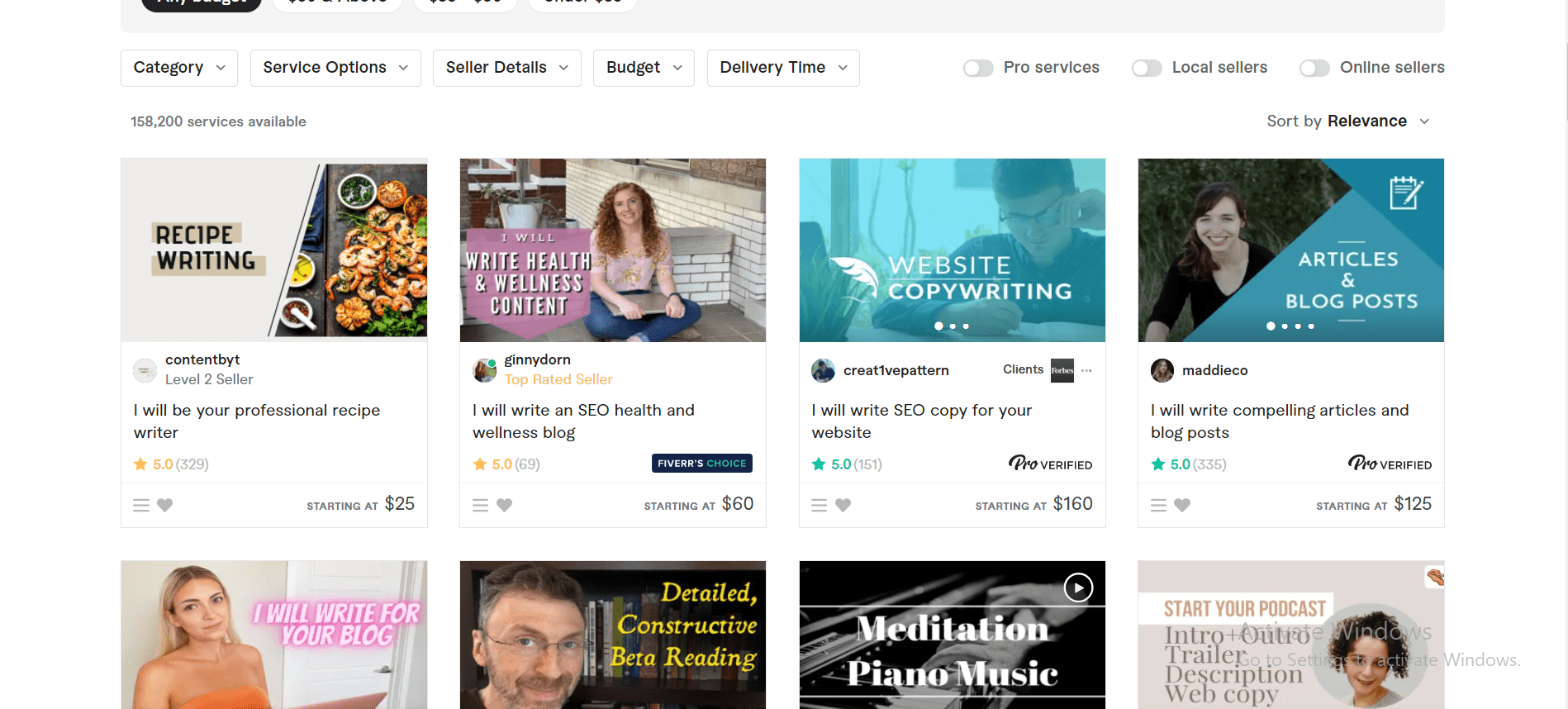 The first thing to do when you want to buy a gig on Fiverr is to narrow down your requirements as much as possible.
And one way to do this is to use the search bar feature on Fiverr to search for the specific gig you want.
For example, let's say you want the services of a writer, one way to do this is to log on to Fiverr and search for the keyword "writer".
You should not hire a writer for the duty of a data entry personnel because you might be disappointed to see that your money is gone and your work is left undone.
2. Critically Review the Seller Gig and Profile.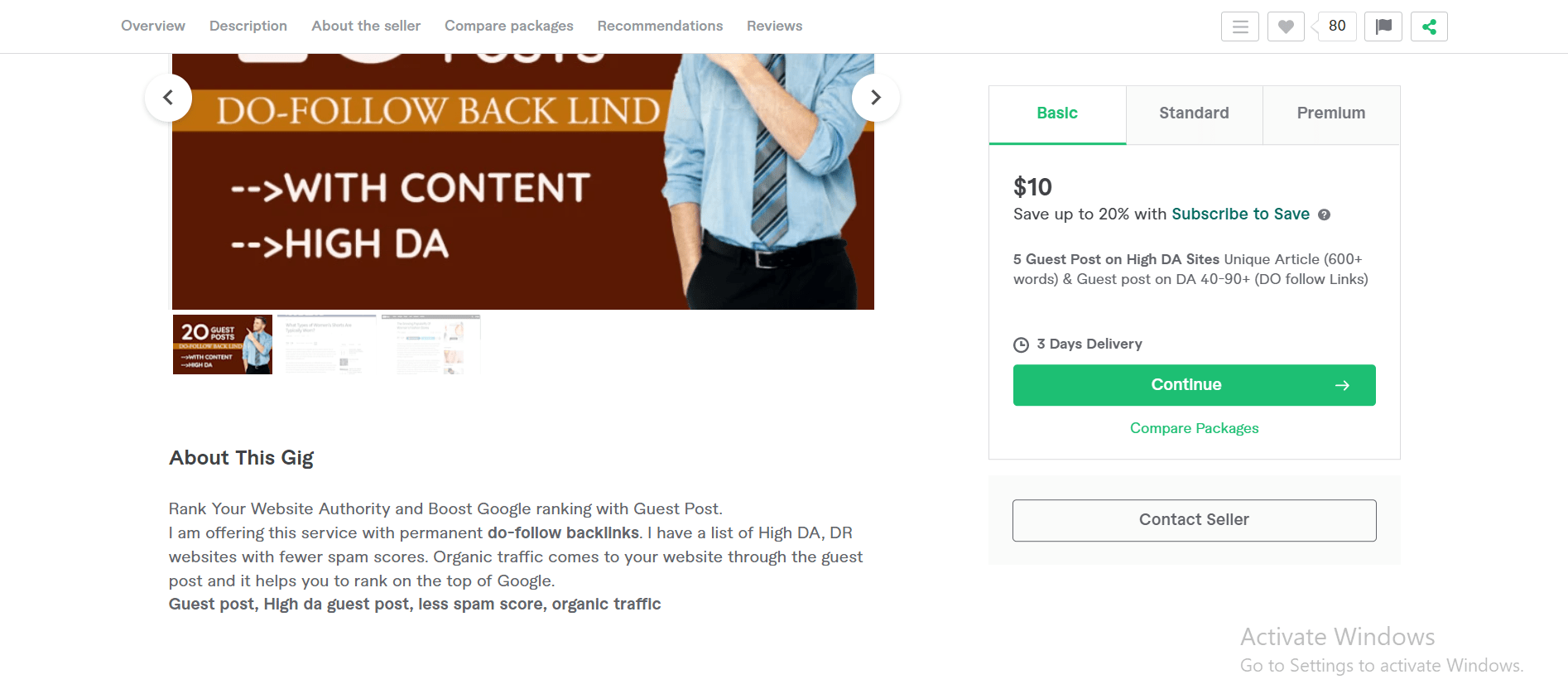 There are over 1 Million Freelancers on Fiverr, so I recommend you sit down thoroughly to access the profile of the freelancer you intend to hire.
Top and trusted freelancers will appear first when you make a search query, leaving others beneath.
Top freelancers are expensive because they have built enough trust on the platform that makes them prefered above others.
This includes taking a critical look at the Gig description, reviews from other buyers and value-added services that such a person provides.
If it goes well with you, then you can go ahead to hire such a person.
3. Go with Your Budget.
The truth is that a budget helps you reach your goals. It is also a unique tool that anybody can master. It just has a steep learning curve for some.
Going with your budget on Fiverr will help save you a lot when it comes to spending. One way to do this is to go with the lower gig; I know this does not sound reasonable.
You are starting a new business without profit yet; it's wise to stay on budget. I also advise that you interact with the seller to explain what you want so that he does not mess up, and this can be done via the chat feature on Fiverr.
12. Build a Sales Funnel.
A sales funnel a marketing concept that maps out the journey a customer goes through from initial contact to sales. Only a fraction of prospective customers end up making a purchase.
If you are a business owner, you know the pain of missing out on sales. After putting out content, lead magnets, webinars, and more, prospects drop out of the funnel without purchasing anything.
It happens less if you have built a proper sales funnel. In a sales funnel, you understand your potential customers and what they are thinking, doing, and looking for at each journey stage.
I wrote a comprehensive guide on this blog to guide you on building your own sales funnel; check out the link to the article below to get started.
Conclusion.
Scaling your business up to the point where you begin to make a profit is not an easy one.
However, working for someone else can be challenging when finding motivation. But, no matter how much work you put in, the company owners will get the ultimate rewards.
When you're your boss, you'll find motivation at work every day. Following your dreams is exciting, and you're in control of your success.
You'll know that your hard work and drive will help you reap the rewards, and that'll keep the fire burning in your soul.
I wrote a comprehensive guide on this blog on some of the most profitable online businesses to get started with. Check out the link to the article below to get started.