Introduction.
One of the first online marketing strategies deployed mainly by any online business owner is social media marketing.
Social Media has become so part of the world that even more businesses prefer starting their business on social media even before getting a government licence in their country.
Social media platforms such as Facebook, Twitter, and Instagram have been reported to have more businesses hosted on their platform than any other business listing platform globally.
Social media has been attributed to be the virtual world on the internet, and one of the significant reasons it is still the most prefered lies in the fact that you can reach out to more people with just one click.
What is Social Media Marketing?
Social Media Marketing is defined as using social media marketing platforms such as Facebook, Twitter, Instagram, TikTok, Linked In, and Pinterest for marketing.
As stated earlier in the introduction, social media remains one of the versatile ROI tools that every business owner needs to leverage.
I wrote an article on how you can start engaging prospects on various social media platforms; click the link below to read them.
Why Does Your Business Needs Social Media Marketing?
Do you seek effective online marketing, or do you desire to take your business online? Social media is one of the very versatile tools to help you achieve this.
In this section, I will be stating very few reasons why you should take your business to social media.
1. Social Media is free.
Imagine having to register your business in your local country; you would have to sign many documents and even wait for a more extended period before your business is registered; also, not too many people have the money to register their businesses first.
I am not saying you should not abide by the law of the land in your country and get your business registered, but all I am saying is that getting your business on social media puts you fast on the track as a business owner.
You can get started on social media and register your business to the law of your country.
2. Create Brand Recognition.
Before the days of social media, most brands usually had to spend a fortune on local advertising before actually getting recognised, making it very hard to start a business.
With social media platforms like Facebook, Twitter and Instagram, your brand can be in the general public with just a click.
3. Tells Your Brand Story.
When someone identifies your brand, the next thing they want to see is your brand story; this has a lot to do with how you started, where you are now and where you intend to be soon.
The only place where brands can tell their stories at ease is on social media. You don't need a special award of recognition by any organisation; all you need is a social media page.
4. Direct Referral Traffic To Your Site Or Blog
Most businesses create websites and leave them there without optimizing them to receive visitors from search engines and social media.
With social media platforms like Facebook, Instagram and Twitter, you can divert potential leads to your website to learn more about your business.
5. Social Media can be used as a Tool For Advertising.
Native advertising such as billboards, Banners have become too expensive for new businesses to subscribe to; with social media platforms in place, you can set up an advertising campaign that would hit millions of audiences with a subsidised budget.
What are the best Social Media Marketing Tools You Should Know?
Over the last few years, we have seen the rise and fall of so many social media platforms, and more are still being created every day.
This has, however, become so hard for social media experts to be able to keep their work in check; I mean, you have to post on Twitter, Facebook, and LinkedIn and the Likes having to do this over and over again has made the complete social media management a thing of stress, but with this very few tools that I am about to mention, you stand the chance of having to have to build a whole new social media experience for your business.
I will be categorising the various social media tools to be mentioned in this article into two, and they are.
1. Social Media Management software.
Social media management software is an online tool that is designed for the sole purpose of managing social media profiles. They also perform so many other tasks.
Most of them include analysing social media interactions and scheduling posts to various social media platforms with one button click. There is much social media management software out there, and very few of them are.
1. MissingLettr.
The first tool to be introduced in this article is MissingLettr. Have you ever wondered how difficult it is to create content on social media? This is what MissingLetter solves.
MissingLettr is a unique AI social media scheduling and publishing tool that allows you to generate social media content from your existing blog post.
MissingLetter allows you to create social media content from your existing blog articles with the relevant hashtag, which will get you the needed traffic.
Missinglettr allows you to schedule and publishes your articles on various social media platforms.
TRY IT NOW- Missinglettr
2. Crowdfire.
CrowdFire is second on the list and is one primary tool that I recommend you use as a social media business owner.
Crowdfire allows you to manage and schedule your content on all social media platforms like Twitter, Instagram and Facebook.
One major turn-on about Crowfire is that it automatically suggests a relevant topic for you and tells you the best time to post.
You can get started with a free account and upgrade later.
TRY IT NOW-  Crowdfire.com
3. AgoraPulse.
AgoraPulse is third on the list because it is one of the best social media management software.
It has all it needs to manage your social media profiles in one place; some of these unique features include Post scheduling,
Social inbox to manage all your comments and social media conversations and unlimited access to real-time statistics in one place.
AgoraPulse is not accessible, yet it has very cheap pricing; you can start with as low as $79/Mo.
This is quite expensive for a small business that is yet to make money, but if you are a vast organisation, you can try out AgoraPulse.
TRY IT NOW- Agorapulse.com
4. SocialPilot.
Just like AgoraPulse, Social Pilot is another excellent tool that helps you manage all your social media profiles in one place.
Some of the fantastic features of Social Pilot include connecting up to 50 social media accounts at one time, social media post scheduling, content curation and feed discovery, uploading up to 500 posts with bulk scheduling, and inbuilt paid ads feature.
Social Pilot also comes at cheap pricing, starting at $100/Mo.
TRY IT NOW – Socialpilot.com
5. Tailwind App.
Tailwind App is another excellent social media tool to look out for; Tailwind app is popular amongst the Pinterest community; I know tailwind app to be a Pinterest-only tool, but it was not until recently that I discovered that it is a complete social media management software that allows you manage all your social media account in one place. I mean, not all social media, just Pinterest and Instagram only.
All you need to scale your Instagram and Pinterest marketing is developed into the Tailwinds app.
You get access to inbuilt tools like Instagram scheduler, Instagram Hashtag finer, Instagram analytics and Reporting,
The same also goes for Pinterest, such as Pins scheduling, Pinterest analytics and Pinterest monitoring and trends.
If you seek a great social media management tool, you should try out the Tailwind app.
Tailwind is free to use, but you can sign up for a paid plan to get the best out of it.
TRY IT NOW- Tailwindapp.com
6. Hootsuite.
Hootsuite allows you to manage over five different social media platforms. A few of them are Facebook, Twitter, Instagram, Linked In, and Pinterest; you also get the power to manage more than one social media profile in one account.
Also bundled with Hootsuite are excellent features, most of which are performed by most of the online social media management platforms mentioned above but with a bit of extra.
With Hootsuite, you have access to the following features.
Post Scheduling.

Social media analytics from various social media platforms.

It has an inbuilt ad manager.
You can also check out more on the official website.
TRY IT NOW- hootsuite.com
7. Sprout Social
Sprout Social is another astounding social media management software that I recommend you try out; it is one of the numerous solutions that perform more than expected.
Sprout Social comes with so many features, including publishing and scheduling, real-time social media data, and accounts monitoring.
With Sprout Social, you can connect over four social networks, including Facebook, Twitter, Linked In and Instagram. In addition, sprout Social comes at very affordable pricing, starting at $99.
TRY IT NOW- Sproutsocial.com
8. Sendible.
Sendible provides social media management tools for enterprises to work with. With Sendible, you can manage all of your social media profiles in one place.
I love Sendible because it supports the integration of Google-my business alongside its platform; this makes it one of the most sophisticated social media management platforms.
Sendible comes with a lot of excellent features, including a content creation tool, post scheduling, real-time reports generation, and a mobile app to manage all your activities as flexibly as possible.
With Sendible, you get access for just $29/Mo. You also get a 14days free trial without a credit card.
TRY IT NOW- Sendible.com
9. eClincher.
Another company in the social media management business is eClincher. With eClincher, you get access to manage all your social media accounts, including Google-my-Business.
eClincher comes with many juicy features, most of which include; Publishing and scheduling of posts, auto-posting, inbuilt content suggestion, real-time analytics engine, third-party integrations such as Canva, Google analytics and mobile app/ chrome extension.
eClincher comes with a starter plan of just $59/Mo
TRY IT NOW- eclincher.com/
10. Insist App.
Insist app is another excellent tool to get started with; though it works for Instagram only, with Insist app, you can do a lot of things to your Instagram app from your PC.
Insist app is a chrome plugin that lets you post photos, and videos, schedule, publish stories, monitor followers and send direct messages to anyone on Gram.
Though Insist App is free, it comes at a very affordable pricing of just $5/M, allowing you to do more such as adding multiple accounts and getting insight scheduling.
TRY IT NOW- Insist App.
11. Mav social.
Mav Social is another excellent social media management system that allows you to manage all your social media profiles in one place.
Mav Social comes with core social media management features such as Post scheduling, analytics and access to top content that suits your business.
Mav social comes at affordable pricing, one that even small businesses can leverage; with just $19, you get to experience the full potential of Mavsocial.
TRY IT NOW- Mavsocial.com
12. Post Planner
Post planner is a great social media management platform, but this time with more focus on content discovery and creation.
You get access to dozens of high-performance content from various niches every day and distribute it across your different social media platforms.
Post planner comes at the cost of just $3/Mo; you can check out Post planner.
TRY IT NOW- Postplanner.com
13. Later.

Later is a social media management platform designed only for Instagram, Later allows you to get access to various features like scheduling, content curation and analytics.
Goodnews !! Later is free, but you can upgrade if you want to tap into more of its features.
TRY IT NOW- Later.com
14. Iconosquare.
Iconosquare is another excellent social media marketing and management tool for Instagram, Facebook and Twitter.
This all-in-one solution gives you the ability to get insights into your social media performance, schedule and export reports and auto-publish your posts.
Iconosquare gives you a 14-day trial and comes at a starting price of $29/Mo.
TRY IT NOW- iconosquare.com
15. Shorby.
Shorby is a social media tool that allows users to showcase all their most important links in one place, which is very useful in marketing.
With Shorby, You can create a beautiful micro landing page with rich links to your best content all over the internet.
Shorby comes with a lot of features that allow its users to share IG, Youtube; Twitter bio links to drive traffic to content, sales, and social profiles, boost conversions by page customisation, texts, and good-looking Rich Links and Track all clicks with pixels to get high-quality data for retargeting and low-cost ads.
Shorby comes with an excellent plan that allows you to use the software and pay on a monthly or yearly basis, but each of these plans comes at a very different cost with an added extra advantage.
TRY IT NOW- Shorby.com
16. Elokenz.
ELokenz is a social media marketing tool that analyses your best content and automatically decides the best ones to be shared across all social media platforms.
All you need to do is, Import a piece of content, Choose the platforms your article will be reposted on, Create multiple status updates and analyse and improve your content.
Elokenz comes at very affordable pricing, which can be renewed every month; the lowest pricing starts at 7$.
TRY IT NOW- Elokenz.com
17. Shopmessage.
ShopMessage is the conversational marketing platform that drives sales of multiple eCommerce websites using Facebook Messenger.
Shopmessage works like Chatfuel; all it does is build leads that can be remarketed to
Shopmessage comes with many excellent features that allow you to be able to do many amazing things; some of these features include; Customizable Smart Popups, M.Me Links shareable links, Send to Messenger Plugin, Order Update Plugin and Click to Messenger Ads.
TRY IT NOW- Shopmessage. me
18. Adzooma.
Adzooma is an all-in-one platform that allows you to optimise Google, Facebook and Microsoft ads in one place.
With Adzooma, you get the unlimited benefits of controlling multiple campaigns in one place without managing multiple accounts.
The good news is that Adzooma is free to use, and it does not require any credit card.
TRY IT NOW-  Adzooma.com
19. Reply.
The reply is a sales acceleration platform that helps automate your outreach, email search, LinkedIn outreach, personal emails, SMS and WhatsApp messages, calls, and tasks.
Just imagine getting these tasks off your neck; that is what reply can help you do.
The reply comes at an affordable price for all it does; pricing starts at $55/Mo.
TRY IT NOW- Reply.io
20. SocialBee.
SocialBee is a social media management tool that allows you to manage all your social media profiles in one spot.
SocialBee comes with many unique features: multiple social media sharing, post automation, schedules and reposting, adding content automatically from your RSS Feed, creating custom URLs and Tracking, audience analysis, and inbuilt report and analytics.
SocialBee comes at very affordable pricing, starting from $19/Mo.
TRY IT NOW – SocialBee.io
21. Outgrow.
To build an effective sales funnel, you need a website, a form, an analytics tool and a chatbot. This process involves the combination of more softwares which can become a hectic process when trying to marry altogether.
Can I show you a tool that helps you do all of these on one platform? Building a complete sales funnel requires a lot, including coding; sadly, not everyone loves or knows how to do that.
However, there are handy tools that have been created to help you get rid of the anxiety and stress involved in building a comprehensive sales funnel, and that Tool is what we are going to discuss in this section. That tool is called Outgrow.
Outgrow is online software that provides you with tools that helps you with lead generation and content marketing.
The bottom line is that Outgrow was created for digital marketers who want to acquire, engage and qualify leads. Boost your content marketing with Outgrow's range of engaging quizzes, polls, chatbots, personalised recommendations and calculators. You can also use built-in analytics to generate valuable insights that can enhance your campaign.
TRY IT NOW – Outgrow.com
22. Story Chief.
The world is becoming intelligent, and no one wants to waste time handling basic tasks anymore. As a result, the world is pushing for more productivity by automating essential reading.
In this section, a task that we will be talking about is content creation. We all know how long it takes to create simple 1500 words content for a blog post alone; a lot needs to be put in place, such as gathering facts and putting it all together to make something meaningful.
We have seen so many people become frustrated at this task, never to return. The Good news is that a tool has been designed to help you handle all hassle that you might be facing when trying to create your content.
StoryChief is an online tool designed to cut your content creation process in half. It is a reliable tool that lets you co-create, plan, and distribute articles to different publishing channels with one click, all from one place. Also, Perfect your SEO score and boost your essays.
Storychief comes with many exciting features that let you create and manage your blog, Social media pages, solid content collaboration, Analytics and reporting, and SEO copywriting. Just see Storychief as WordPress on steroids.
Storychief comes at an affordable price to help ease your content creation process, starting at $90/Mo.
TRY IT NOW – storychief.io
23. Plann.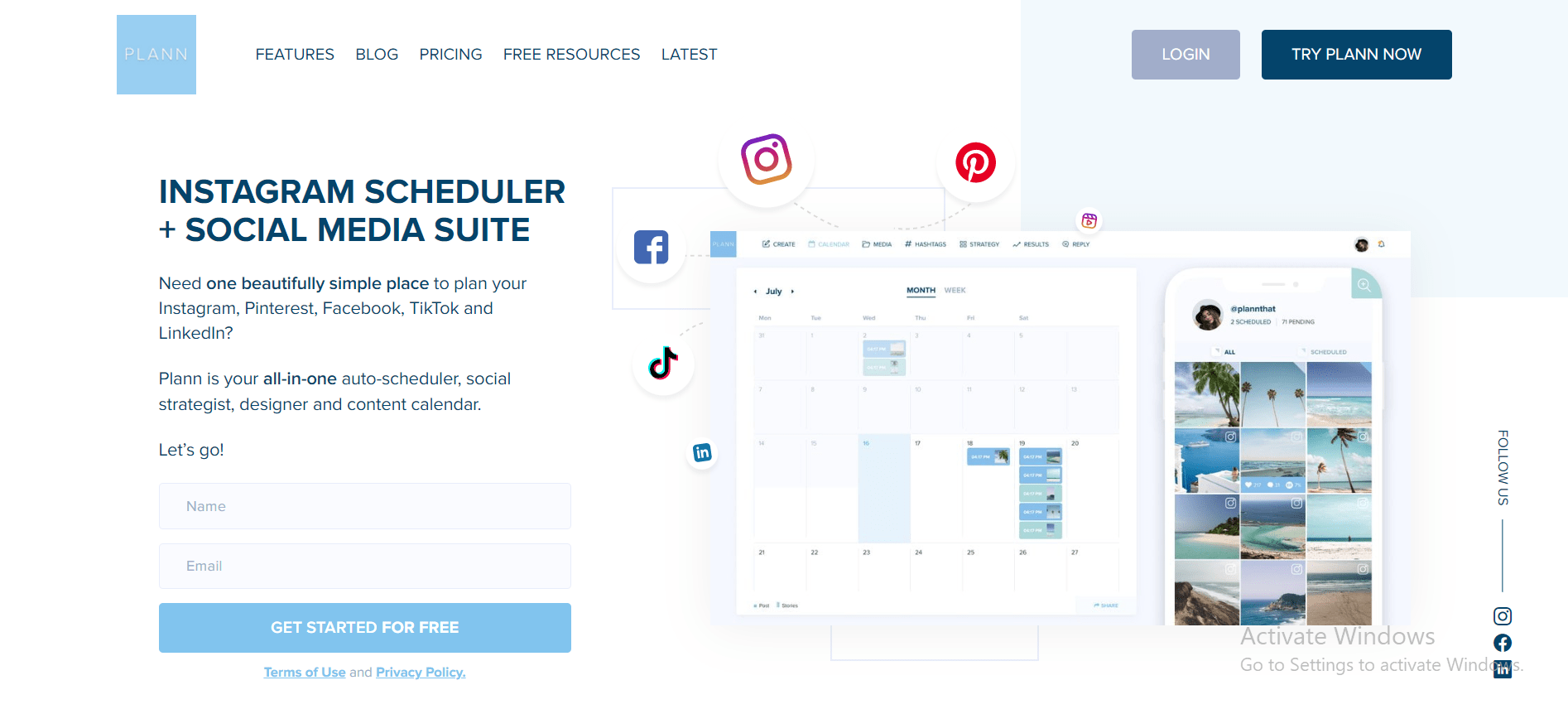 Plann is a social media scheduler social media strategist, designer, and content calendar where you can plan and auto-schedule your favourite social media platforms such as Instagram, TikTok, Pinterest, Facebook and LinkedIn.
It is loved and trusted by 3-Million+ of the best brands and is available on Desktop, iOS, and android.  Plann is a comprehensive social media scheduling, analytics, and strategy suite. It also helps in measuring the outcomes of your posts and stories and tracking website click-throughs.
Plann comes in various pricing starting at $0 which allows you to use the app for free but limited to one member and social network.
You can upgrade to an advanced plan with more features for the sum of $11, $22 and many more.
TRY IT NOW – Plannthat.com
2. Social Media Utility Tools.
The next session of this article will be a complete listing of social media tools that serve other purposes than just social media management; in this section, we will be elaborating on tools used for content creation and content curation and photo editing.
21. Buzzsumo.
BuzzSumo is a content marketing and social media analysis software.  It simply allows you to discover content, find influencers and monitor online trends.
It is easy to stay on top of trending topics, and it is also a tool for understanding social media sites and sharing their content; it is also an excellent tool for finding influencers on various social media platforms
visit the official website to get started.
TRY IT NOW- Buzzsumo.com
22. Adobe Spark.
Adobe spark is one of the essential tools in the adobe family that generally provides non-designers with Post, Video, and Pages that are truly easy to use.
Adobe spark works like an easy to use online graphics tool; you can leverage it to create a Facebook post, slideshow, Instagram post and web page.
Adobe spark is free to use, but you can upgrade to a premium plan if you want to remove its watermark from your projects.
23. Canva.
Canva is an exciting graphic design platform that allows you to create social media graphics, presentations in all forms and generally visual content.
With Canva, you have access to over 1000+ templates, so you never run out of ideas.
Canva can be used for free, but you are also allowed to subscribe if you want more features unlocked for your use.
TRY IT NOW- Canva.com
24. WhoUnfollowedMe.
Most times, we wonder why our social media followers get reduced only to discover later that those who initially followed us are unfollowing us behind our back, sometimes maybe because you refused to follow back or you followed back. They took advantage of that to unfollow you, thinking you may not know.
I have good news for you because there is an online tool that can help you track all of that, and that tool is called WhoUnfollowedme.
This software helps you track all your followership growth on Twitter only.
TRY IT NOW – who. Unfollowed. me/
25. Brand24.
Brand 24 is an online reputation monitoring tool that helps you monitor your brand activity across the internet, podcasts, blogs, forums and social media platforms such as Facebook, Twitter and Instagram.
With Brand 24, you get instant notification anytime your brand is mentioned anywhere on the internet; with these tools, you can engage prospective clients anywhere on the internet as quickly as possible.
Brand 24 comes at an affordable pricing of just $49/Mo
TRY IT NOW-brand24.com/
26. Feedly.
Feedly is another excellent social media tool that allows you to keep up with only topical trends you are interested in without having issues with information overload.
With Feedly, all you need do is select your prefered source, and it gets organised so that you only get topics you are interested in.
See it just like Google explore, but you get more control over what is displayed in your feed this time.
Feedly is free, but you can choose to upgrade to get access to more premium functionalities such as access to Google News feeds, Twitter feeds, Reddit feeds, Follow newsletters, and gain access to over 7000+ feeds.
TRY IT NOW-  Feedly.com
27. Animaker.
Animaker is an online video content creation platform with an easy do-it-yourself layout gathered with templates and royalty-free video, images, titles and music.
Animaker clarifies video creation by enabling markers to create videos without the complexity of most production efforts.
It was created Back in 2014 to help a studio that helped companies across the globe to make videos. Animaker has clients from fortune 500 companies to small startups.
Animaker comes with unique features that allow you to create incredible videos, and they include.
1. Whiteboard animator with five unique board styles.
2. 100+ charts, 1000+ icons, and 3000+ maps to create video animations highlighting data.
3. Pull-in various video sources, including functionality and effects like a record, multimove, curve, camera, and camera to add pro-level animations.
4. A deck feature brings together the visual awesomeness of animated videos and the convenience of PowerPoint presentations.
5. Sound effects including voiceovers, audio scores and 'text to speech converter.
6. Team and user management, including authority over branding, multi-user collaboration, task management, file management and messaging.
Export video in full HD quality 1080p.
7. Create vertically optimised animated videos that match right into the mobile screen.
8. Immediately upload completed videos to YouTube and Facebook or download the master video file
Animaker is administered via four plans starting with the Personal Plan at $12 a month. A Free program is also offered. Plans and pricing are based on the number of features and video downloads.
TRY IT NOW – Animaker.com
28. Restream.
Restream allows you to broadcast live video to 30+ social networks simultaneously.
It lets users create customisable chat boxes to read and reply to messages across multiple platforms from within a unified dashboard.
Millions of people worldwide use Restream to reach, engage and monetise their audiences across all social media platforms at the same time.
Restream's scheduler module allows businesses to upload videos in .mp4 or .mov formats and select channels for them to go live at a particular time.
It also lets users add voice-overs or translations and broadcast several points of view utilising the multi-camera mode.
Additionally, users can attain insights into live stream performance by analysing audience sentiments and engagement levels across all platforms.
Andrew Surzhynskyi and Alexander Khuda founded Restream in 2015 with a passion for helping streamers get a wider audience.
Restream is available as integration for various streaming applications like OBS Studio, SLOBS, Elgato and Xsplit.
Restream comes at affordable pricing, starting at $0/Free up to $49/Month to access additional features.
TRY IT NOW – Restream.io
29. Cleverly.
Cleverly is a lead generation agency that helps B2B companies generate leads on LinkedIn.
Cleverly has launched thousands of campaigns, which has allowed which has to lead to dozens of leads being generated.
On average, Cleverly clients see between 20-50 new conversations with ideal buyers for every 500 prospects engaged, making it a perfect software for lead generation on LinkedIn.
LinkedIn is a social media platform for professionals, making it an ideal marketplace to start converting high leads clients.
After signing up with Cleverly, you will be assigned to a dedicated account manager who will conduct your kickoff call to get you started and schedule one-on-one strategy sessions throughout your campaign. 
The dedicated account manager assigned to you by Cleverly will guide you through the lead generation process, answer any questions about prospecting on LinkedIn or sales in general, and, if needed, will also give expert strategic advice based on thousands of successful campaigns that other clients have run.
Cleverly lifts the heavyweight of lead generation.
1. Sending Connection requests with or without a personalised message.
2. Cleverly sends Follow-up messages after the connection request has been accepted.
You should also note that Cleverly does not offer any refunds. This is due to the amount of work and time required to craft your campaign strategy, create qualified targeting lists, write persuasive sales messages, and manage your campaign.
Cleverly is not an automated software; real-life human elements are required to help you succeed.
If you want to start hacking your business around LinkedIn, I wrote a comprehensive guide to help you get started; click the link below.
Cleverly comes with additional services, which include.
1. LinkedIn leads Generation.
2. LinkedIn Paid Advertising.
3. LinkedIn Candidate Recruiting.
4. White Lable leads Generation.
5. LinkedIn Leads generation courses.
TRY IT NOW – Cleverly. co
Conclusion.
There are so many social media tools out there; you should make use of one that suits your business model also; make sure to try out every one of each of these tools as mentioned in this article; you should also take your time as much as possible to see which one of these tools is a better suit for your business.
Understanding how to effectively use digital tools is one challenging aspect that always seems confusing to every business. It is not usually about having the necessary tools; you also need to know how and when to apply them.
I wrote an article to help you effectively decide on the best digital marketing strategy to get started with; click the link below to get started.