Introduction.
According to the International Labour Organisation (ILO), gig jobs are classified under temporary employment with pre-determined termination dates.
This means anyone can get these jobs without Harcore screening prices, but might not be able to hold them because they are temporal.
Gigs could be fixed-term, task-based contracts, seasonal, or casual jobs. Globally, regulations came into play in the last three decades as the population of the workforce doing gig jobs increased.
As a result, there is now a level of legal protection for those doing such jobs that didn't exist 30 years ago.
Upwork is a gig economy platform that connects freelancers with people and companies that need work done.
When you find a job of interest, you submit a proposal that usually includes your desired rate, a short cover letter and brief answers to a few questions about your skills, experience and fitness for the project.
Billing and payments are handled by Upwork, which provides a measure of protection to both parties.
Reading this article, I know you must have seen examples of gig platforms like Fiverr and the likes, Upwork should be considered by anyone seeking to make some money using their respective skills.
What is Upwork?
Upwork is a marketplace that connects businesses with freelancers around the world for small or long-term jobs and gigs.
Honestly, I think Upwork and other sites that cater to remote work will only become more popular in the coming years.
As the entire world becomes more and more connected with great internet access, the need for people to hire local staff is significantly shrinking.
Remote team organization has never been easier with a platform like Upwork and many other remote gig platforms.
In this article, I will be spelling out a detailed guide on how you can become a successful freelancer on Upwork.
Why should become a freelancer on Upwork?
Upwork is one of the topmost American-backed freelancing platforms in the world, if you are coming from a Fiverr background, Upwork is one place you ought to belong.
While it may take a lot of time and hard work to get started, becoming a successful freelancer on Upwork is achievable and comes with many benefits. Here are some reasons why you should freelance using Upwork.
1. Upwork gives you More freedom.
One of the advantages of being a freelancer on the Upwork platform lies in the fact that you have much more freedom than when you work for someone else.
You're essentially running your own business, and it's up to you which new clients you take on, what your hourly rate is, and what hours you work. You are under no obligation to take on any projects you don't want.
2. Upwork allows you to work flexible hours.
The ability to set your hours can be particularly attractive, and this can only be achieved as a Freelancer on Upwork.
If you want to take off on any day of the week because the weather is nice and work on a Saturday instead, it's entirely up to you.
In general, as long as the work for your clients is completed by the agreed-on deadlines, you have complete control over when and how you do it.
3. With Upwork, you are your boss.
Again, as a freelancer, you're your boss. You choose your workload, your schedule, your dress code, and every other aspect of how you run things.
That said, freelancing isn't a vacation. It's up to you to make sure you keep your clients happy, keep track of budgeting, seek new clients, and negotiate rates.
With this flexible schedule, you can do more and plan a well-balanced life.
4. You stay anywhere in the world as an Upwork freelancer.
Because you aren't beholden to a single company or boss, you may be able to choose to live anywhere as a freelancer and even travel while working.
A lot of freelance work is done digitally, which means you can be fully remote—with clients worldwide—and live and travel wherever you please while completing it.
5. With Upwork you earn huge Compensation and earnings control.
As a freelancer, there's no need to ask your boss for a raise. You set your rates which can be done on Upwork while submitting your proposals.
You also choose how much work you take on. To a certain degree, though, rates and amount of work are subject to market forces.
However, many freelancers find that they can raise their rates over time as they do more work and gain a strong reputation.
6. Freelancing on Upwork Improves your skill set.
Freelancing means you take on various projects from multiple clients. Each project brings up a new challenge to the table and provides an opportunity to expand your skill set.
You'll likely find yourself learning new things as you go. Freelancing provides many more opportunities for growth as you tackle a wider variety of project types.
You may also wish to enhance your skill set on your own which can be done via YouTube or another learning platform.
As a freelancer, you can choose how and when you do this instead of waiting for annual corporate training.
How do I start freelancing using Upwork?
Upwork is a unique platform that enables anyone to stand out irrespective of their social status. Here is how you can get started on Upwork as a Freelancer and become successful.
1. Build a unique set of skill sets.
A skill set is a combination of abilities, qualities and experiences you can apply to perform tasks well.
These can include soft skills such as interpersonal skills, organization and leadership as well as technical skills such as research, computer programming, accounting writing and more.
Spending time on improving your skills can help you achieve personal career goals such as earning a promotion or becoming an expert on a certain topic.
Your skill set can be applied to progress in your current career or expanded to earn a job in a different field or industry.
Coming to Freelancing on Upwork, you need to have tons of skillsets underneath your belt to make someone pay you for what you offer them.
You need both hard and soft skills to get job offers on Upwork, I wrote a comprehensive guide on how to acquire the needed skills to get you started on Upwork, check out the link to the article below to learn more.
2. Create an Upwork Account.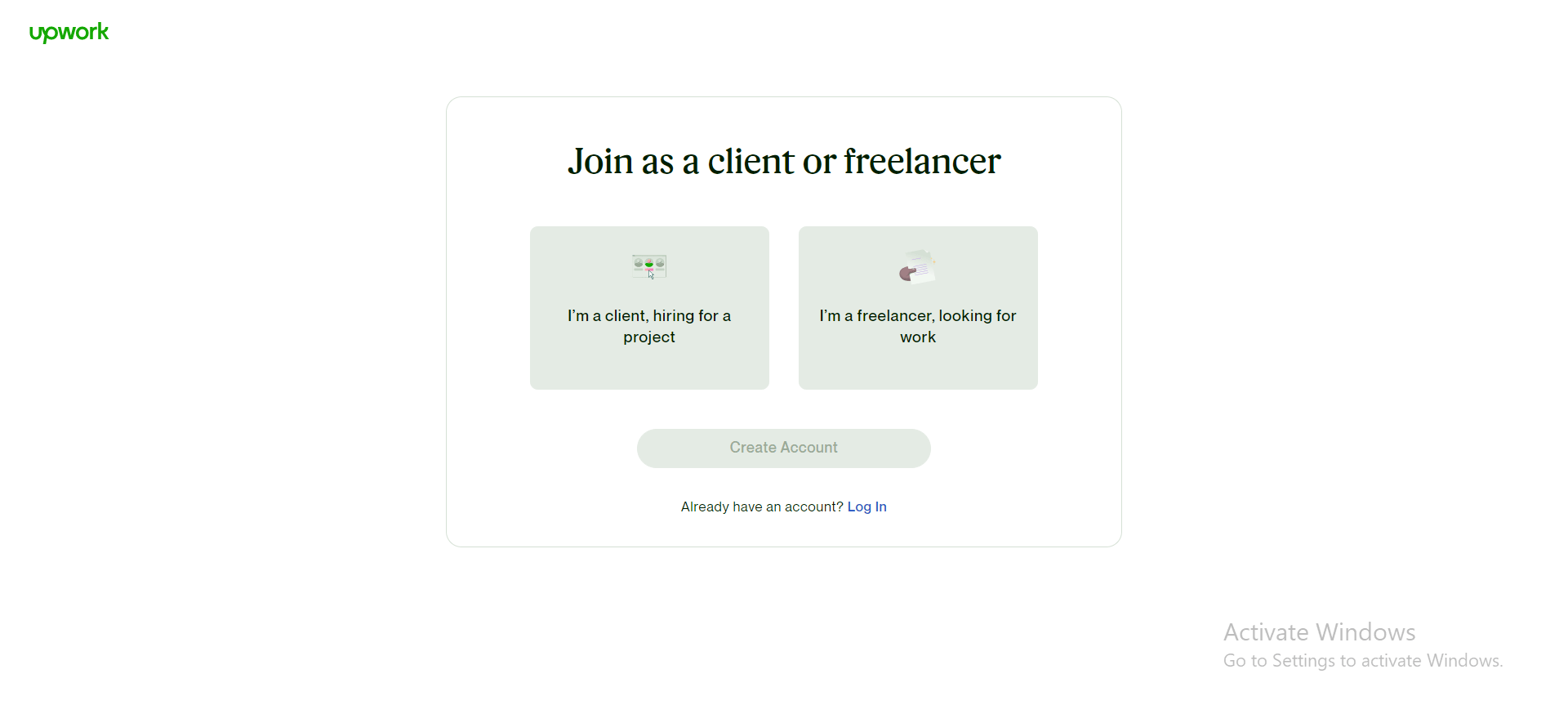 The next step is to create an Upwork account. The first thing you need to do when starting on Upwork is to ensure that you create the right type of profile. There are two types of profiles on Upwork; the Client profile and the Freelancer profile. 
As a freelancer looking for work, the correct profile will be Freelancer, so you definitely would need a Freelancer account as shown below.
You can sign up by using the Link in front of the " TRY IT NOW BUTTON" below.
TRY IT NOW – Upwork.com
3. Optimize your Upwork Profile.
Now that you have finally signed up with your credentials, it's time to optimize your profile to make it attractive to clients.
Getting started depends a lot on a good profile. you should be able to optimize your profile in such a way that it makes it attractive for people to work with you.
1. Single-line Summary.
This section enables you to highlight all that you do at a glance. One way to outline this is to list all that you do at one time.
A perfect example is.
Web Developer / Digital Marketing / Professional Copywriter / B2B Content Strategist, etc.
2. An attractive profile.
See this section like your professional Bio, make sure to keep this section as short and precise as possible.
It's up to you. But the trick is to let your personality and knowledge be obvious to your clients. 
3. Include your educational history: 
Upwork recognizes your educational background, particularly if it is related to the service you provide. 
You could easily be labelled "Rising Talent" if you have/are trained for a degree — relevant or not.
4. Add your professional experience.
This is so important to clients. If you don't have a website, start with one! Getting started with Upwork without experience is easier when you have a body of work. 
So, link your website or your online portfolio. Even if all you've got is a medium account or content you've contributed to other people's sites, just make sure to link something, you can also add a screenshot to make it attractive.
4. Start submitting proposals.
One of the most frustrating things as a freelancer is sending Upwork proposals and never hearing back.
It's a no-brainer, starting new as a freelancer on Upwork comes with its disappointments, but this is just part of the journey.
Successful freelancers know the importance of learning how to become a good salesperson. Especially when it comes to the art of writing a winning proposal.
Effectively presenting yourself as a knowledgeable professional who understands the needs of your clients is the best way to win contracts on Upwork.
Also bear in mind that you can also write great Upwork proposals, but If our Upwork rates don't fit the client.
We can either lower them or look for other clients, Especially for new freelancers without an established reputation or a stellar Job Success Score.
Here is a sample of a comprehensive Upwork proposal that you can draw inspiration from.
1. How to Start Your Upwork Proposal.
Within the first sentence, you want to show you've read their job posting. You should not introduce yourself cos they do not care
Proposals that start like this:
Hi, my name is Michael and I'm a ___
Is likely going down the drain, Instead, you should start this way
Hi. I just read your job posting and it sounds like you need ___.
This is so much better, and if you just make this one single change you'll get more job interviews, I guarantee it.
Talking about their needs and their job posting before talking about yourself is also powerful because it immediately shows them you read their job posting.
2. How to Write the Middle of Your Upwork Proposal.
Next up is the middle of the main body of your Upwork proposal. First, you'll want to share a bit about your background, and ideally how you've helped other clients solve the same problem or do the same thing in the past.
But keep this brief. Four to five sentences are enough. You don't want to tell your life story; they don't care. They care about how you can solve their problem. That's it!
Or you can do this by asking a question. For example, you might say, "I'd be curious to hear if you've tried ___. I recently implemented that with another client and the result was ___."
3. How to End Your Upwork Proposal.
Finally, it's time to end your proposal and it should be very brief, too. You should not be doing a ton of writing or sending out big bulky paragraphs.
There are two good options for how to end an Upwork proposal:
The first option is to ask a question about their project/needs. If you haven't already asked a question in your proposal body, you can say something like,
Do you have a website so I can understand this more?
This is a good way to get a response and be able to find out more info about the project.
The other option is to have a more traditional "call to action" telling them to reply or asking them when they're free to talk.
Putting all of these together, we have the following.
Hi. I just read your job posting and it sounds like you need an SEO expert.
I consider myself a great fit because of my several years of experience in Web design, SEO and digital marketing.

I have consulted with small businesses and have worked remotely as a contractor for companies in various parts of the world. If I were to get started, here is how I would approach this project.

1. Chat with you to determine your pain points and what you want

2. Document all new processes, so that it's very clear how it's going
to be done.

3. Once we establish these new processes, I would get to work, get the task done and also save you money in the process.

4. Over time we will continue to find ways to make your life easier and improve.

Do you have any questions for me?
.