Introduction.
I've got good news for those who want to earn a living writing on Medium but do not reside in countries where the Medium Partner Program is supported.
Anyone can join the Medium Partner Program if you live in a country that is not supported by Medium's payment partner, Stripe. 
In this article, I will walk you through the requirements and how to fill out the forms to get accepted into the program.
Medium only pays writers through Stripe. Due to Stripe's limited support to only 31 countries at the moment, talented writers around the world are excluded from the amazing opportunity of getting paid for their work on Medium. 
This doesn't have to be, especially in a world where voices are crying out for digital inclusion.
Mind you this article does not teach black hat tactics like:
Use Of VPN.

Using the Stripe account of a relative abroad.

Something else weird.
All I am going to show you in this article are legit means to join the Medium Partner Program even if you live in a country where it's not supported.
Disclaimer.
This article may contain affiliate links, which means that I may earn a commission if I click on the link or make a purchase using the link.
When you make a purchase, the price you pay will be the same whether you use the affiliate link or go directly to the vendor's website using a non-affiliate link.
The use of affiliate links helps support the ongoing content creation and maintenance of this website.
I only recommend products and services that I have personally used or thoroughly researched and believe will add value to my audience.
What Is The Medium Partner Program?
The Medium Partner Program is a program offered by the online publishing platform Medium. The Medium Partner Program allows writers and creators to earn money for their work by monetizing their content.
Medium operates on a subscription-based model called "Medium Membership." Subscribers pay a monthly or annual fee to access premium content and exclusive features on the platform.
Writers and creators can join the Medium Partner Program to earn money through their content. When a Medium member reads their stories, the writer receives a portion of the member's subscription fee. This is based on the member's reading time spent on the writer's stories.
Why Should I Join The Medium Partner Program?
Writers who've put in the work to grow their following and influence on Medium can make four figures on the platform with their words alone.
If you live in any country in the global south, the income you earn from Medium can go a long way in making you comfortable.
If you find yourself pondering whether to join the Medium Partner Program, here are some reasons why you should,
1. Monetizing Your Content.
Perhaps the most enticing reason to join the Medium Partner Program is the opportunity to monetize your creative efforts.
By becoming a Medium Partner, you open the door to potential earnings based on the engagement your stories receive.
Medium's unique model pays writers based on the reading time spent on their stories by Medium members, providing a direct financial incentive for creating compelling, high-quality content.
2. Access to a Diverse and Engaged Audience
Medium boasts a diverse and engaged community of readers who actively seek thought-provoking and well-crafted stories.
Joining the Medium Partner Program allows your content to be discovered by this audience, providing exposure that extends beyond traditional social media channels. As your stories resonate with readers, you not only earn money but also build a dedicated readership.
3. Curation Opportunities.
Medium employs a curation system where the platform's editorial team selects and promotes exceptional content to a broader audience. Joining the Medium Partner Program increases the likelihood of your stories being curated.
Curation not only enhances your visibility but also offers a pathway to increased earnings as curated stories have the potential to reach a wider audience.
4. A Platform for Serious Writers.
Medium positions itself as a platform for serious writers who value quality content and thoughtful storytelling.
By joining the Medium Partner Program, you align yourself with a community of like-minded individuals dedicated to producing substantive and engaging narratives. This association can elevate your work and contribute to your growth as a writer.
5. Flexible Publishing Options
Medium provides a flexible and user-friendly platform for publishing a variety of content formats, including articles, essays, fiction, and more.
As a Medium Partner, you have the freedom to choose whether your stories are behind the platform's paywall or available for free. This flexibility empowers you to tailor your content strategy based on your goals and preferences.
6. Community Engagement and Feedback.
The Medium Partner Program fosters a sense of community among writers and readers. Engaging with your audience through comments and feedback not only enriches the reading experience but also provides valuable insights into the impact of your work.
This interactive element can be personally rewarding and contribute to your development as a writer.
Hey there, dear reader! We hope you're enjoying the content on our blog. Did you know we have a treasure trove of other insightful articles waiting for you?
Check out the link to the articles below to learn how to be productive and grow your online business.
How Do I Join The Medium Partner Program From a Non-Eligible Country?
Medium is one of these platforms, and with its established Partner Program, you have the opportunity to earn as a published writer.
Here are some steps to take to become part of the Medium Partner Program from an ineligible country.
1. Understand how The Medium Partner Program works.
To understand how it works, you must understand the system from the point of view of both a reader and a writer on the platform.
From a reader's perspective:
The articles published on Medium are either locked behind a paywall or available to read for free.

Anyone can land on Medium and read a free article, known as a "story" within the Medium ecosystem. There's no limit on how many free articles someone can read on Medium.

However, a reader can only read up to three paywalled articles per month for free. If they wish to read more than that, they'll need to become a paid Medium member, which costs $5 per month when paid monthly, or $50 per year when paid annually. This unlocks all the paywalled stories for the paid member.

Part of their subscription fee goes to Medium (cost of running the platform, keeping it ad-free, etc.)

And part of their subscription fee goes directly to the writers they read and engage with.
From a writer's perspective:
A writer on Medium can join the Partner Program if they meet certain criteria (more on that in a minute.)

Once they join the Partner Program, writers gain the ability to lock their stories behind the paywall, if they so choose to. Meaning, only paid Medium members/subscribers can read these paywalled stories (unless it's one of their three monthly free paywalled stories, as mentioned above.)

When a paid Medium member reads or listens to a story and engages with it, the writer makes money. How much they get paid is directly related to a reader's engagement by way of the following: reading or listening time, claps, comments, etc.
2. Become eligible.
The next step to make money is to meet the eligibility criteria. To be paid for your writing on Medium, you need to be accepted into the Medium Partner Program.  Fortunately, meeting the program's requirements makes acceptance highly likely.
1. Age, Subscription, and Location:
You must be at least 18 years old.

A paying Medium subscription is a requirement.

Reside in one of the eligible countries listed (as determined by the payment processor, Stripe).
2. Follower Requirement.
Medium used to have a 100-follower minimum requirement for the Partner Program, but this criterion has been removed as of August 1st, 2023.
Previously, the change sparked some debate, but it appears to be a measure to ensure quality content contributors receive compensation.
3. Medium Membership:
As of August 2023, new applicants must be paying Medium members to join the Partner Program. This aligns with the concept of contributing to the platform if you're benefiting from it financially.
Existing members of the Partner Program are not yet required to pay for a membership, and it's unclear when this might be enforced.
4. Published Story Requirement:
Before joining the Partner Program, you must have at least one published story on Medium. Drafts do not count. This requirement allows Medium to evaluate the quality of your content before you start earning.
5. Stay Active:
To keep earning money, members must publish at least once every six months. Inactivity for six months or more may lead to the disabling of monetization.
6. Eligible Countries:
You must reside in one of the following countries:
Australia, Austria, Belgium, Canada, Czech Republic, Denmark, Estonia, Finland, France, Germany, Greece, Hong Kong, Ireland, Italy, Japan, Latvia, Lithuania, Luxembourg, Mexico, Netherlands, New Zealand, Norway, Poland, Portugal, Romania, Singapore, Slovakia, Slovenia, Spain, Sweden, Switzerland, United Kingdom, and the USA. The geographical limitation is due to the payment processor, Stripe.
But in the next section, I will show you how to access Stripe from a non-eligible country.
7. Applying to the Partner Program:
Once you meet the criteria, you can apply at 
medium.com/partner-program

The application involves submitting information about yourself and your Medium profile.

Approval times vary, but if rejected, you can reapply after 30 days.
3. Create a US LLC.
The next step is to create a US LLC, I know you may be wondering how impossible it is to do, some even doubt the legitimacy of this, but I tell you that the US has the deepest and most open financial market globally and anyone from any part of the world can become part of it.
Becoming a Medium Partner requires that you be part of the countries below as listed in the previous part.
All you need is access to one of these markets and from anywhere in the world and that would do the job.
Fortunately, the US financial laws allow anyone from any part of the world to do business in their own country without being physically present.
Just like U.S. residents, foreigners can establish an LLC in any U.S. state.  Each state has its regulations, filing fees, and tax structures. 
Consider factors such as business-friendly environments, tax implications, and location relevance when selecting the state for your LLC.
As a foreigner, creating a US LLC allows you to obtain either an Individual Taxpayer Identification Number (ITIN) or an Employer Identification Number (EIN) which allows you to own a US Bank account, PayPal account and Stripe account legally.
After establishing your LLC, stay compliant with ongoing requirements, such as filing annual reports and paying state taxes.  Failure to comply can lead to penalties and may jeopardize the good standing of your business.
4. Choose a Broker.
The next crucial step is to subscribe to a service that allows you to create a US LLC online.  You dont need to present in the US to do so as there are services created to make this happen in less than 30 days.
Some of them are listed below:
1. Firstbase.io.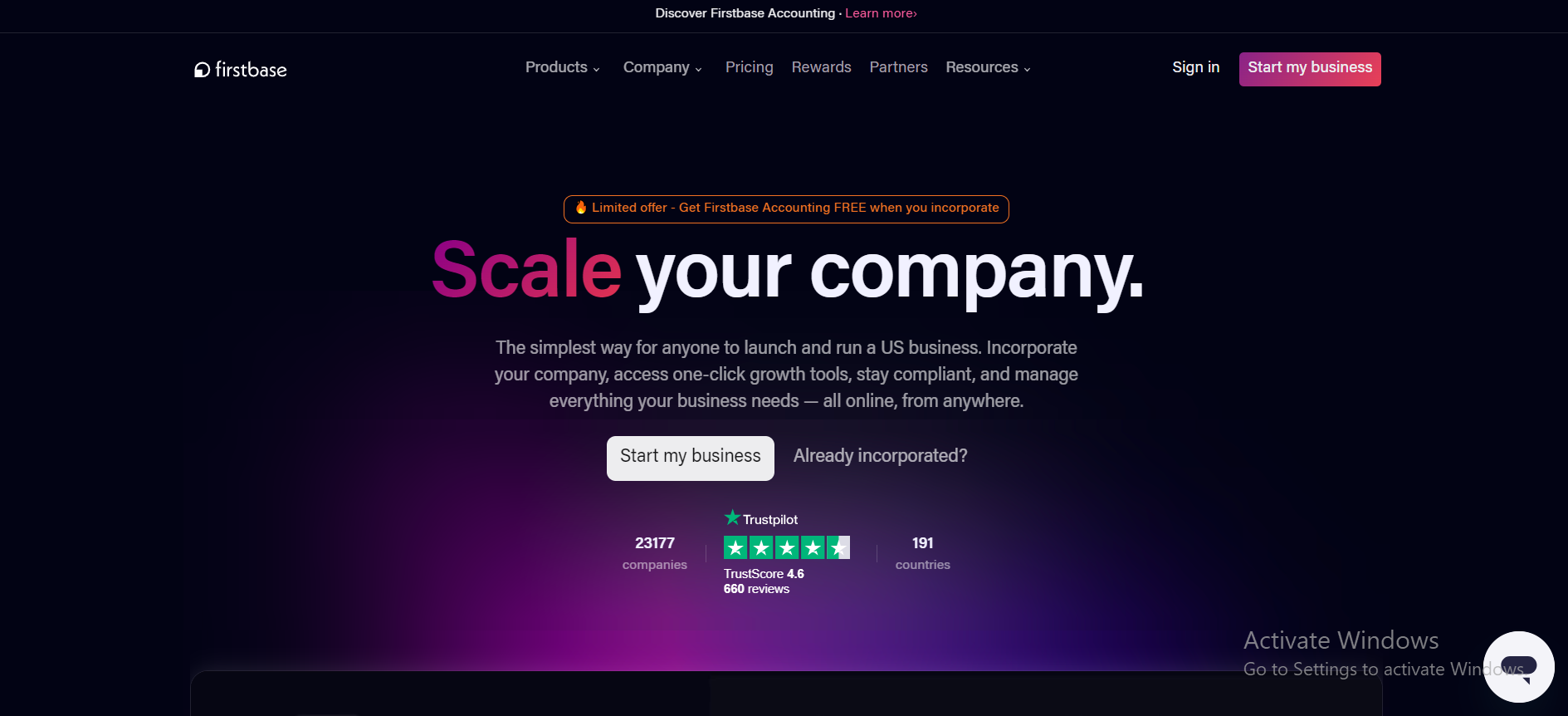 Are you ready to revolutionize the way you launch and manage your business? Look no further than Firstbase.io – the ultimate solution for entrepreneurs seeking a streamlined and efficient company setup process.
🚀 Why Firstbase.io?
✅ Speedy Incorporation: Firstbase.io understands that time is money. With our platform, you can breeze through the business setup process, ensuring your company is up and running at lightning speed. Say goodbye to the tedious paperwork and hello to a hassle-free incorporation experience.
✅ Global Access, Local Presence: Whether you're a local entrepreneur or an international business maven, Firstbase.io caters to your needs. Benefit from our global reach and establish a local presence, unlocking opportunities in markets around the world.
✅ Comprehensive Compliance: Navigating the complexities of business compliance is a breeze with Firstbase.io. Our platform ensures you meet all legal requirements, giving you peace of mind to focus on what you do best – growing your business.
✅ Tax Optimization: Maximize your profits with Firstbase.io's expert tax optimization strategies. We understand the intricacies of tax laws and help you structure your business for optimal financial success.
✅ Flexible Plans, Transparent Pricing: No hidden fees or surprises – Firstbase.io believes in transparent pricing. Choose from our flexible plans tailored to your business needs, and scale your services as your company grows.
✅ Dedicated Support: Never feel alone on your business journey. Our dedicated support team is here to assist you every step of the way. From initial setup to ongoing compliance, we've got your back.
🌐 Who Can Benefit from Firstbase.io?
🚀 Entrepreneurs Launching Startups: Kickstart your entrepreneurial journey with confidence. Firstbase.io simplifies the incorporation process, allowing you to focus on building your dream business.
💼 International Businesses Expanding to the U.S.: For international companies seeking to establish a presence in the United States, Firstbase.io provides a smooth entry into the market with expert guidance on legal and tax considerations.
Ready to take your business to new heights? Join the ranks of successful entrepreneurs who have experienced the efficiency and reliability of Firstbase.io. Don't just start a business – launch it with confidence! 🚀
TRY IT NOW – Firstbase.io
5. Create Engaging Content.
The foundation of success on Medium lies in your ability to create content that captivates and resonates with readers.
Craft compelling headlines, clearly introduce your ideas, and maintain a conversational tone. Engaging content is more likely to be shared and recommended, increasing your visibility on the platform.
I wrote a comprehensive guide on how to create content that ranks on Google. Check out the link to the article to learn more.
6. Build a Strong Profile.
Your Medium profile serves as your digital portfolio. Optimize it by including a professional photo, a concise bio that showcases your expertise or interests, and links to your other online platforms. A well-crafted profile not only attracts followers but also establishes your credibility as a writer.
7. Consistency is Key.
Success on Medium is not an overnight achievement. Consistent posting is crucial to maintaining visibility and attracting a steady audience.
Develop a posting schedule that suits your workflow and allows you to consistently share high-quality content.
8. Leverage Medium Publications
Publications on Medium are curated collections of stories centred around specific themes. Contribute to reputable publications to increase the visibility of your work. Research and submit your content to relevant publications, tapping into their established readership.
9. Optimize for SEO.
While Medium has its internal discovery algorithms, optimizing your stories for search engines can increase their visibility.
Use relevant keywords, create SEO-friendly titles, and include meta descriptions to enhance your content's discoverability beyond the Medium platform.
I wrote a comprehensive guide on how to create content that ranks on Google. Check out the link to the article to learn more.
10. Experiment and Analyze Metrics
Medium provides writers with analytics tools to track the performance of their stories. Experiment with different content formats, posting times, and topics to see what resonates best with your audience. Analyze metrics such as views, reads, and engagement to refine your strategy.
11. Stay Authentic and True to Your Voice.
Ultimately, success on Medium stems from authenticity. Write with passion and sincerity, sharing your unique perspective with the world.
Stay true to your voice, experiment with storytelling techniques, and evolve as a writer while staying connected with your audience.
Hey there, dear reader! We hope you're enjoying the content on our blog. Did you know we have a treasure trove of other insightful articles waiting for you?
Check out the link to the articles below to learn how to be productive and grow your online business.
Conclusion.
Just so you know, I am not currently enrolled in the Medium Partner program because I run a blog and I leverage Medium to drive traffic so it makes no sense to put my content behind a Paywall, but I have helped a lot of people do so with ease.
Becoming successful on Medium.com requires a combination of skill, strategy, and dedication. By crafting engaging content, building a strong profile, actively participating in the Medium community, and leveraging the platform's features, you can unlock the full potential of Medium and establish yourself as a successful writer in this thriving online ecosystem.
Hey there, dear reader! We hope you're enjoying the content on our blog. Did you know we have a treasure trove of other insightful articles waiting for you?
Check out the link to the articles below to learn how to be productive and grow your online business.