Introduction.
Canva has been widely adopted by individuals and businesses alike and has become a popular choice for creating professional-looking graphics and visual content.
Its user-friendly interface, extensive library of templates and elements, and affordable pricing make it an attractive option for anyone looking to create high-quality designs without the need for advanced design skills.
One of the key features of Canva is its extensive library of templates and pre-designed elements. Users can choose from thousands of templates, images, fonts, and other elements to create their designs, which can save a lot of time and effort.
Canva is an all-around platform when it comes to media, so anyone can build an online business using Canva.
Do you want to make money online with Canva? This article has been written to help you do so with ease.
What is Canva?
Canva is a popular graphic design tool that allows users to easily create professional-looking graphics and visual content.
The tool has a user-friendly interface and a wide range of features, making it accessible to users of all skill levels.
With Canva, users can create a variety of designs, such as social media posts, presentations, posters, and logos.
Why do I need a Canva account?
Canva has become the go-to design platform for social media posts, banners, and graphics.
With its free access to templates, stock photos, videos, and graphics, anyone can make a stunning piece of work with little to no skills in graphic design.
It's a great platform but can also be used as a great way to earn some extra money online as a freelance designer. Here are some reasons why you need an account on Canva.
1. Canva is affordable.
Anyone can use Canva for free and access most of its features without having to pay. However, users can also choose to upgrade to Canva Pro, which offers additional features and tools, such as the ability to create and save templates, access to more images and fonts, and the ability to collaborate with others on designs.
2. Canva allows you to Create wireframes with ease.
Website wireframes can help to inform decisions around website usability and user experience.
A fantastic benefit of using Canva is that these wireframes can be created in no time, helping with those all-important deadlines.
Wireframes are a crucial part of the website development and design process as it allows customers to get a stripped-back visual of what their new site will look like.
3. Canva comes bundled with Pre-made size templates.
One advantage of having to use Canva is the fact that it comes with pre-designed templates which allows you to stress less when coming up with your designs.
Using the pre-made templates, you can be sure that your content will perfectly fit your desired image location.
This is a handy Canva benefit for small business websites, whereby time and resources are limited, and efficiency is everything.
4. Canva comes built-in With nice editing features.
Anyone can edit and design new and existing templates on Canva. Unlike any other free graphic design software, an advantage of Canva is that the software allows every element to be adjusted with transparency.
From backgrounds and images to icons and logos, many cool visuals can be formed using this tool, including captivating overlays and textured effects.
5. Canva comes built-in with Millions of elements.
Maybe you have no experience in design, and you need to use some visuals to represent your information, Canva comes built-in with dozens of amazing elements to make work a lot easier.
Searching through the icon library on Canva can help you find the perfect visual icon for your content. Icons can be used on logos, infographics, or anything you'd like! Let your imagination run wild.
6. Canva has a User-friendly interface.
Canva outshines all others when it comes to user-interface designs.  Canva user interface makes it easy that even the least experienced users would be able to navigate Canva with ease.
Their super easy-to-use templates, stickers and photos, alongside their drag-and-drop feature, makes creating beautiful content a breeze.
7. Canva comes with Free design templates.
Most times we need something that we can work with and starting with a blank canvas can be daunting and often leaves you thinking, 'where do I begin?'.
The benefit of using Canva is that it takes that worry away as it offers hundreds of free design templates available for you to customise to your liking. The pre-made templates help to inspire and aid.
8. Canva comes with Millions of stock images.
Canva's selection of imagery is free and safe to use, so you don't need to worry about getting into hot water over usage rights, or even searching the internet to find a suitable image to be used for your projects.
How do I Make Money Online With Canva?
With all of the professional tools at your disposal, there are endless possibilities for creation within Canva.
Additionally, there are plenty of GIFS and animations to choose from if you're creating a moving image presentation.
There are several ways to make money online using Canva, which is a popular graphic design tool. Here are a few ideas you could make use of.
1. Become a Graphics Designer.
There are dozens of businesses that require the help of a graphics designer but dont know how to get one.
If you have experience with Canva and graphic design, you can offer your services to businesses and individuals who need help with creating graphics and visual content.
You can create a website or portfolio showcasing your work and services, and use both offline and online platforms to seek out jobs.
I wrote a comprehensive guide on how to become a Freelancer. Check out the link to the article to learn more.
2. Create and sell Canva Templates.
If you're a graphic designer who wants to earn more money and get more recognition, Canva might be the perfect platform for you.
Becoming a contributor to Canva will be a great way to increase your visibility and bring in more business by helping Canva to scale its media and element libraries.
Canva comes built-in with both a freemium and paid plan for its users. Canva allows users to create and save their templates, which can be useful for businesses and individuals who need to create a lot of visual content quickly and consistently.
3. Teach people how to use Canva.
Another way to make money online with Canva is to teach people how to make use of it. If you have expertise in using Canva and graphic design, you can create and sell online courses or tutorials teaching others how to use the tool and create professional-looking graphics.
You can use platforms like Udemy or Skillshare to sell your courses and reach a wider audience. I wrote a comprehensive article on how to start selling online courses. Check out the link to the article to learn more.
4. Start a Print-On-Demand business.
Print-On-Demand is one business model that remains profitable on the internet. Anyone can design clothing using Canva.
The best part is that Canva offers the ability to design T-shirts and your clients also can order personalized T-shirts with a few clicks, and Canva will deliver them right to your client's doorstep for free.
I wrote a comprehensive article on this blog on how to start a Print-On-Demand business. Check out the link to the article to learn more.
5. Start a YouTube channel about Canva.
One of the ways you can get your business to grow is by teaching others how to do things. YouTube provides just anyone with a great opportunity to share informative videoes that can be monetized.
Anyone with deep knowledge of canvas can make how-to videos about Canva and place YouTube ads on that videos.
In the end, your goal is always to inspire people and show them that they can make something beautiful regardless of whether they are at a beginner or advanced level.
I wrote a comprehensive article on how to start a YouTube channel. Check out the link to the article to learn more.
6. Blog about Canva.
Blogging is another medium that can be used to reach out to millions of audiences globally. Anyone with the right topic can start a blog and give useful advice to their preferred audience.
You can simply start a blog and share your ideas and how-tos about Canva with your audience. Moreover, you can also place affiliate links in-between your blog article and make money with them too.
I wrote a comprehensive guide on how to start a successful blog. Check out the link to the article to learn more.
7. Create an eBook With Canva.
Canva comes with all kinds of tools that can be used to create any digital product of your choice including e-Books.
A poorly designed cover will turn away potential customers because they don't feel like a particular story appeals to them at first glance.
Canva comes built-in with tools that make it easy to create amazing e-books that make money.
I wrote a comprehensive guide on how to start an e-book business. Check out the link to the article to learn more.
8. Start an Amazon KDP Business.
Amazon KDP is a platform that enables any author to self-publish their work in digital form.
It was created by Amazon, and they encourage authors of all levels of experience to upload their content for sale on the website.
One way to make money through Amazon KDP is through selling ebooks, which means selling book cover design services to these authors is one way to make money.
You can use Canva to create low-content books and offer them for sale on Amazon through their KDP program. Some of these Low-Content books include; Journals, Coloring books, Quote books and many more.
I wrote a comprehensive article on this blog on how to start an Amazon kindle Business. Check out the link to the article to learn more.
9. Make Money Online With Canva's Affiliate Program.
Affiliate marketing allows you to make money promoting other people's products. Canva has an affiliate marketing program that allows influencers to earn a commission when they tell people about Canva.
Canva is graphic design software that has been getting a lot of attention. One of the features that make Canva a great choice for beginners and professionals alike is its easy access to the Affiliate Program.
With the help of this program, anyone can make money by referring people to Canva software.
Their affiliate program offers you the chance to earn a commission on any purchases made through your links.
You will earn up to $36 for each new Canva Pro subscriber that signs up using your unique referral link.
I wrote a comprehensive article on how to start a successful affiliate marketing business. Check out the link to the article to learn more.
Conclusion.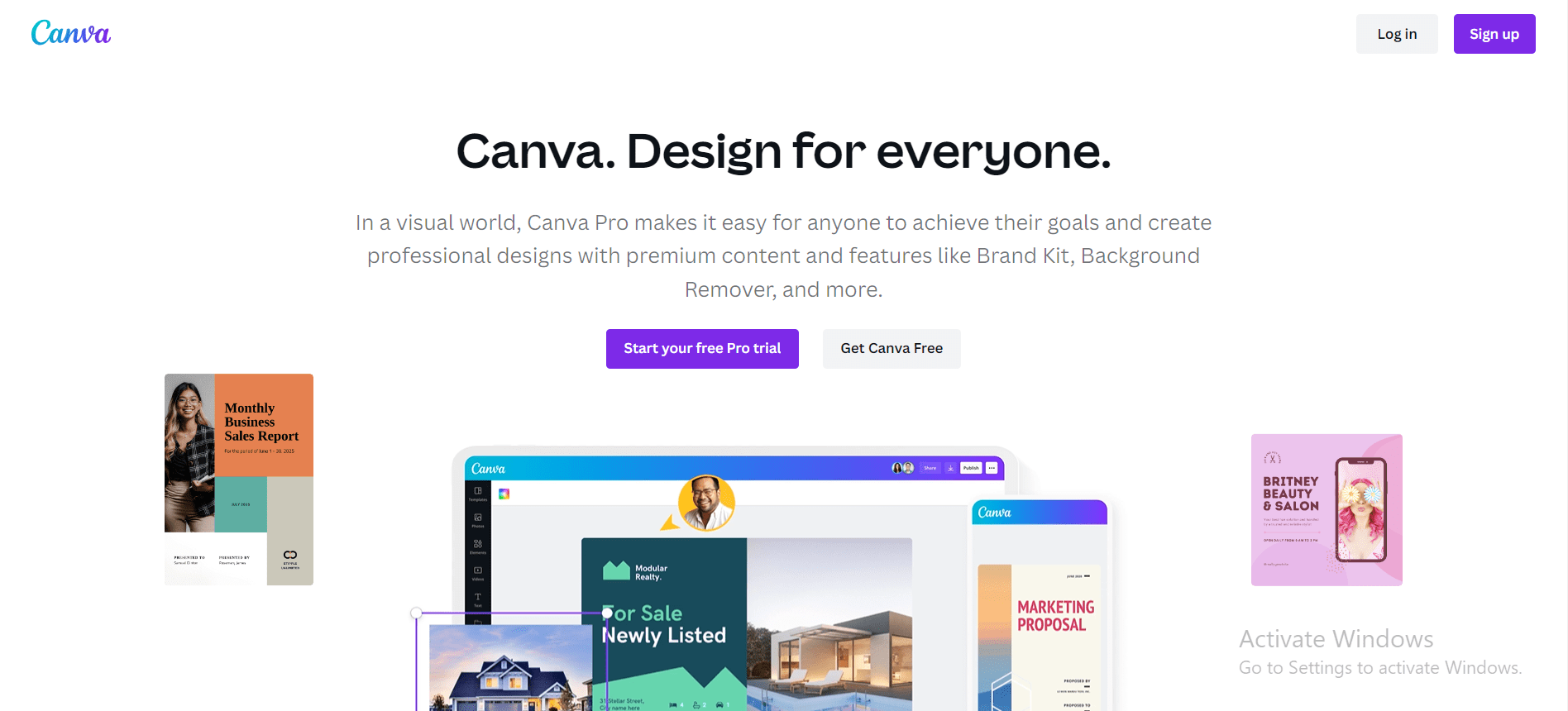 Canva is the most popular online graphic design software, with over 30 million users and a $15 billion valuation.
Back in the day, it used to be Photoshop, Corel draw and a lot of those apps that we had to spend months trying to learn. Now it's a cloud evolution and Canva has made that transition possible.
Canva is a complete design tool for anyone who isn't an experienced designer.  Most people see it as an image design tool, but it is much more. You can design everything from printables to PDFs to invoices to flyers to infographics to websites.
Canva is very easy to use thanks to its very intuitive drag-and-drop interface.  Also, you don't have to worry about starting from scratch either, although you can do that if you want. 
There are a ton of templates you can choose from to work with multiple categories For designers who seek to design eBook covers, one place to look out for is Canva.
TRY IT NOW – Canva.com