Introduction.
Do you want to get started with NFTs without breaking the bank? Then this article has been written to help you avoid the pain of paying gas fees.
NFT is becoming mainstream with a lot of millionaires being created almost every day out of it. So many arts have debuted as NFTs and are worth millions in dollars just by converting them to NFTs.
Just in case you don't know what gas fees are, they are a certain amount that you pay in Eth when creating your NFTs on a marketplace like opensea.io.
Gas fees have made it a turn off when it comes to NFT because you just can predict the prices, most time the gas fees increases during the busiest time of the Ethereum blockchain and reduce when there is little or no traffic.
This has caused so many NFT creators to have a second thought when it comes to launching into the world of NFTs. The huge amount attached to gas fees has made it nearly impossible for anyone to do so.
But there is a way out, and this is what I will show you in this article, make sure to stick to the end.
If you are new to the world of NFTs, I wrote a comprehensive guide on what NFTs are and how to get started with them as a beginner. All you need to do is click the link below to get started.
What Is Opensea?
OpenSea is a decentralized marketplace for buying and selling NFTs. NFTs stands for unique Non-Fungible Tokens globally. Anyone seeking to hold any NFT could do so one opensea for free.
OpenSea recorded well over $3.5 billion in NFT trading volume in August 2021 alone making it one of the highly sought after the market place when it comes to NFTs.
OpenSea allows you to create your own NFTs without any prior experience. To get going, you need to build an NFT collection. After doing that, you can start uploading NFTs in accepted formats.
How Do I Mint Gas-Free NFTs On Opensea?
Ethereum is the most essential blockchain in the world for NFTs.As many already know, the Ethereum experience has been a turn off lately owing to its overloaded network leading to a notoriously expensive gas fee.
Given Ethereum's current shortcomings, OpenSea's decided to integrate Polygon to make things less expensive which will eventually lead to a cut off in gas fees.
Polygon is a blockchain that makes Ethereum tokens, such as NFTs, fast and cheap to transfer. 
Ethereum founder Vitalik Buterin just urged NFT projects to migrate their tokens to Polygon having admitted to poor scalability that comes with the Ethereum network.
Switching between Polygon and Ethereum networks on OpenSea happens with a quick click of a button — a nice user-friendly touch that's easy for beginners. 
In this section, I will describe how NFTs can be minted gas-free using polygon on the Opensea platform.
1. Create a Metamask Wallet.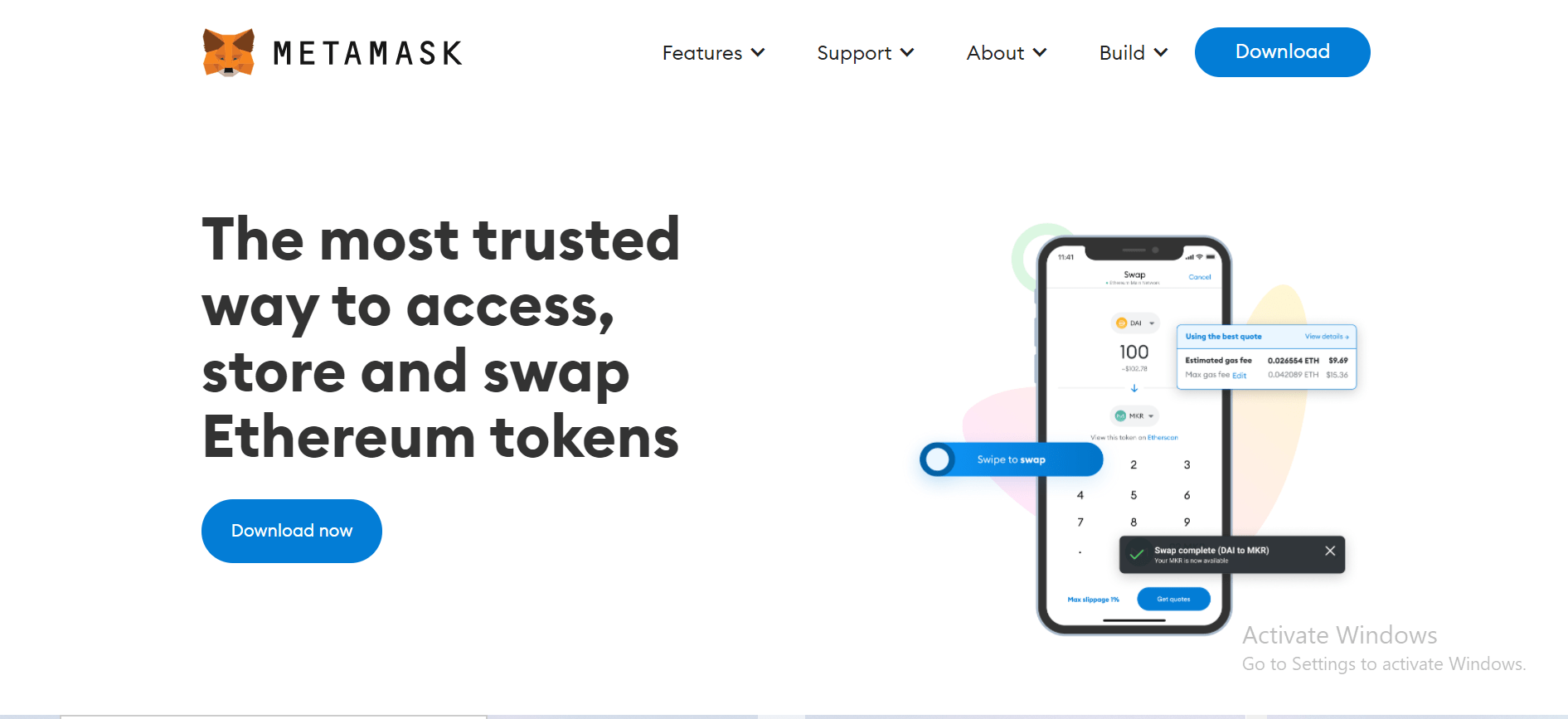 MetaMask is a free browser extension and mobile app that allows users to store and swap crypto, interact with Ethereum, and host dApps.
It is one of the most widely used crypto applications in the world with Over ten million active monthly users.
It also serves as a wallet for holding ERC-20 tokens allowing users to access services built on the Ethereum network via the wallet.
MetaMask enables you to store, swap, and dApp access, as it can be downloaded via PC as a chrome extension or a mobile app that can be used both on android and IOS.
When creating NFT', it's best practice to use the chrome extension version of Metamask to avoid issues when trying to authenticate. 
To download MetaMask, follow the link below.
TRY IT NOW –  Metamask.io.
2. Create an account on Opensea.io.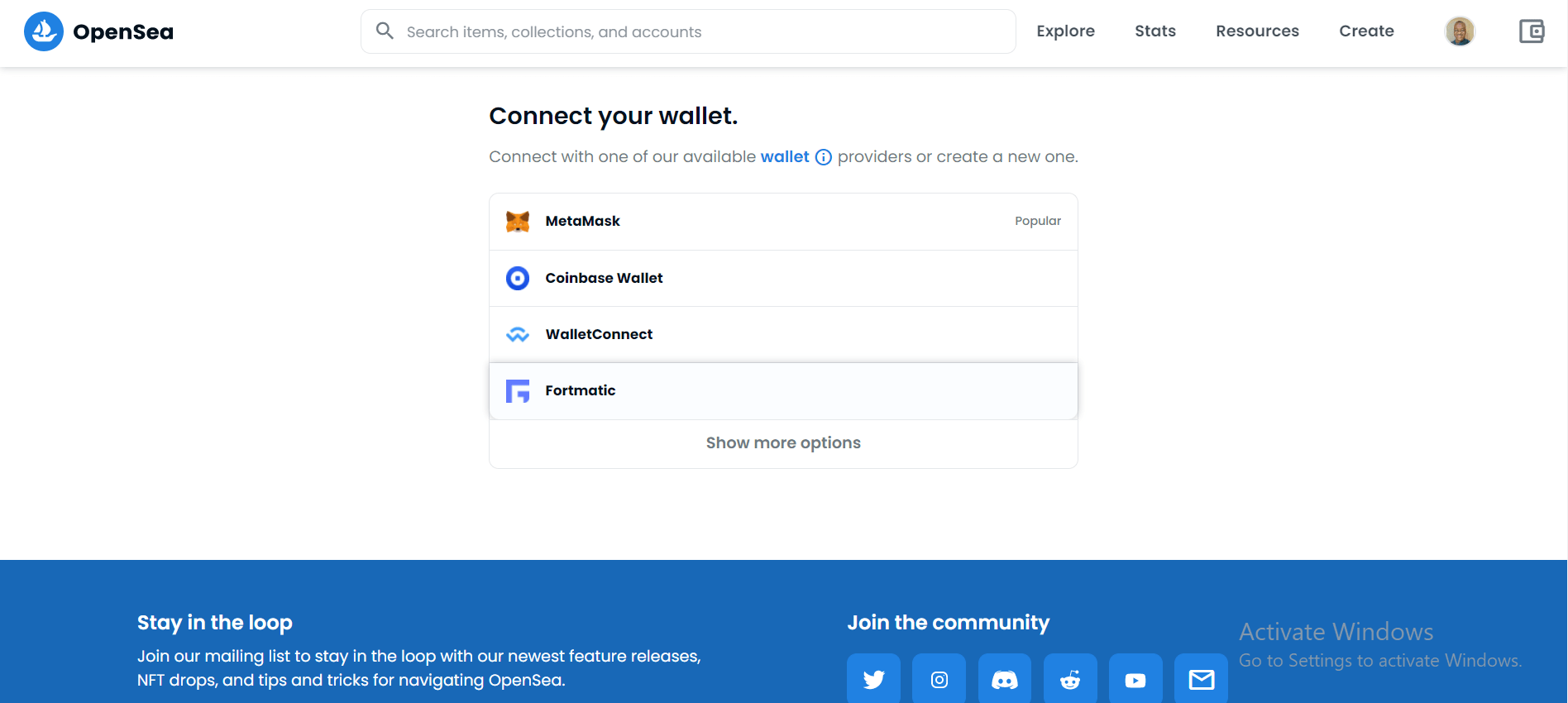 Opensea.io works with a bit of web2 protocol that ensures that you authenticate before making any request.
This is why you need to sign up with your valid credentials, fortunately, you can sign up using Google, Facebook, or your email credentials.
Remember how you authenticate your Opensea account so you do not lose access to your Opensea account.
Metamask is a vital tool when authenticating with Opensea, make sure to have it installed as a Google Chrome extension so that it's easy to work with Opensea.
3. Optimze your profile on Opensea.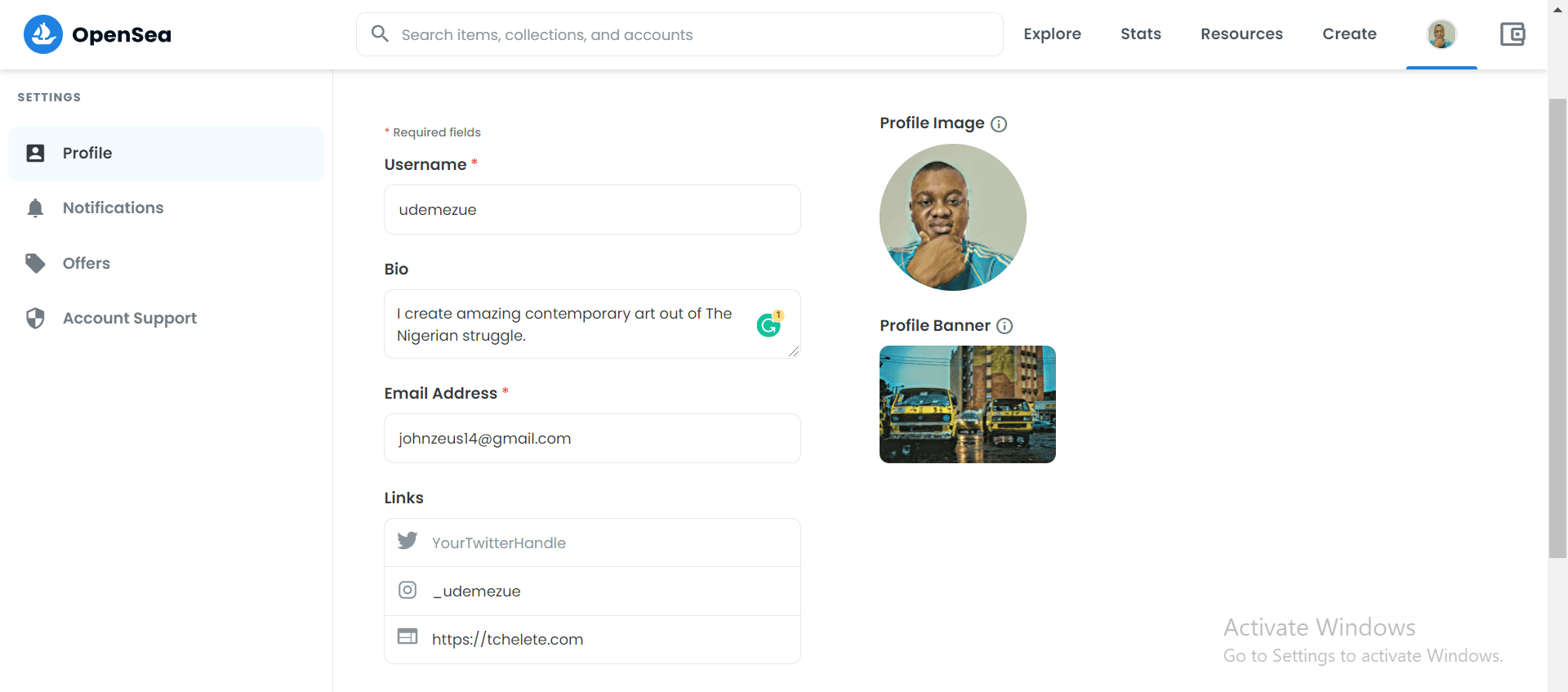 As soon as you get authenticated on Opensea.io the next step to be taken is to fill out your profile, this includes filling out details such as username, Bio, cover art and wallet address which enables you to get paid as soon as you are ready to make a withdrawal from Opensea.
For security purposes, I decided not to showcase my Wallet address. You also get the chance to fill out your Social media profiles such as Instagram, Twitter and your website. These informations should be taken seriously as it helps you appear authentic to your audience.
4. Draw an art collection.
After which you must have set up your Opensea account and a Metamask Wallet, the next thing should be the preparation of your art collection.
If you are new to NFTs you can check out existing artworks on Opensea and other NFT platforms.
I already assume you have this on the ground, and If you don't, You can use help on Fiverr.
I wrote a comprehensive guide on how to get started as a freelancer and buyer on Fiverr.
5. Create a collection on Opensea.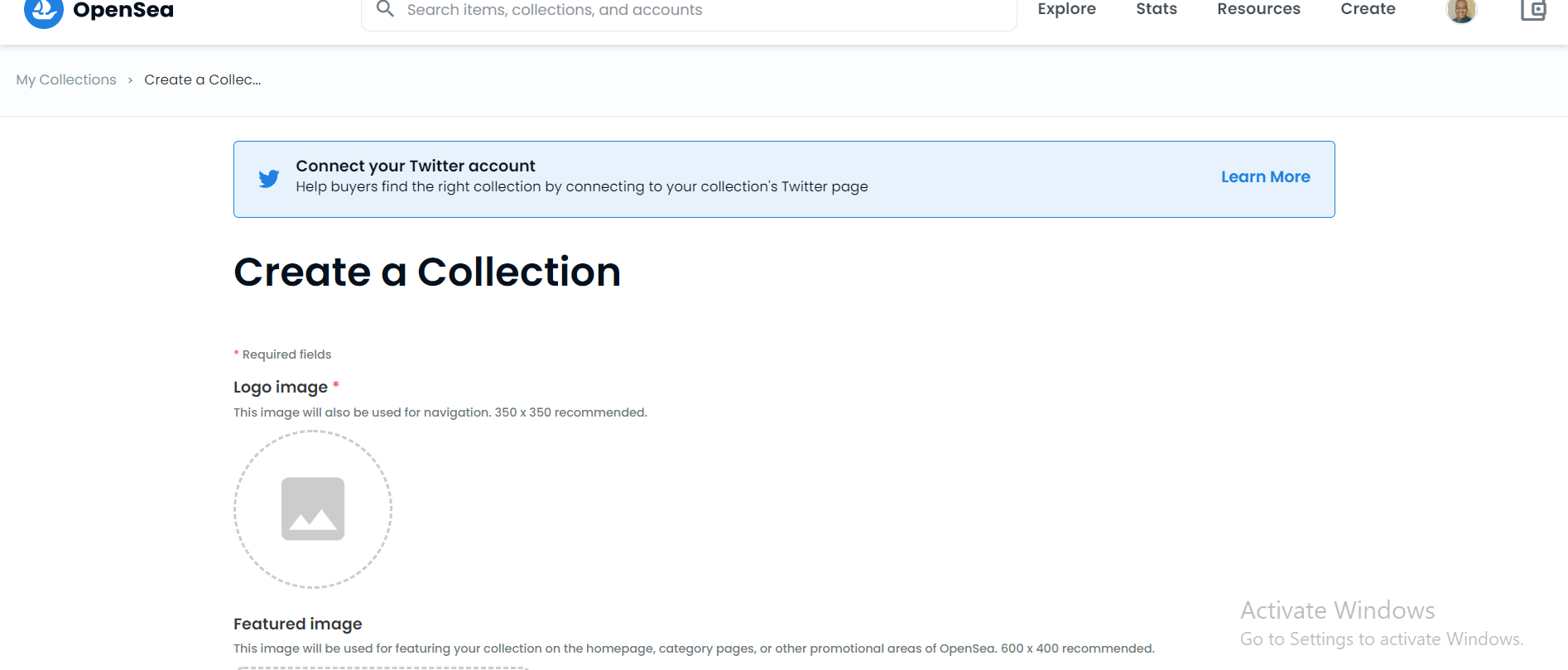 Opensea allows artists to group similar art with a feature called a collection. A collection houses a similar piece of art. As an artist you should ensure orderliness to attract high-value collectors, keeping your artwork scattered makes it difficult to pick.
Make sure you feel up to these fields.
1. Logo Image – This Field enables you to upload a logo to identify your art.
2. Featured Image – This Field enables you to upload a featured image to identify your art.
3. Banner Image – This Field enables you to upload a banner image to identify your art
4. Name – This field allows you to enter the name of your collection, make sure this is a generic name because when you go viral that is going to be the unique identifier.
5. URL – This field allows you to enter the website of the collection. You might need to show a website to justify your project, that way it convinces the collector to collect your art.
6. Description- This field allows you to enter a description of your collection.
7. Category- This enables you to categorize your collection on the Opensea platform. There are over 12 categories
8. Links- The link option allows you to add various web links to your social platform, be it Medium, Facebook or Twitter, you can choose to add as many options as possible.
9. Royalties – Royalties are the amount that you get back when a collector resells your art. This allows you to
10. Blockchain – This section allows you to choose the kind of blockchain to host your NFT. It comes with two options which are Ethereum and Polygon.
We all know using Ethereum comes with a huge gas fee, while Polygon is gas-free.
If you have the funds to spend on minting with the Ethereum gas fee, then it's just fine.
11. Payment Tokens – This section allows you to choose your prefered payment tokens.
Opensea supports more than one token. It includes additional supports for tokens like DAI, USDC and many others. These tokens are part of the Polygon and Eth network.
12. Display Theme – The final section deals with how you want your NFTs to be aligned, feel free to decide on this section as much as you like.
6. Start Uploading your art to a collection.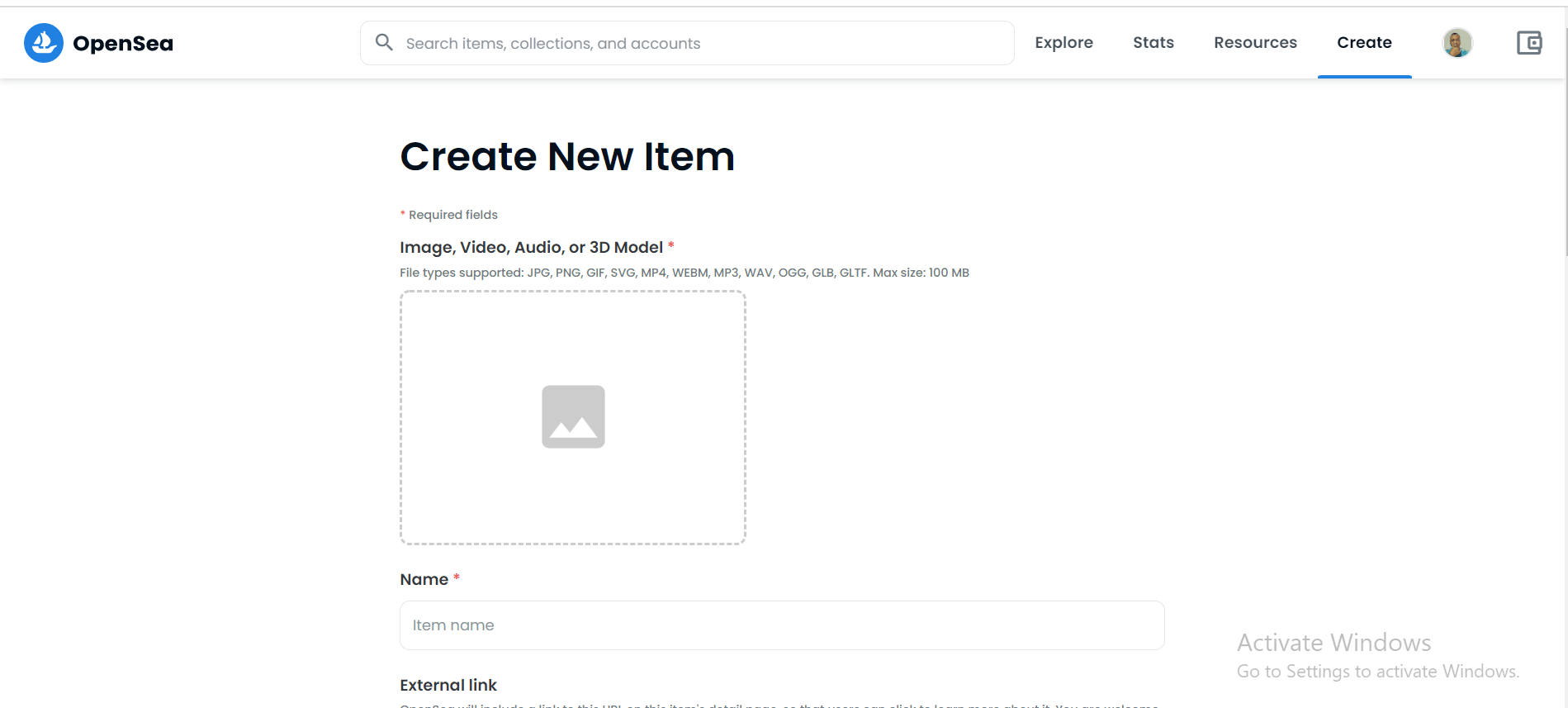 One step before the final is to begin uploading individual art to the collections you created.
Make sure that you arrange your arts in a particular order of collection. Here are the following fields that need to be filled up in a particular order.
1. FileField- This field allows you to upload your NFT files, which may be Images, Audio and Videos, just anything.
2. Name – This field allows you to set a name for your NFT art.
3. External Link – You can just provide an NFT link with this field.
4. Description – Feel free to describe your art in a few words.
5. Collection – This field allows you to choose a specific collection where your art would reside, remember that this collection was created by you initially.
6. Properties – This allows you to include specific properties in your NFTs. Mind you that this field can be skipped. Just in case you have no valid option, it can be left blank. I recommend you leave it blank.
7. Levels – This field allows you to add metadata to your art called Levels. Just in case you have no valid option, it can be left blank. I recommend you leave it blank.
8. Stats – The same option goes for this field too, it's also an option to add metadata called stats. Just in case you have no valid option, it can be left blank. I recommend you leave it blank.
9. Unlockable Content – This allows you to hide a specific item in your art and make it available to the sole owner buyer of the NFT.
10. Explicit & Sensitive Content – Just in case your art contains explicit or sensitive content rated, you should indicate.
11. Supply – This field allows you set the total supply of your token on the entire blockchain. This field is in digits and you should be careful as to how you set it.
For example, I can create an NFT art and set the total supply on the blockchain to be 1,000,000 meaning that the total purchasable copies are One million.
12. Blockchain – This field allows you to choose your prefered blockchain to host your NFT, remember that Etherum is not free, but Polygon is free, whichever way, choose one.
13. Freeze Metadata – Metadata is used to summarize basic information about data which can make tracking and working with specific data easier.
To be able to convince investors you will not make changes to your art, such as deleting, adding, minting more tokens, freezing the Metadata is important.
7. Sell your NFT.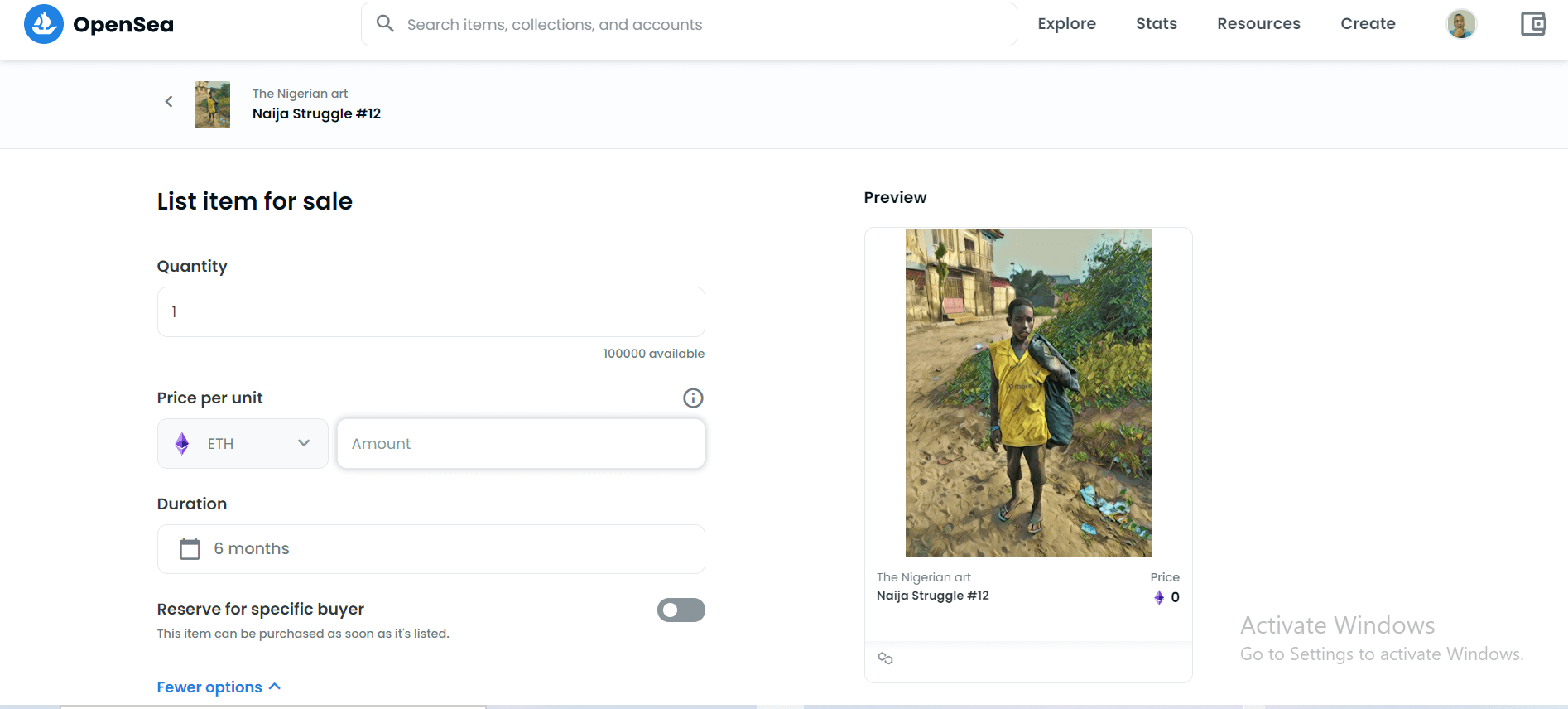 The final step is to approve your NFT for sale. When you upload and mint your NFT art you need to make them available for sales so that they can be bought by a collector, one way to do this is directly after uploading the art on Opensea.
You would be presented with this screen as soon as you click the SELL button just after you created your art.
1. Quantity – This Field allows you to list the total amount of NFT that you want to sell out, remember you minted 1 million copies when listed your art, this section allows you to set the target number you intend to sell, also make sure you keep some for yourself.
2. Price Per Unit- Feel free to set the price per copy, make sure it's something your community can afford.
3. Duration – Every NFT has an average duration to be listed and it's 6 months if minted on Polygon, but is listed on Ethereum, it can go way longer than that.
4. Reserve for a buyer – This option allows you to reserve a fraction of your NFTs for a particular buyer.
Just Before You Go!!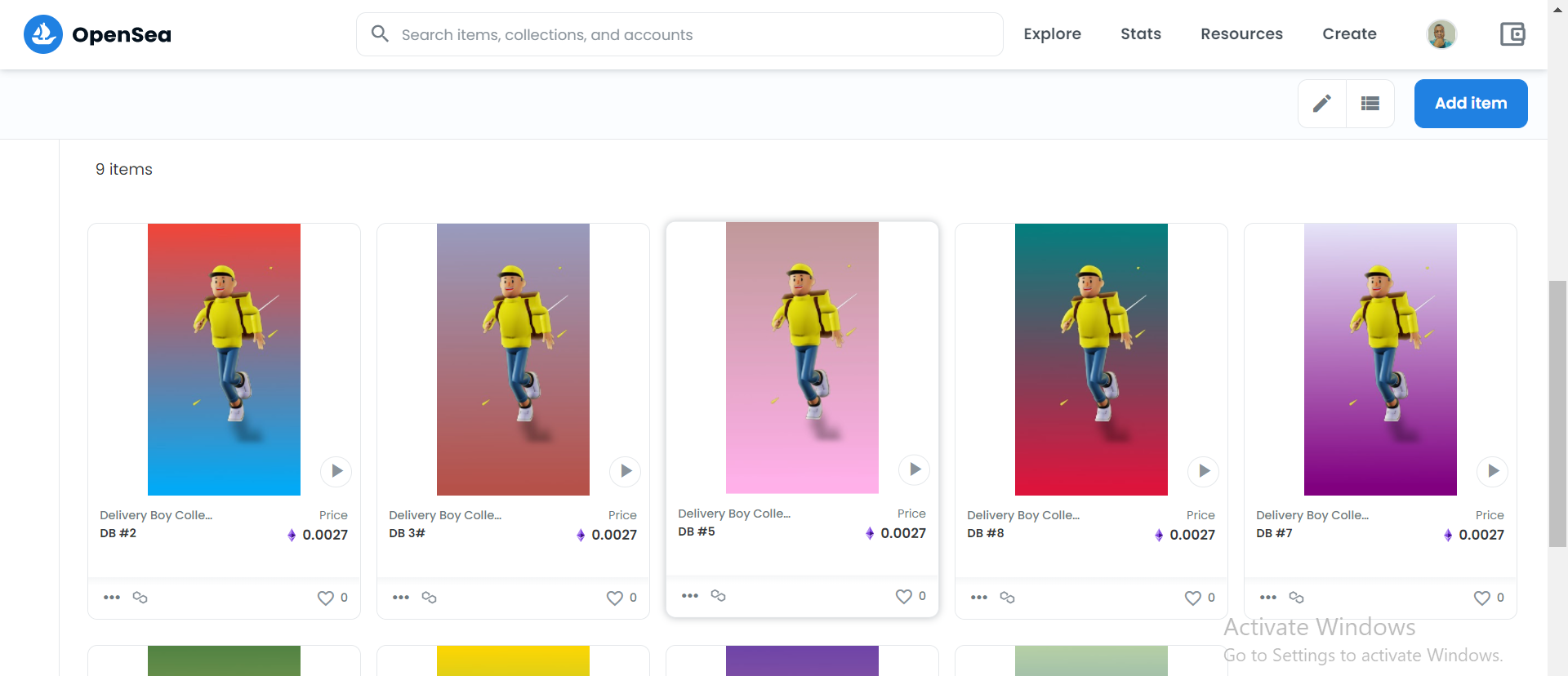 A survey conducted by the United Nations Children's Fund (UNICEF) indicates that the population of out of school children in Nigeria has risen from 10.5 million to 13.2 million, the highest in the world.
One in every five of the world's out-of-school children is in Nigeria. Even though primary education is officially free and compulsory, about 10.5 million of the country's children aged 5-14 years are not in school.
Because of this alarming rate of uneducated children in Nigeria, I created this NFT collection to help raise funds to build enough school facilities to return out-of-school children in Nigeria back to school for free.
Money raised from this NFT collection would be used in building schools with a conducive and secure environment for children to learn.
Schools would have features such as Solar panels, fencing and learning materials, I and my team intend to build more than one thousand schools across the federation.
All you need to support and participate in this humanitarian cause is to purchase any art listed on my Opensea account.
DONATE NOW –  Opensea.io/collection/delivery-boy-collection