Introduction.
Nigeria is a populated country in West Africa, endowed with natural and human resources. It was amalgamated into a single country by the British in 1914 and became independent in 1960.
It currently sits as the largest economy in Africa, with a GDP of over $514 Billion in 2021. Nigeria is set to hit a population landmark of over 700 Million on or before 2050, making it the most populous black nation in Africa at the forefront of the black race.
Nigeria also has the title of the most diverse nation globally, with over 250 ethnic groups brought to coexist together.
Like any other nation, Nigeria has its struggles regarding national development. Many controversies have threatened its existence, yet the country still stands firm with the fastest growing economy in the world.
In recent times on social media, there have been outbursts about the massive relocation of Nigerians to other parts of the world to seek greener pastures.
Most people have thrown backlash at these people, calling them unpatriotic Nigerians, but I don't see it that way.
When someone leaves Nigeria for another country, we have not lost them entirely as you think; the majority of them still have businesses, friends and family here in Nigeria that they are responsible for; most even go to work, save and return to Nigeria, this funds gotten have become one of the significant contributors to the Nigerian economy.
The diaspora is an excellent contribution to any nation's development; taking China and India as a case study, they have used their vast population in the West to project their country to the world.
The same happened with the music industry in Nigeria; it was Nigerians in the diaspora who pushed the popularity of music artists in Nigeria in the US; we can now see how popular they are now.
Leaving Nigeria should not only become a reason to better your country, as you can also make the best out of yourself as it should be.
Why Should You Relocate Abroad as a Nigerian?
Are you thinking of relocating abroad and still have doubts about it? Here are a few reasons why you should.
1. Higher Standards of Living.
We can all agree that living an equitable standard of life in Nigeria is quite tricky if you do not come from a much-privileged background.
Social amenities such as roads, water, electricity, and the internet are tricky for an ordinary Nigerian that earns minimum wage.
Though most Nigerians can afford this on a platter of gold, despite being challenging to come by, the numbers of these people are not enough as so many people are still living below everyday life.
This is another justifiable reason to relocate to another part of the world, where these are not so difficult to achieve even as an ordinary citizen.
Countries like the US, EU and many others have the above mentioned basic amenities in check, even for the poorest of the poor.
2. Quality Education.
Another reason people choose to relocate abroad is the need to access quality education; only the teaching of some African nations can compete on the global stage, hence the need to seek advanced learning abroad.
This has helped position black people of African descent for higher job recommendations.
Also, not all courses can be studied in Nigeria; challenging courses like Aerospace, Boat Building, and many more are only found in Western countries, hence the need to migrate.
3. Learn a second language.
Another reason why relocating abroad is necessary as a Nigerian is the opportunity to learn a second language.
Suppose you decide to migrate to Non-English countries like Spain, France, Canada and Italy. In that case, you will be required to learn an additional language that gives you exposure and opportunities to connect with an entirely different community.
4. Get access to the global stage.
Our aspirations are different, and so are our ambitions; Nigeria is not built up enough to showcase global talents; though we do have some bright minds here in Nigeria, the environment is not just sufficient.
Relocating might be the perfect option for anyone in this situation.
Let's say you are interested in sporting activities and sciences; as a Nigerian, you would agree with me that not many people are getting the attention they need to build that career of theirs. Hence they relocate somewhere else to get it.
Developed countries like the US and EU give special attention to people with exceptional gifts and talents, leading to the brain drain in underdeveloped nations.
How Do You Relocate Abroad as a Nigerian?
It has been discovered that 7 out of 10 Nigerians desire to leave Nigeria, most of them in search of greener pastures, while the majority are just moving with the trend and don't have concrete plans.
However, the desire to leave Nigeria remains unchanging in the heart of so many Nigerians who feel that their lives can become better outside the shores of their own country.
In this section, I will itemise how to decide and relocate to any prefered nation of your choice.
1. Are You sure?
The truth is that most people relocate to seek greener pastures; the problem with this is that they end up doing it the wrong way and get into trouble abroad.
If most people had a good source of income, they would not think of leaving Nigeria, but as you know, time and chance happen to many people, and they find themselves having to move out.
I have friends who work remotely for companies in the US and earn more than minimum wage; those people will not desire to leave Nigeria because they already have what they are supposed to be looking for; they earn up to $90,000/Year.
Some people have built successful businesses here in Nigeria and are doing so well; it all depends on how creative you can get, it's not an easy route, but if you become very persistent, you will succeed.
If you earn in dollars while living in Nigeria, I don't see the hassle of leaving; else; you have something else to do abroad.
Nevertheless, most people still choose to leave despite everything, and I don't see it as a bad thing to do; you should go wherever suits you.
I recommend you check out the article below to help you learn how to start an online business in Nigeria.
2. Choose a Prefered Destination.
The next step is to educate yourself about your prefered destination. To be honest, not all foreign destination makes sense if all you seek is greener pastures.
There are few high-income countries available globally; most countries have all the infrastructure in place but are not doing so well economically. The majority fall between medium and low-income countries.
Sadly, most of these countries are in Africa, Latin America and some parts of Asia.
People travel to Western countries in Europe, North America, and Australia because they are high-income countries. They compared to other parts of the world.
When choosing a destination, I recommend you go west; anything in the US, EU and Australia is excellent if all you want to do is get a better income.
3. Get Skilled Up.
Like I always say, when relocating abroad, you need to be skilled enough to meet a specific demand over there.
You should know that Western countries run service-based economies, putting pressure on skilled workers.
To survive in the west, you need to develop Tech, Nursing, or vocation skills. These mentioned fields remain the most lucrative for people seeking to relocate abroad.
I have seen cases where Nigerians relocate abroad and begin to do dirty jobs, like cleaning and the hardcore factory jobs; you can avoid this if you have acquired the necessary skills.
Just because you are a bank manager in Nigeria does not mean you will get the same job in the US; the truth is simple, you don't qualify, even with several years of experience, but you can bypass all of these if you spend time equipping yourself in Tech skills.
I wrote a comprehensive guide on this blog on developing yourself in skillsets such as digital marketing and web development. Follow the link below to get started.
4. Join The Nigerian community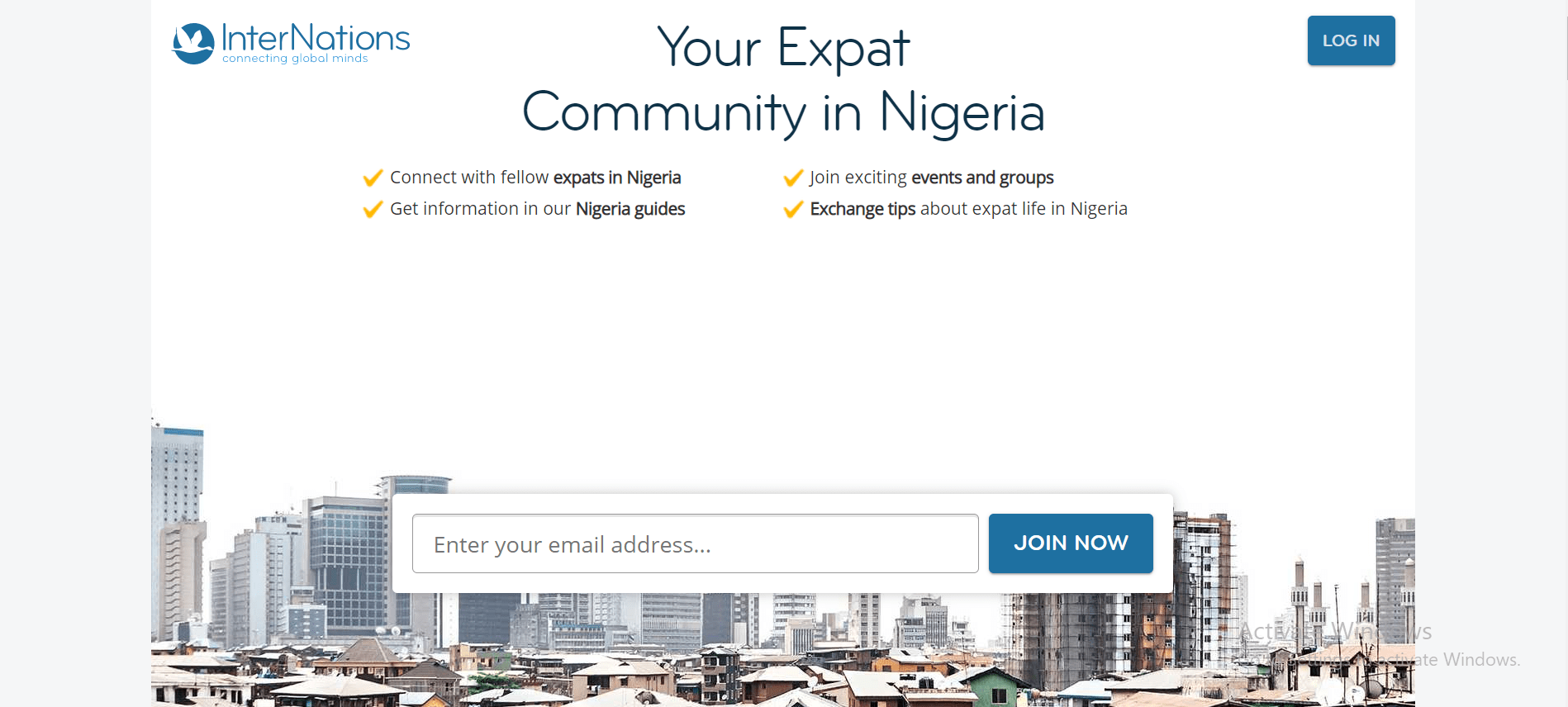 Nigerians can be found in most countries of the world. First, Nigerians are numerous in the United States and the UK, followed by South Africa, UAE and Europe.
If you happen to be relocating for the first time, you don't know anyone, and you need someone you know to guide you, you don't expect to find this with the indigenes when you get there because they don't resonate with your interest. 
One of the best ways to go around this is to connect with the Nigerian diaspora abroad.
The size of the Nigerian Diaspora is anyone's guess, with estimates ranging from 2 million to 15 Million.
Before leaving, you can try as much as possible to connect with them on social media or ask for a referral from your friend who once lived abroad.
This makes things a lot easier for you when getting there. You can also make use of the website I recommended above called Internation.
InterNations is the world's largest network for people living and working abroad. As a member of our global community, you can network, socialise, and find expat-relevant both online and face-to-face. 
Internation comes with a mobile app that allows you to find new friends. Our app will help you find new friends, grow your network, and share your experiences with like-minded people.
TRY IT NOW – Internations.org.
5. Choose your prefered Relocation Route.
Most important of all, you need to choose your migration options. There are several ways to relocate abroad and
1. Family.
One of the common ways to relocate abroad as a Nigerian is through a family member; this can be your immediate, extended family or, better still, your spouse.
Many countries undergo background inspections before giving people their new passports through this method.
Some of these background checks may include finding out how long you were dating before you got married, requiring citizenship applicants to show genuine pictorial proof of dating period, wedding ceremony and calling out mutual friends to testify on your behalf.
And most times, you also have to have been married for at least five years in some countries before applying for citizenship.
2. Education.
Relocating as a student remains the quickest means to live abroad as international students are considered gems abroad.
Being a student in various countries gives you a high chance of blending into society after completing your studies.
Australia, for example, gives you additional two years of stay when you complete your bachelor's degree; the same happens when you go on to do your master's and PhD.
4. Business.
Business is another genuine root that helps anyone relocate to any destination of their choice.
In the US, for example, you get a chance to become a citizen when you start a business in the US and employ Americans just because you are developing the economy.
In some other countries in the Caribbean, you can buy citizenship. Just pay the government, and you become a citizen.
You don't need to be in the US to start a business; anyone can start a business in the US with just a click of a button.
I wrote a comprehensive guide on how to get started by following the article below.
5. Work.
Work is the last avenue that allows you to relocate as a professional to other parts of the world.
Countries worldwide offer work visas to people to move into their countries to work and then become immigrants.
For instance, many Nigerian doctors and nurses are leaving Nigeria to start work abroad, same as people with exceptional skills and talents.
6. Consult a travel agency.
A travel agency should be in the best position to guide you on how to relocate without hassle; they have the latest information about things that should be done.
Everyone needs a travel agent for various reasons, and one of them is booking cheap flights.
Even if you spend hours searching the internet for the best prices and deals, as an average consumer, you won't see everything an airline or hotel offers.
Depending on your travel agent and their connections, they might be able to provide you with a better seat on an aeroplane and better-priced package deals with the airline and hotel.
Their job is to make sure you get the best deals possible, so they often partner with chefs and tour guides.
Mind you, relocating is not beans; information is more paramount than anything else, especially if you are going to a country where you don't know anyone or are the first generation.
Getting acquitted to a good travel agent is necessary to don't make mistakes.
7. Do it yourself.
Most people like to do things their way, and I don't blame people like that because nowadays, all you need to get started is knowledge of how to use the internet.
Embassies opportunities have websites hosted on the internet to show off the necessary information that anyone who needs it.
Anyone can log on to a website, fill out the information and proceed with the instructions.
Sadly, not everyone knows how to do this; most people need direction on what website to visit.
This is why I recommend a guide to help you overcome these obstacles by yourself.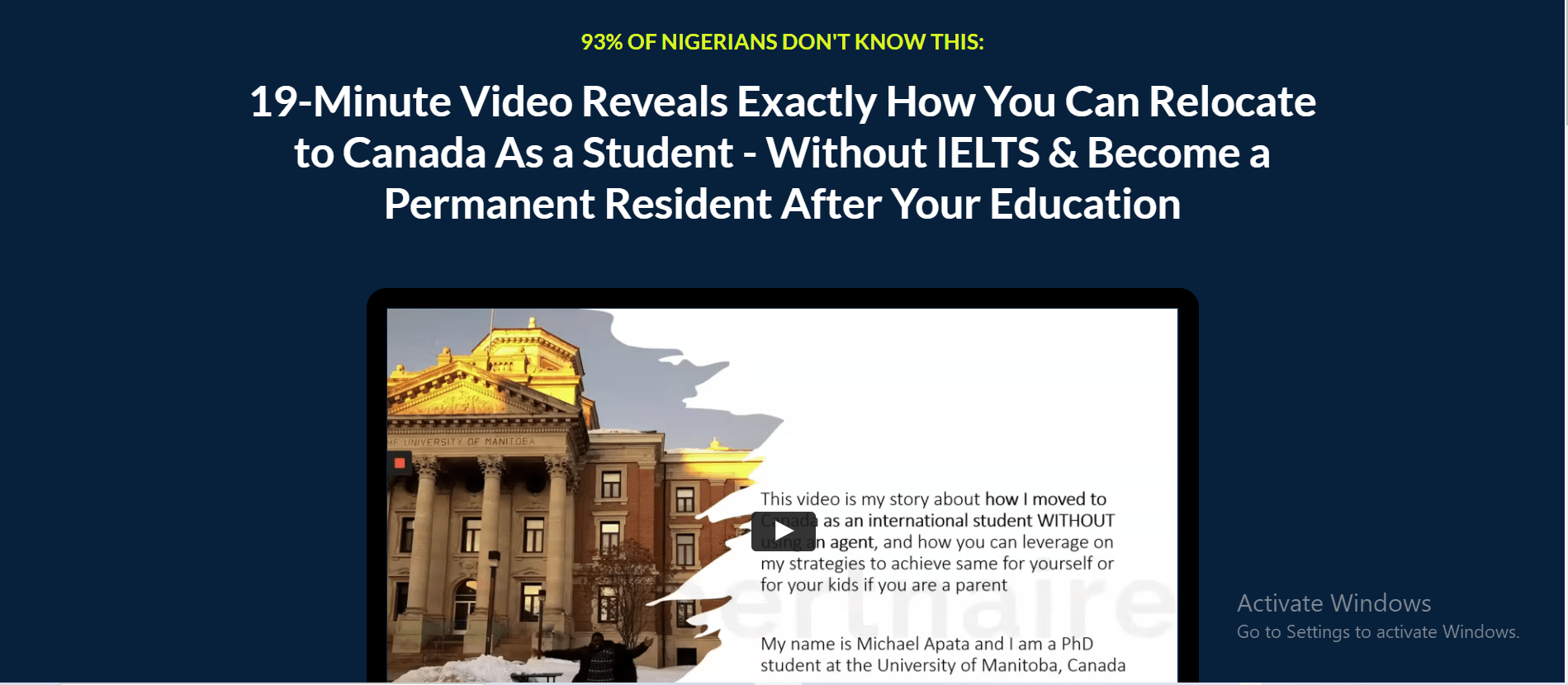 TRY IT NOW – Relocate to Canada