Introduction.
Email marketing is one of the most potent ways of lead generation In recent times.
Various businesses from so many industries like Real Estate, Manufacturing, E-commerce, Social Medias and Entertainment have parted the success of their businesses in the use of email marketing.
So many people have it at the back of their minds that people don't read emails anymore because of the rise in trends of Social media platforms like Facebook, Twitter, Instagram, TikTok and YouTube.
Nonetheless, Email marketing is not dead and it on the trend now.
Anybody hoping to build a sustainable internet business should strategies on List building alongside email marketing integration.
It has been discovered that The number of active email users is forecasted to reach 4.3 billion in 2023.
What Is Email Marketing?
Email marketing is just one form of digital marketing, which include sending emails for the sole purpose of advertising or passing information across.
Nevertheless, every email sent to a potential or current customer could be considered email marketing.
What Are Email Marketing Softwares?
Email marketing software solutions are applications that enable you to plan, perform, and monitor email marketing operations.
They often come with email builders, email scheduling features, Website builders, analytics engine and campaign automation tools to help you ease operations.
Important Email Marketing Statistics You Should Know.
For those of you that do not yet see the significance of email marketing then here are the very few statistics You Should know.
1. Emails Are used WorldWide.
It has been discovered that emails are used by over 5 billion people all over the world, which is times two the number of people on all social media platforms all over the world.
99% of email users check their email every day, some as much as 20 times a day!
2. Email marketing drive more sales than social media marketing.
Social Media is one form of promotion that is overhyped, it has been discovered that even as potent as social media marketing may be, it is not in any way near the potency of email marketing.
Over 60% more people are likely to purchase as a result of emails.
3. Email helps you reach your customers as fast as possible.
With the ongoing hype on social media, most business owners concentrate their efforts on building social media presence instead of growing their email marketing list.
However, it has been discovered that 40% of opened emails are done within the first hour after it reaches the destinated inbox, this has made emails one of the highest converting means of advertising.
Why You Should Subscribe to Email Marketing.
You already started this article learning about how awesome and productive email marketing can be for you.
In case you still have any doubt then here are more benefits your business can derive from the use of email marketing.
1. Low Cost.
In case you have not heard, email marketing is the cheapest form of digital marketing you can ever make use of.
Most email software gives you a free trial and allows you to upgrade at your own will.
2. Deliver Targeted messages.
Those subscribers on your email marketing list are not ghosts or people with a different interest.
Your email subscribers are people who want to hear from you and this helps you send targeted messages.
3. Drive revenue.
In case you seek a sure sales funnel then email marketing is here to your rescue. Marketing Week reports that email generates around $49bn in retail sales annually.
You need to sell a product or a service? then email marketing is here to the rescue.
4. Easy to get started.
Just like tweeting messages and sending out Facebook post so is the simplicity attached to email marketing.
A complete dummy can start with email marketing without prior knowledge.
5. Instant impact.
Do you need to make your mark at once? then email marketing is there to the rescue.
Information about sales or service or general awareness can be made know in just a global window of fewer than 24 hours.
6. Easy To Measure.
Every email marketing software comes with a full dashboard coupled with analytics functionality which helps you track open, click-through and conversion rates, making it simple to spot how a campaign can be improved.
How To Choose The Best Email Marketing Softwares.
There are tons of email marketing software out there, but not all are worth it, in this section, I am going to giving you guidelines on how to carefully select the best email marketing software that suits your business.
1. Deliverability.
Deliverability is the first criteria to consider when choosing an email marketing software; you don't want all your emails to be spammed when you send out a broadcast, the better the deliverability the better your email success.
2. Pre-Made email designs.
You also don't want to choose an email marketing software that allows you to do everything by yourself, this can slow down your progress, and in most cases, you might need to call in an expert that you did no budget for.
A legit email marketing software must have inbuilt support for pre-made designs for businesses in various niches to make work very easy.
3. Email automation.
We live in a time when automation is everything; we don't want to always waste our time on a single task for long.
A legit email marketing software should provide support for automation to help you engage your new subscribers as quickly as possible.
4. Report and Analytics.
Another feature to watch out for in an email marketing software is built-in support for report and analytics; you always want to measure the deliverability of your email campaigns to help you optimize and grow.
5. Opt-in Forms.
This is another feature to watch out for in every email marketing software you are determined to make use of.
Opt-in forms have been known to convert more subscribers than any form.
6. List Segmentation.
List segmentation allows you to be able to split your email marketing list based on certain criteria, for example, you might decide to use a singular email marketing account to grow your email marketing list, let say you run multiple online businesses and want to be able to separate one list from the other to avoid sending non-targeted emails, the only way to do this is by segmenting the list, which allows you to group subscribers.
7. Landing Page Builders.
Landing page builders is another important functionality to watch out when choosing your email marketing provider.
Landing page builder allows you to set up a static website to serve the main purpose of collecting emails.
Landing page builders can help you set up a static website in just minutes without any coding knowledge, absence of a landing page builder in an email marketing software automatically makes that email marketing software a bad idea.
8. Multiple Integration.
Most times we often want to be able to talk to a certain piece of software, and this can only be made possible by a certain kind of integration, in software development, it is called APIs.
Let say we want out existing online store, Facebook account or third-party marketing service, this can be made possible by integration support from the intended email marketing software.
Best Email Marketing Softwares.
In this section, I am going to be recommending a full list of email marketing services to help you choose from.
These email marketing services to be recommended are ones that have been tested and trusted; they are also known to possess the above-mentioned email marketing qualities.
1. Moosend.
Moosend is an email marketing software that helps small, medium and large online-based business to build their list.
Moosend comes with a lot of email marketing features to help scale your business such as; Easy-to-use Drag-and-drop Builder, Free email marketing templates, segmentation, In-built tracking, cart abandonment tracking, multiple integrations and In-built analytics.
Moosend offers a free plan for users with under 1,000 subscribers and includes sign-up forms, reporting, and the ability to send unlimited emails.
Website – Moosend.com
2. Send IN Blue.
Send IN Blue is an email marketing software that allows online business owners to build and manage their email marketing list; they have successfully powered over 175,000 growing business all over the world.
Send IN Blue comes with a lot of amazing features such as; Email marketing, SMS Marketing, Instant Messaging, CRM, Marketing automation, segmentation, landing pages, opt-in forms, retargeting, multiple integrations and real-time statistics.
Send IN Blue comes with has a limited free plan that allows you to test run their services and later on can be upgraded for just $25/Mo
Website – Sendinblue.com
3. Get Response.
Get Response is more than an online marketing platform for email marketing; It comes with extra features like a landing page creator and webinar solution.
Get Response boasts of over 350,000 customers in 183 countries. It is also available in 27 different languages.
Get Response comes with a lot of exciting features such as Email marketing, landing pages, market automation, Webinars, Conversion funnels and Paid Ads.
Get Response offers a 30-day free trial where you'll get access to all of the features. There is no money-back refund since it's a pay as you go service.
Website – GetResponse.com
4. Constant Contact.
Constant contact was founded in 1995; Constant Contact has grown to become one of the largest email marketing services in the world.
Constant Contact also allows you to generate all kinds of websites, all the way from a basic business website and static pages to building a full-blown e-commerce website to manage all your inventory.
You don't have to worry about creating promoting your email marketing list because every tool that you need to drive your email list growth is built-in to your constant contact dashboard.
Constant contact comes with a lot of exciting features which includes; Email Marketing Automation, ECommerce, Social Media Marketing, contact List management, tracking Tools Donations, Survey and Polls, Sign-up forms.
Getting started with constant contact is relatively cheap and easy with no credit card required; Here is an image depicting the details of their pricing below.
You can get started with constant contact today for free and upgrade later, Here is a link to their website.
Website – Constantcontact.com
5. Mail Chimp.
Mailchimp was established in 2001 by Ben Chestnut and Dan Kurzius; it is presently headquartered in Atlanta with additional offices in Brooklyn, Oakland, and Vancouver, Mailchimp is 100% founder-owned and highly successful.
Mail Chimp is one of the world's leading email marketing providers, with over 1 billion emails sent a day using their service.
Mail Chimp is a simple to use email marketing tool for bloggers and smaller websites as it comes with a free plan.
Mailchimp also comes with a lot of exciting features such as; Signup forms, segmentation, Behavioral targeting, content studio, creative assistant, campaign templates, multiple integrations, reports, smart recommendation, surveys, A/ split testing.
It can be integrated alongside WordPress and other CMS The free plan allows you to have up to 2,000 subscribers and send up to 10,000 emails per month.
Website – Mailchimp.com
6. Convert Kit.
ConvertKit is built by creators, for creators. They understand their client's needs and know what it takes to grow an online following.
For bloggers looking to send personalized, text-based emails, their designs look like they are coming right from Gmail.
Their advanced triggers make for some excellent list segmentation options.
Convert kit is one email marketing platform that comes with a lot of exciting feature such as; Email automation, Email sign up forms, landing pages, Email designer and multiple integrations.
Convert kit offers a 14-day free trial that includes all of the features.
Website – Convertkit.com
7. Drip.
Drip new email marketing provider. Their core demographic is bloggers, marketers, and eCommerce site owners.
If you re coming from another background, or let's say your website was built using another infrastructure then you don't need to worry because Drip allows you to integrate your existing infrastructure with its own.
Here is a detailed image depicting their pricing.
You can get started with no credit card, and also enjoy a 14-day trial, One thing about Drip is the way they set up their pricing, With Drip you are to pay more as your email list continue to grow.
Website – Drip.com
8. Aweber.
Another awesome email automation software is Aweber. Aweber is an incredibly popular tool that has been around for 18 years and might have even invented the email autoresponder itself.
Aweber is one of the very best email marketing services out there because it puts small businesses in mind, and gives them tools to help hem grow fast.
Everything you need to run your online business is already prebuilt into the Aweber's Eco-system, so you don't have to worry because it comes with seamless integrations.
Here is a link to help you check out the official Aweber's website. Aweber offers a 30-day free trial that gives you access to every single feature. Beyond the monthly payment options.
Website – Aweber.com
9. Mailer Lite.
Mailerlite is an email marketing tool founded in the year 2005; it is currently managed by 96 people spread across 12 nations of the world.
MailerLite was one of the first email marketing tool used by me.
It's also one of the simplest, but don't let this simplicity fool you; Mailerlite comes with lots amazing features to help scale your business and most of them include; Email campaigns, Landing pages, PoP ups, Automations, Surveys, Multiple integrations, Built-in photo editing, Website builder, Segmentation, Email newsletter reports, Developer API, File manager and Mobile-friendly email newsletters
MailerLite offers a free plan of up to 1k subscribers and 12,000 messages; You can get started for free without any cried or a debit card.
Website – Mailerlite.com
How To Grow Your Email Marketing List.
Now you already choose an email marketing software and you are almost ready and convinced to dive deeply into the ocean of email marketing.
Another obstacle you might face is growing up those email subscribers list.
Let me quickly say this, No email marketing software supersedes each other, you just have to choose which works for you.
You have to have an acute strategy to be able to overcome this or else you will end up selecting email automation software of all kinds and end up with nothing.
Here is a detailed list of how you can boost your email marketing list.
1. Choose reputable Email marketing Software.
An email marketing software is an online service that helps you host and manage all your email marketing related stuff.
There are hundreds of email marketing software all around the internet. All come with different pricing and functionalities.
You can choose from the one recommended in the section above.
2. Use Social Media.
Social media is one of the most effective ways to grow your email marketing list.
Social media platform like Facebook, Twitter most especially allows you to embed links and captivating texts alongside your posts. You can check out my post on social media here.
Boosting your email marketing via social media can be accomplished using various methods and they are.
Embedding email marketing links or sales landing pages to your posts more like adding a call to action
Creating a social media campaign with the objective of leads generation.
Creating an online contest asking your followers to click and subscribe to your email
Add a call to action button Link to your Facebook page and link  to a landing page that requires an email address for access to a special resource is another way to boost your email marketing list
Here is a guide on how you can leverage social media for your email marketing growth.
3. Use of the website or a Blog.
A website can be utilized to boost your email list by various strategy. Most email conversion is usually created with the aid of a website or a blog.
In case you are a blogger of any kind, you should have an email subscribe functionality embedded alongside your website.
Blog posts help you increase your ranking on search engines like Google, and allow you to collect blog subscribers that you can then upgrade.
Ask website visitors for feedback using a custom form on your website. People enjoy offering feedback on information that pertains to them.
On certain pages of your website, include a form that asks visitors what questions they might have about your business.
Create A live Chat Tool. All Live Chat Tools offers email leads generation.
You can start boosting your email marketing list today by adding a live chat plugin to your website.
Add testimonials alongside your landing pages.No one would ever want to associate with something that they cannot trust or relate with. A testimonial section embedded alongside your website landing page can encourage customers to sign up as a subscriber.
Here is a post to guide you on starting your website or blog.
Just before diving deep into the basics and hardcore part of owning a website or running a blog, allow me to assume that you at least have a basic knowledge of how a full website or a blog should run, so therefore it's time to stop talking and start doing.
I decided to drop a dedicated article on how you can own an awesome domain name and a cheap web host with Blue Host and I recommend that you study and do what is advised in the article below.
Afterwards, you may return to fully digest the part you need to get started and stay on top of your game.
4. Traditional Marketing.
This can be a bit tasking and stressful, but this is a very effective way to start building your email marketing list and this can be done by.
Collect emails in your store. If you have a physical shop  where you interact with customers face-to-face, create an email campaign just for those visiting your stores
Host and offline event Whether be it a Hackaton educational panel and even your conferences Take the opportunity to collect email addresses in exchange for the info and demos you provide at the event.
Recommended Email Marketing strategy You Should know.
Most people just go ahead and build email marketing list but they never have enough skills to persuade their customers or leads to doing what they want.
Just before spending a whole time trying to generate subscribers into your email marketing list, here are some very few things you need to have at the back of your mind if you intend to turn them into active and paying customers.
1. personalize your messages.
As a person, one thing I hate most on the internet is to get a feeling that I am interacting with a Bot, or an autoresponder, it makes me so mad with anyone trying to sell to me.
Bringing this into email marketing, one of the mistakes I see most email marketing guys do is to try to automate everything without having their customers in mind.
2. Leave Room For reply.
I just told you how it makes me feel when I think I am interacting with a bot and it even gets worst when I cannot inquire after a very important and juicy email has been sent to me.
In most cases, I just ignore such emails when they come in again.
Having thousands of your subscribers having to reply you can be very hectic and disturbing I can understand for very big companies such as Amazon and Facebook, they don't need your reply, but when you are still starting very small you should leave room for that.
Don't put Do not reply @ bla bla bla as your recipient, honestly, it makes me sick and your audience is not gonna love it.
3. Segment your subscribers.
Just to give you an overhead of what segmentation means.
Audience segmentation is a process of dividing people into homogeneous subgroups based upon defined criterion such as product usage, demographics, psychographics, communication behaviours and media use.
Most email marketers do not like to put this in mind, they just clutter their email marketing list and send random messages.
I will give an illustration below,
Just a few months back, I saw an online course on Facebook and I proceeded to the landing page to subscribe because the course was on digital marketing and just very a few months later I started getting an entirely different email from that person asking me to buy a health product, please answer this, How does selling a health product have to do with digital marketing, two wrong ideology and the wrong audience.
I immediately subscribed and left his list, that is what happens when you fail to segment your email list.
Here is a graph that describes the results when you segment your audience.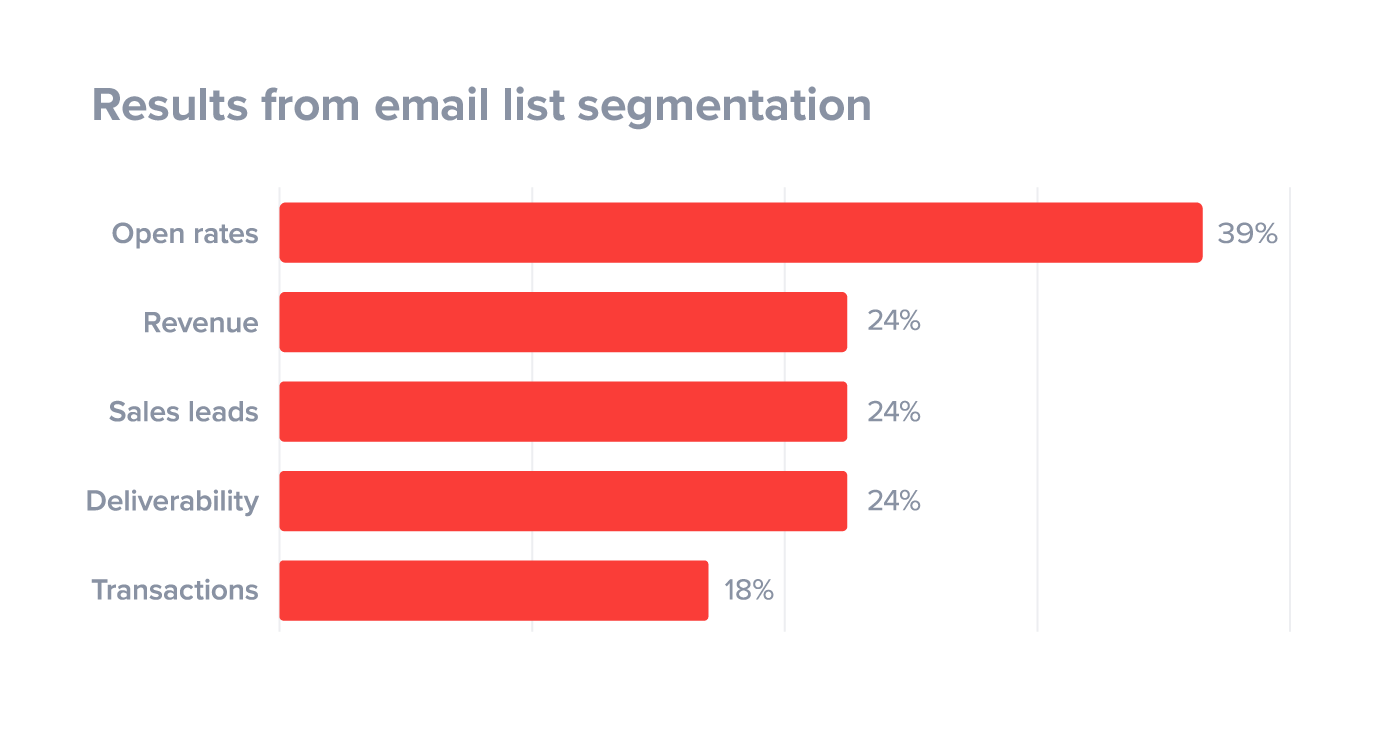 5. Automate email campaigns when possible.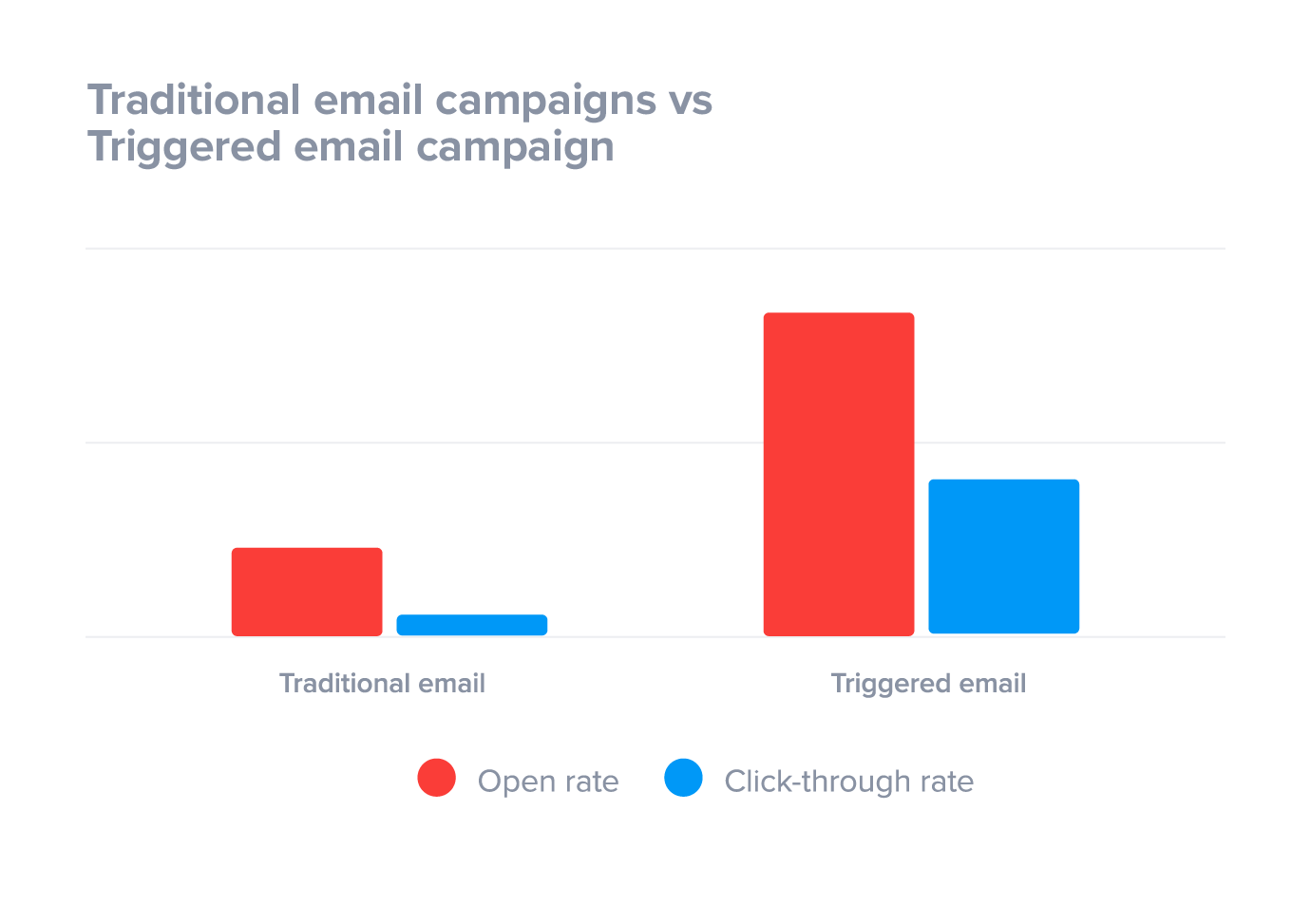 The common forms of trigger emails are 'welcome' emails, 'thank you' emails and 'transactional' emails, such as order confirmation email and email receipts.
You want to notify a new lead when he/she subscribe to your email list, it serves as a much open opportunity to sell yourself.
As they say, the first impression lasts long, so don't waste that first impression of yours.
4. Send Mobile-friendly emails.
In 2012, 27% of all marketing emails were opened on a mobile device. By 2014, that number jumped up to 42%. Now, it's as high as 61%! I must tell you, These are huge numbers!
And what do you do as soon as you wake up in the morning? As for me, I read my emails.
Have you ever received an email before and you find it difficult to open because it has been over-designed with a lot of crap? this is a red signal for anyone who wants to pass messages across.
When you send an email to a subscriber who reads their emails on their mobile device, but the email is not optimized for that device, what do you think they do with?
Mostly, they will unsubscribe or delete it.
How To Turn Your Email Marketing List Into Money.
Now You have grown your email marketing list to a very substantial amount and you don't know how to convert those leads into a very huge and substantial income. Here is How to do it.
1. Affiliate Marketing.
Affiliate marketing is the process of earning a commission by promoting other people's products or services.
In affiliate marketing, you are a middle man, all you need do is find a product and obtain an affiliate agreement online then promote those links to make a good profit.
You are paid in cash to your Paypal account, Direct bank account and so on.
Here is a quick guide on affiliate marketing.
Affiliate link and banner tools can be used to generate sales tools that can be distributed to all your subscribers.
Please also note that you should only share a product that your email subscribers might be interested in.
Think of why they joined you in the first place and send them an affiliated product in that niche
2. Sell your Product (physical products).
Another amazing way to make money using your email list is by selling physical products to them. This strategy works for e-commerce platforms.
You should always add an email subscription field alongside your e-commerce store.
Here is an article I recommend you read to get started with setting up your e-commerce store.
3. Sell E-Books (Information Products).
One channel to quickly sell your eBooks is through email marketing because your audience is well-segmented and they are likely interested in anything you offer provided it would add value to them
Email marketing is most effective if you are an online coach and you intend to release any form of information product.
Here is an article I recommend you read to help you get started with E-books.
Recommendation.
There are so many email marketing clients out there, and one of the hardest decision to make in getting started with one that scales your business for you, to this regards I am going to recommend one out of the best email marketing services out there and that one is Getresponse.
Do you want a glitch and problem-free email marketing solution? then you should try out Getresponse.
Getresponse has been out for so long and I must tell you that their service is great and it also comes with very great pricing.
You can get started for free with no credit card today, click the banner to get started now
Click the link to get started
Conclusion.
Email continues to be the main driver of customer retention and acquisition for small and medium scale businesses globally.
Not to say that social media such as Facebook, Twitter and Instagram is not important for your business, but if you're looking for direct impact and reach, there's no competition with email marketing.
A well-thought-out email marketing strategy will make you a lot of money. Just as I have earlier stated at the beginning of this article as regards statistics gathered around the stability of email marketing.
It is high time you started building a list to help save you stress in the nearest future.
Final words.
Dear reader, I want you to know that we are predestined to meet in this world but maybe not physically, I am so glad that we could meet on this platform today.
I want you to know that I value relationship and friendship and I want to get to know you more, connect and express feelings towards each other.
That is why I am appealing that you drop your email in the email subscription box below, you never can tell we might have solutions to the problem of each other and even help ourselves from there.
You never can tell, great relationships start from somewhere, don't forget to drop your email.
You can as well connect with me on social media platforms like
See you in the next email