Introduction.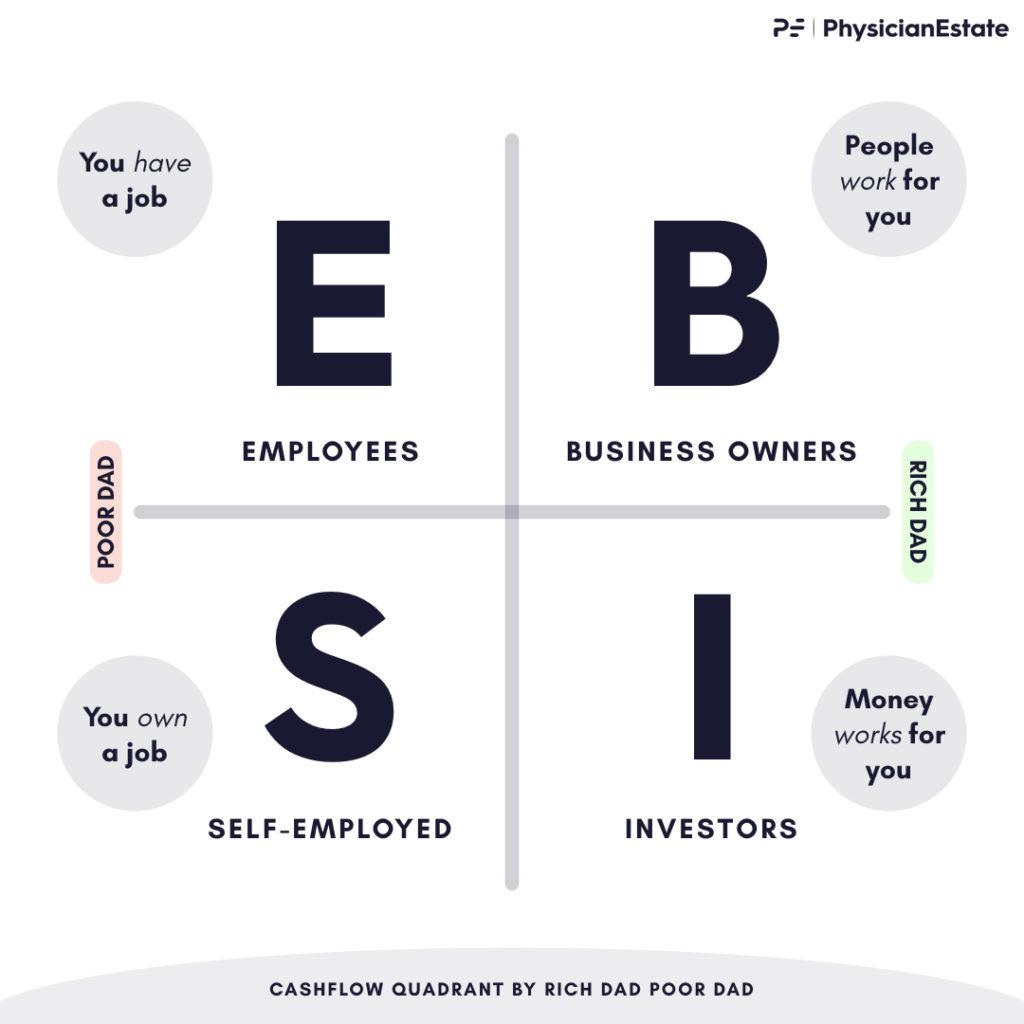 Do you want to make money while sleeping? Then, it would help if you build passive income.
Everyone wants to make money while sleeping, but not everyone knows how.
Passive income can be a great way to help you generate extra cash flow, whether you're running a side hustle or just trying to get a little extra dough each month.
Passive income can help you earn more during the good times and tide you over if you suddenly become unemployed or voluntarily take time away from work.
Before we learn how to build passive income, here are some of the excerpts to be drawn from Robert Kiyosaki's explanation of the various cash flow quadrant, and they were coined into an acronym known as
"E-S-B-I."
1. "E" stands for Employee.
An Employee values security above all else and seeks the safety of a long-term contractual agreement.
An employee works within someone else's system to earn money. Money earned in this system is called a wage or Salary.
2. "S" stands for Self-employed.
The Self-employed person builds an income stream using a skill, or a profession learnt over time.
A self-employed person does not want their income to depend on other people. One thing about being self-employed is that you get to offer your skills independently without working for anyone.
However, things can go wrong when you intend to expand and go on short rest; a self-employed person cannot do such a thing because their income is tied around their availability.
Whenever a self-employed person stops work, income stops flowing in.
A perfect example of a self-employed person is a plumber, A freelancer, and many other relevant independent skilled Jobs.
3. "B" stands for Business owners.
The Business owner is someone who has developed a system where other people do the work.
People like Henry Ford, Aliko Dangote, and Mark Zuckerberg have surrounded themselves with intelligent people who knew all the answers allowing them to concentrate on new ideas.
Business owners must have more than 500 persons working under them to be called a business.
4. "I" stands for Investors.
The Investor is smart enough to use their money to make money. These people do not need to undergo the stress of building a business or being self-employed; all they need do is invest their money in a proposed or an existing working system.
Example of people at this level includes; Warren Buffet and various venture capitalist all over the world.
Anyone that wants to build passive income should be focused on the last two income streams, which are tied around investing and building a business.
No one can build a passive income stream as an employee or self-employed person because there is little or no leverage.
Do you have the following Questions;
This article has been created to help answer the above questions with clarity. Make sure to stick to the end to get a comprehensive understanding.
What is Passive Income?
Passive income is any income that you regularly earn from various sources without having to do a lot of busy work.
All that is needed in passive income is to do most of the work upfront and put in some additional effort to earn an income.
Benefits of Building Passive Income.
Many people think that passive income is about getting something for nothing. Most people also believe that building passive income is a "get-rich-quick", but in the end, it still involves work. So you give the work upfront. Here are some of the reasons why you need to build passive income.
1. You earn based on your efforts and not time.
When working as an employee, you only get paid by how much time you put in. Unfortunately, in developed countries such as the U.S. and E.U., wages are paid based on how much time you put in, often not easy to build upon.
Building passive income enables you to make income based on the amount of effort you have put in, not time.
2. You get more time to spend doing other things.
Earning passive income allows you to spend time doing other things you like, such as travelling, relaxing, or even getting a second degree.
Sometimes we want to do other things in life but are limited by resources; passive income enables you to build earn while you get the chance to plan and achieve different things in life.
3. Your Income is global.
Anyone earning passive income can do so globally; all you need is an active internet connection and your bank, and then you are good to go.
Income from YouTube, Blogs, Book royalties, and many more can be paid to you from anywhere without going through rigorous processes.
4. Your Income is well diversified.
Most people still decide to keep their day jobs while earning passive income on other things, which is allowed. Having passive income provides for a well-diversified income portfolio.
5. You get the Freedom to work anywhere in the world.
Building passive income allows you to work anywhere without hassle, but you have to put in so much work initially. Over time, as the business grows, you would be required to work less because all the past efforts would begin paying off.
6. Early Retirement.
Retirement happens when you have worked over some time, and for most people, retirement is something that can only be achieved later in life. But, if you develop some streams of passive income, retirement can be achieved as quickly as possible.
Seriously, if you like the idea of retiring at a young age, then passive income should be your primary financial focus.
7. Reduced Stress.
Passive income increases your financial stability, margin, freedom, and more; it's only natural that it can help reduce your financial stress. Developing financial freedom allows you to make money without working for anybody because you are the boss yourself.
How do you build passive income?
Passive income streams require an upfront investment and a lot of nurturing in the beginning. After some time, these income streams start to build and can maintain themselves without putting in so much work; the fact remains, you have to work.
Speaking from personal experience, building a passive income stream can help you increase your earnings and accelerate your financial dreams.
There are many ways to build passive income, and it all depends on you to choose which one is most suited for you.
To build passive incomes, you need to own assets instead of liabilities.
Assets are anything with a value that embodies economic resources or ownership that can be converted into something of value, such as cash.
On the other hand, Liabilities are things that take money out of your pocket because they do not have an intrinsic value once you put money into them.
To start building passive income, you need to understand the various kind of assets and how to invest in them.
1. Physical Assets.
Physical assets are tangible assets and can be seen, touched and held, with a very identifiable physical existence. 
Most people would remain traditional and invest in conventional assets like GEN-Z puts all time and investment into digital assets.
You should know about investing in physical assets because they are expensive, scarce and require huge capital to invest in; here are some physical assets that anyone seeking to build passive income can get started with.
1. Real Estates.
The real estate business is the process of buying, selling or renting a property, building, home or land. 
Real estate can either be a liability or an asset; it depends on how you want to play the game.
If your real estate does not generate income, it's a liability; if it does otherwise, then you have an asset.
There are various ways to monetise your real estate assets, the majority of which I put in an article on this blog. Check out the link to the article to get started.
2. Buy Gold.
Gold is another physical asset that can bring you money without hassle. Today, owning Gold can act as a support against inflation and deflation alike; it also works as a good portfolio diversifier.
Since money was taken off the gold standard, the value of every currency is likely not to be stable.
And we can see this in the current global market, as at the time of writing, Saudi Arabia is about to replace the U.S. dollar with the Chinese Yuan because they don't trust the United States; trust me, this would affect the price of the U.S. dollar going forward.
Although the U.S. dollar is one of the world's most important reserve currencies, it is not immune from instability.
To make a profit, buyers of physical Gold are wholly reliant on the commodity's price rising; all you need is to buy and hold on a long term, sell when the global market is high.
One of the most significant drawbacks is safeguarding and ensuring physical Gold because anyone who knows your gold reserve would likely come for you.
Anyone worldwide can buy and trade Gold on the internet from any part of the world. One service that I would recommend for you is.
1. BullionVault.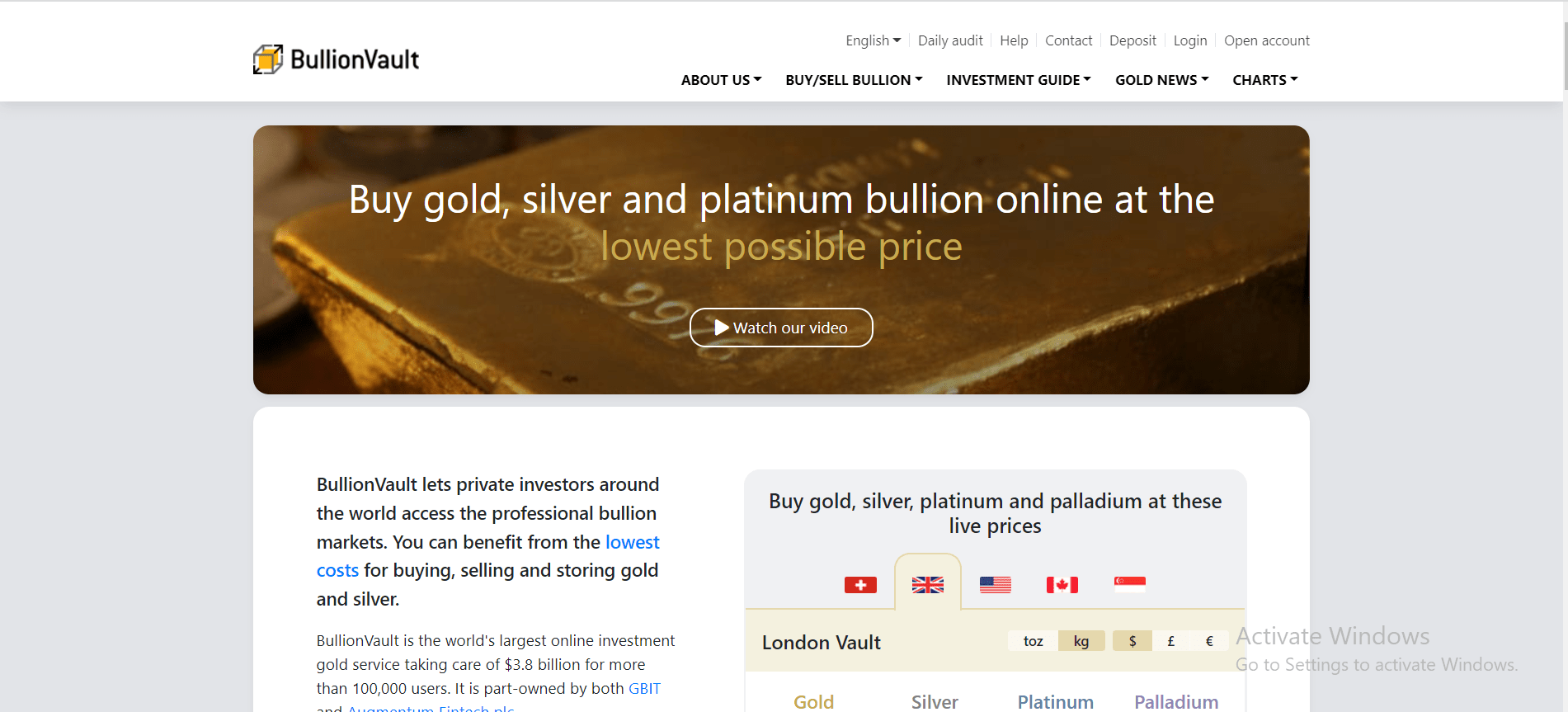 BullionVault is a precious metals company that allows people to sell, store, and buy physical platinum, Gold, and silver. 
BullionVault was established in 2003 by Galmarley Limited. It is also partially owned by Augmentum Capital and World Gold Council. 
They hold about $2 billion in stored bullion and have clients in more than 175 countries and over 65000 clients. 
The company is one of the most prominent precious metals investment services online globally. 
If you want to store and invest in Gold, you should consider BullionVault. 
Private customers are usually allowed to trade, sell, buy, and store their precious metals at affordable prices. 
BullionVault has been a member of the London Bullion Market Association since 2008, making it safer when it comes to purchasing Gold.
Signing up to the BullionVault, the platform allows you to access unending education materials that can help anyone grow. 
These materials include a YouTube channel with video tutorials talking about metal trading. 
Some of the content they put out touches on how you can buy Gold on their platform.
Generally, it is not advisable for anyone to store precious metals in their home because of theft.
BullionVault offers a storage option for their customers' precious metals at a reasonable price. 
You no longer have to worry about storing your precious metals at home or in a safe deposit box that is too expensive. 
BullionVault offers storage starting from $4 a month, which is reasonable.
Having your Gold or silver stored in an online vault is pretty safe and an excellent idea. 
The vaults used by BullionVault are some of the most impregnable vaults across five different countries. So you will select what works for you best. 
The locations you can select to have your precious metals stored are Zurich, Switzerland, Toronto, Canada, Singapore, New York, USA and London, UK.
Besides, all their coins and bars are insured; you can choose where you would like to store your precious metals since it is not mandatory to have BullionVault keep them for you.
If you like to keep your Gold yourself, they can send your Gold to your residential home upon request.
Once you have created your BullionVault account, you can deposit money into your account and withdraw whenever you like.
You can fund your account through wire transfers. Suppose you do not bank with the four forms of currency accepted by BullionVault. 
Deposits made with a credit card or a debit card can immediately show up, while transfers like SWIFT could take up to 36 hours. 
On the other hand, international transfers can take three to five business days to show up. 
It would help consider bank holidays when estimating fund arrivals since BullionVault is based in London.
TRY IT NOW – Bullionvault.com
3. Start a Business.
Starting a business is one way to build passive income; the problem is that most people do not have a concrete business plan even before deciding to start a business.
You hear some success stories about new businesses instantly making tons of money, but the reality is often much different.
It usually takes years for new companies to discover how to make a profit.
A profitable business doesn't just happen; it takes so much effort to make it work.
Owning a business is a form of a physical asset because you will make use of third-party labour, a physical office and many others.
I wrote a comprehensive guide on top business ideas that can make money for you.
2. Digital Assets.
A digital asset is anything created and stored electronically and is uniquely identifiable that organisations can use to realise value.
Examples of digital assets include documents, audio, videos, logos, slide presentations, spreadsheets and websites.
Items made by hand can become digital assets. This can be in painting or handwritten notes that become digital assets if they are scanned and uploaded to a computer.
Digital assets have become increasingly popular in the 21st century, with more people becoming getting to build passive income through them.
There are various ways to invest in digital assets; it all depends on choosing where you want to start.
1. Buy Stocks.
Stock is a share in the ownership of a company. Stock represents a claim that you are a part-owner of a company's shares.
As you acquire more stock, shares, and equity, your ownership stake in the company becomes more significant.
As an owner, you are entitled to your share of the company's earnings and any voting rights attached to the stock; passive income is built in this process.
Back in the day, stocks were represented by a stock certificate. This is a fancy piece of paper that is proof of your ownership.
In today's computer age, you won't get to see this document because your brokerage keeps these records electronically, making stocks a digital asset.
When you hear about big companies like Apple, Boeing, Tesla and you hear how much they are worth, they did not make those profits themselves; they did so by issuing stocks at a certain point in time, so many people have bought into the vision of these companies, and in so doing become part owners.
I wrote a comprehensive guide on how you can own shares in any company of your choice. Check out the link to the article to get started.
2. Invest and trade cryptocurrencies.
Cryptocurrency, also called cryptocurrency or crypto, is any form of currency that exists digitally or virtually and uses cryptography to secure transactions.
Cryptocurrencies became mainstream after projects like Bitcoin, Ethereum was adopted globally as an alternative to preserving monetary value like Gold.
Another thing about cryptocurrency is that it allows you to invest with any amount you have, unlike Gold and another asset, where you need to have a certain amount of money before thinking of investing.
Before investing in cryptocurrencies, you should be careful not to make silly decisions.
Cryptocurrency should only represent a small fraction of your investment portfolio, most especially when you are new in the game.
Second, there are many tokens to choose from. Do your research and learn that you are in for the long-term game, not ones seeking to run off with your money.
You should also avoid shitcoins because they quickly lose value and are easily used for fraudulent purposes.
This is an excellent reason to focus on Bitcoin first—even if you're only starting with a tiny fraction of a single Bitcoin.
I wrote a comprehensive guide on how to get started with cryptocurrencies. Check out the link below to get started.
3. Create or Invest In NFTs
NFT stands for 'non-fungible token' and refers to a digital token used to guarantee ownership of a specific asset; such assets could be anything from photos, videos and many others.
These assets are hosted on the blockchain, the decentralised network behind many cryptocurrencies.
Anyone can invest in NFT, which is accessible to anyone globally and can be transferred among people anywhere in the world.
There are two ways when it comes to invest in NFT. You can either be the creator or become the collector; both party still gets to take home some profit.
Nonetheless, I wrote a comprehensive guide on how to get started with NFTs. Check out the article below to learn more.
4. Start a Blog.
Starting a blog remains an excellent way to make money online despite being constantly termed outdated.
The truth is that there are so many successful bloggers making passive income from their blogs every month.
This blog that you are currently reading is no exemption because, in less than three years of running this blog, it has continued to bring in so much passive income that I could not make working 9-5.
A blog has the potential to make money every month through various methods. For example, you can earn money through running ads, selling your products and services, recommending other businesses with affiliate marketing, and more.
I wrote a comprehensive guide on this blog on how anyone can start blogging and build a passive income with it. Check out the link to the article below.
5. Start a YouTube channel.
Starting a YouTube channel can help you build a passive income without having to stress too much. Around the globe, more than five billion YouTube videos are watched every day.
YouTube is as popular as ever, with users spending an average of 40 minutes per YouTube session, making it one of the most engaging platforms.
YouTube can be monetised continuously using Ads, Affiliate marketing and many more.
I wrote a comprehensive guide on how anyone can start and scale their YouTube channel without any hassle. Check out the link to the article to get started.
6. Become an Independent Publisher.
Becoming an independent publisher is one way to build passive income in today's world. For example, Amazon is the world's #1 book retailer. Anyone can publish on Amazon, and it's free.
Getting started on Amazon Kindle is easy as anything; all that is needed is to create a publishing account with Kindle Direct Publishing (KDP) and upload your book.
Once you publish, have it in your mind that you will compete with other authors.
At the end of 2019, Amazon had published 2 million books. And new books keep coming, at the rate of about one every five minutes.
The truth is that you have lots of competition to deal with. Anyone can self-publish on Amazon, but that does not mean you will make money.
To compete among the millions of books, you'll need to do everything to make your book as marketable and competitive as possible.
I wrote a comprehensive guide to help you become a successful Amazon Kindle publisher. Check out the article below to learn how.