Introduction.
The internet works like real estate, and the websites represent houses. Flipping websites is not different. You have to find an undervalued website or buy a new one, make the necessary improvements, and then sell it for a profit.
Most businesses would not buy a new website because it is difficult for that website to gain trust on the internet, so instead, they go for existing ones with backlinks, content and high domain authority.
Many people have made so much money flipping websites, and it all starts with the intention to do so.
This article will shed more light on website Flipping and how anyone can begin flipping websites for profit.
What Is Website Flipping?
Website flipping is building up or buying pre-made websites, improving them, and then "flipping" them or selling them for a profit.
To flip websites, you can buy an existing website, build a new one from scratch, improve it, watch it grow, and then sell it.
Website flipping is similar to house flipping and every other kind of Flipping except instead of items or physical products, and you're flipping websites.
Benefits of flipping websites as an online business
Domain flipping is one of the ways people earn good morning online from home. All that is needed is a trim level of investment which settles it all.
Many people have made a substantial income from domain flipping which made them fire their boss and work as full-time entrepreneurs.
You should know that Domain flipping is not a get rich quick thing. It is a business and requires investment, strategies and methods to make conversions.
Don't get into domain flipping out of excitement. There are several advantages of flipping domains for an online business. Here are some of them;
1. Anyone can do it.
One thing about website flipping is that anyone without experience can do it.
To start flipping websites, all you need is a computer, internet connection, credit card, and that settles it all.
With less than 7-15 dollars, you can buy a domain name to get started, invest in it over the next 13 months and resell it for a much higher price.
2. No coding skills are required.
You don't need to learn to code to be able to start an online business. But, unfortunately, many people think you need to know a particular programming knowledge to do so.
Flipping domains do not require coding skills. It is about understanding the needs of individuals and businesses when it comes to purchasing domain names and not necessarily coding skills.
3. Website utilized cloud Technology.
The website is powered by cloud technology, which eliminates the need to hold extra storage when working with it.
Once you purchase your domain name, it remains on the site where you made the purchase, You don't need—a hard drive or some cloud storage to store your purchased domains.
This is one of the most noted advantages of flipping domains. But unfortunately, domain names are not good and require a warehouse for storage.
4. It comes with no shipping cost.
The flipping website requires no shipping costs. Like I said earlier, the infrastructure behind website flipping is cloud-based, allowing for little to no physical interference.
Another reason flipping domains is a good business that it requires no shipping cost. However, the buyer is responsible for making any payment to transfer the domain to his account if necessary.
Transferring a domain from one host to another requires some fees. However, most companies always give free one-year renewal making it seem like a free transfer of domain name.
5. You can decide to use the domain name you acquired.
Website flipping allows just anyone to acquire an existing domain and redirect it somewhere else they want.
Most people already have an existing hosting plan but need a domain to make it accessible worldwide; one way to do this is to purchase an existing domain and redirect it wherever you want.
How Do I Start Flipping Websites and Make Money?
Making a decision involves putting the ups and down together. After doing this, you can think of get started or not.
Like any other business, they are ways in which they can become profitable for someone who has no experience.
1. Be Strategic.
Starting and scaling any business in this world requires strategy. Plans ought to be put in place before starting any business. Do you want to start flipping websites but don't know which technique should be used?
Here are some tips to help you decide how to go about it.
1. Buy and Sell Domains.
To start flipping websites in the first place, you can decide to buy and sell domains names you think would be hot in the nearest future.
Back in the early days of the dot com boom, some early domain flippers understood how big the internet would be and bought relevant domains names such as; Business.com, game.com and many others.
As the years rolled by and businesses began to spring up, they decided to acquire domain names; they had to pay a considerable amount to buy them from those who had earlier purchased them.
Learning from this experience, anyone can identify such opportunities and acquire any domain name you think would be so high in demand.
To hint, you can go for domains of celebrities you think would be mainstream in a few years to come, acquire their domain names and flip them for profit when they ask for it.
2. Develop and Sell Authority Websites.
The following strategy involves flipping authority websites for profit. One way to do this is to acquire existing or new websites, build on them, develop an SEO strategy, wait for maturity and flip for profit.
To make sure this is effective, you should choose a profitable niche that wants to buy into. I wrote a comprehensive guide to help you select an effective blog niche. Check out the link to the article below to get started.
2. Purchase a domain.
Owning a domain is the first step to starting a website flipping business. A domain name is the address of your website that people type in the browser to visit your website. For example, "Google.com"
If your website were a house, your domain name would be its address to make things even more accessible.
Currently, there are over 151.8 million .com domain names already registered. Additionally, 366.3 million domain names are written in all TLDs.
All the good domain names are being registered as we speak. There are also chances that someone else may have registered a domain name that you're thinking of, so it's wise to note a domain name as soon as you think of an idea.
I recommend you go for a .com because it is the most popular TLD ( To-Level-Domain) globally.
You can acquire a domain for as low as $5 on Namecheap. Check out the link to the article to get started.
3. Buy a Webhosting plan.
In a nutshell, web hosting is buying space to house a website on the World Wide Web.
Website content such as HTML, CSS, and images on a server to be viewable online when a domain is entered via the browser.
Maybe you want to flip a niche website. Unfortunately, owning a domain name is not enough to get the job done.
A domain name is just an address. A web host contains the files needed to make your website comes to life.
When developing a niche website that will be flipped, you need to consider many things, such as; cloud hosting and a content management system. Unfortunately, that cannot be achieved without purchasing a hosting plan alongside your domain.
I wrote a comprehensive guide on how to purchase the perfect web hosting for your business. Check out the article below to get started.
4. Design The website.
Next is to begin designing your website. Unfortunately, creating your website seems like an impossible task.
But with the right tools, tips and visual resources, you can accomplish it. In addition, having a properly designed website enables high conversion rates because user experience and ease of use are critical points.
The truth is that you don't need to learn how to code to build a website. But, of course, you can always hire a professional web designer using freelance websites like Fiverr and many others.
I wrote a comprehensive guide on how you can hire freelancers on Fiverr to develop the best websites ever needed.
5. Optimize for Search engine optimization.
SEO stands for search engine optimization, and It's the process of increasing your website traffic through search engine results from top search engines like Google, Bing and many others.
Search engine optimization helps your website discoverable when potential customers search terms related to your brand.
The average business spends about 1 per cent of its total revenue on advertising. If your business rakes in $1 million per year, you might spend $10,000 on advertising.
Attracting organic traffic through SEO, however, is free. Of course, you have to pay to develop and promote the content, but that's not nearly as expensive as pay-per-click.
Invest your time and, if necessary, money into growing your organic traffic.
It might take longer, but the results last longer and result in more conversions, making your website more valuable when you intend to sell it.
I wrote a comprehensive guide on how to get started with SEO. Check out the link to the article below to get started.
6. Write Contents.
If you want to rank and improve the websites you want to flip in the nearest future, you must know that "content is king".
According to a recent study by the Content Marketing Institute, 91% of B2B and 86% of B2C companies acknowledge content marketing as one of the most effective ways to attract organic traffic.
To achieve good search rankings, first, you need to make sure Google can find your content.
The best way to do that is to build a sitemap and submit it using the Google search console. Then, Google would be able to read your website effectively. But, of course, the same should be done using Bing, Yahoo and many others.
It would be best if you also remembered that Google heavily favours mobile-friendly websites, so make sure your content and your website use responsive design and are optimized for the mobile user experience.
Finally, there are no tricks for content creation; you get back what you put in.
Google, and your site visitors, want high-quality, engaging content that provides value to readers.
Make sure your content is clean, professional, and written to address your target audience.
I wrote a comprehensive guide on how to get started with content marketing. Check out the link below to learn more.
7. Monetize The Website.
You want your website to become more valuable in the market, and one way to do this is to monetize it.
Blogging has become a serious business. And like any venture, it can net you some cash in the long run or even get to make you money when you need to flip it for profit.
Many ways can help you monetize your blog. I wrote a comprehensive guide on how to help you get started. Check out the link to learn more.
8. Wait For Maturity.
Finally, you have planted your seed and watered it. You have to let it mature before flipping it for profit; otherwise, it will be undervalued. Unfortunately, a brand new website with fresh content takes a while to mature, so you have to wait.
I recommend 12 – 16 months because, by this time, you would have built enough backlinks, Domain authority that would bring in traffic to your website.
9. Prepare Your website for Flipping.
Now is the time to prepare your website for Flipping, and one way to do this is by ensuring all hands are on deck.
Helpful information about your website would be needed to convince the buyers to buy into the deal.
Statistics are everywhere. Any person you want to sell a website to will ask for statistics.
Backing up a claim like "My website will generate a lot of revenue in the long run" will not convince your website's potential buyers if you want to sell a website quickly.
However, You need to present evidence complementing the report summary of your website. This involves giving data such as, how much you earn, How much traffic your website receives and many relevant SEO insights.
Most website sellers use SEMrush or Ahrefs to gather and present their website's statistics.
However, Google Analytics makes the task much more accessible. It holistically offers website stats, which can be made more presentable to buyers.
If you don't know how to use these tools, I wrote a comprehensive guide on some of the best SEO tools to get started with. Check out the link to the article below to learn more.
10. List your Website For Sale.
Now that your website is mature and bringing so much traffic, it's time to put it up for sale. In some ways, selling a website can be just as exhausting as selling a house. However, some might be easier to sell than others.
Even after investing so much time into developing such a website, the market still determines how that website would be accepted.
The market decides what kind of website will cash up your wallets. Unfortunately, many people don't know how to sell a website, which becomes a problem.
Thankfully, there are online platforms that have been created for this purpose. All you need do is sign up on these platforms, list your websites on them and wait for bids from buyers. Here are some of these platforms to help you sell your website easier;
1. Flippa.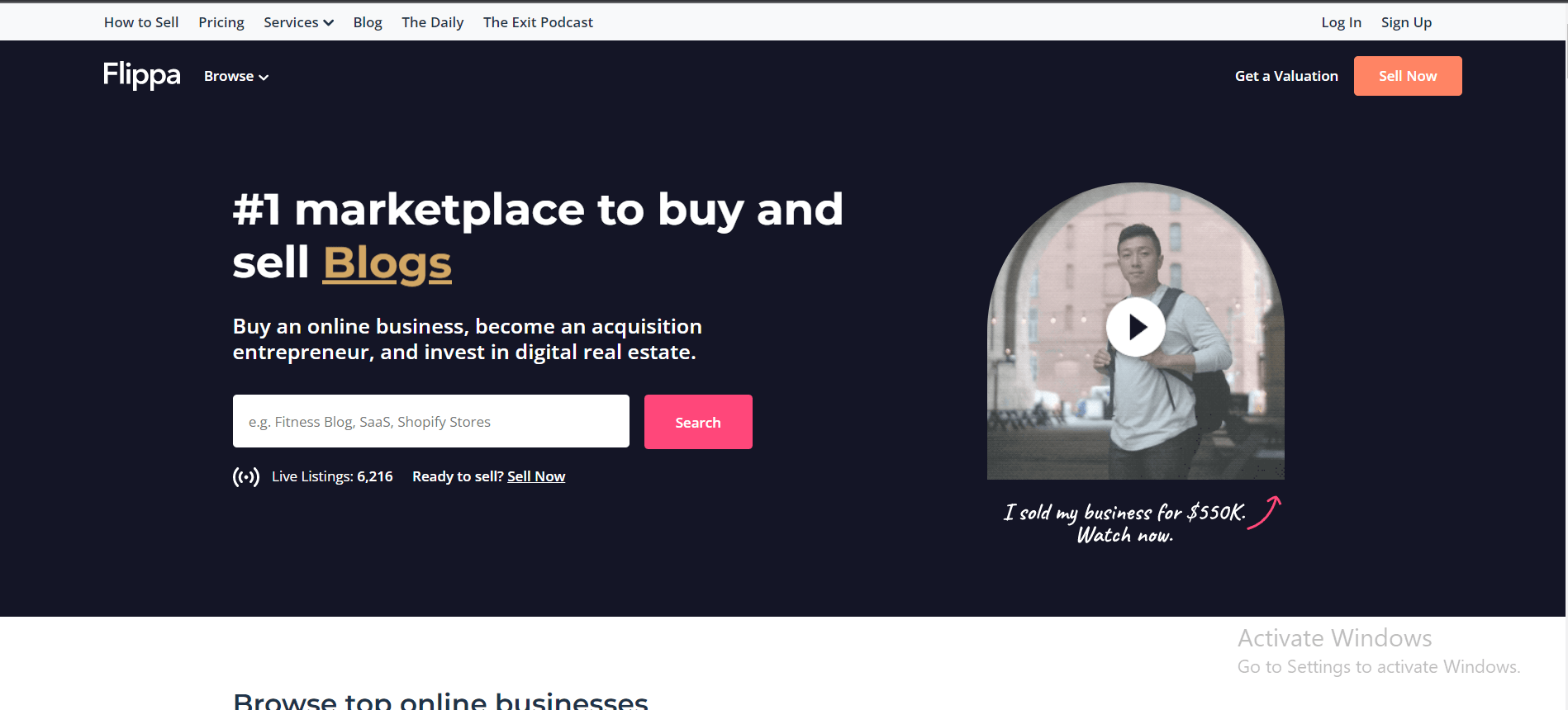 Flippa allows you to buy and sell web properties such as domain names and whole websites. Flippa was founded in 2009, formerly known as SitePoint.
It began as an online marketplace for digital property, primarily websites and domain names. It is a platform where you can buy and sell websites, domains, and even mobile apps. 
Flippa offers a variety of domains, websites, and mobile apps for purchase, with either a fixed price listing or an auction-like approach. As a result, Flippa is one sure destination for website flipping.
TRY IT NOW – Flippa.com
Should You Flip your website?
Owning a website can be a form of passive income, which is what everyone seeks. However, not too many people are ready to put in that work to maintain that momentum till the end.
Managing a website can become draining. Instead of allowing it all to go to the drain, you can decide to make a profit by selling it.
It is up to you to know what is best for your business. However, if all you seek is passive income, I recommend you read this article on my blog to get started with building passive income for yourself.