Introduction.
The first important step in establishing a professional online presence is having a great website.
Most times you do not also need to have a full-blown website to establish your online presence, generating leads, referrals and sales might just be your priority, which makes a killer landing page the answer.
A landing page is a single page with a specific target to get visitors towards conversion by getting them to click through to a specific action.
That action could be anything from encouraging users to purchase on your online store, to subscribe to your mailing list or take or promoting your offers.
Can I show you how to build lead-captivating landing pages easily? The answer lies in this product review article.
I am going to dissect one of the very best landing page builders and that is LandingI.
Disclaimer.
Readers are acquainted that affiliate links are used and that when a user clicks one of those links and makes a purchase, the blog owner makes a small commission.
What is Landingi?
Landingi is a cloud-based landing page builder for people with zero-coding knowledge to create and manage digital campaigns.
It provides mobile-compatible templates, Google Fonts, a drag-and-drop editor and an image library.
Landingi generates leads through a form creator, which captures data from site visitors. Users can export the leads into a CSV file or Google Sheets for further analysis or better convert them into useable data.
Landingi integrates with third-party apps like MailChimp, HubSpot, Google Analytics and Salesforce. Also, users can get Support via a knowledge base, phone and email.
Why you should Build Landing pages with Landingi.
Landingi comes bundled with awesome features that allow any online business to succeed. With LandingI, you can create impressive landing pages that convert heavily. Here are some of the reasons why you should create your next professional landing page with Landingi.
1. Drag and Drop Landing page Builder.
Nowadays, not everyone is willing to learn code and if you ask me, it's not necessary because modern-day web and landing page builder has made it easy to do so.
Landingi is no exemption in the trend of drag-and-drop builders, as it is fully integrated into its platform to help no code marketers quickly build landing pages in no time.
When using the Landingi Landing page builders, you get to choose options like the conversion goals, which can be a signup page, newsletter, eBook downloads and many more.
This helps Landingi choose the best templates for your business, with over 200+ templates Landingi has been packed with the best designs to help unpack your business.
If you also have coding experiences, you are free to flex your muscles when creating your landing pages using Landingi. Options for HTML, CSS and JS makes it easy to write custom codes.
2. Create High converting pop-ups.
Website popups encourage website visitors to engage with your business through various social media platforms and pop up boxes can be added either upon entering or leaving the website.
There are various reasons why your landing page needs pop-ups, sometimes you may need to collect emails, promote an eBook, or better still boost your social media following as stated above.
Whichever way pop-ups can help give your landing page a boost, nevertheless, Landingi pop-ups integrate itself with third-party tools MailChimp, GetResponse, and FreshMail.
You also get to decide how your popups appear to your users, this can be done by setting up a trigger using Landingi.
3. Easier and Faster Landing Page Optimization with the Help of Landing AI called page insider.
Before publishing your landing page you need to be sure that it is properly optimized for your users. Things like page speed, responsiveness, should be put into consideration before deploying to the open internet.
LandingI allows you generate a quick analysis about where the visitors are most likely to focus their attention.
That gives you a chance to tweak the layout of your pages in a way that attracts the eyesight to the most important parts and be sure that your landing page is not a waste.
4. Sell digital products the easy way.
Digital products are preferable because they can quickly and easily be distributed to your customers anywhere in the world for little or no cost. Plus, once you have created the digital product you can sell it an infinite number of times.
For example, if your product is a physical book, once you sell all of the copies you have printed you will need to print more if you want to keep selling them, and that will cost money. With an e-book, you can sell it one time, a thousand times, or a hundred thousand times.
LandingI makes it easy to sell digital products on its platform, with the integration of PayPal, Stripe, or both – these payment gateways allow you to finalize transactions directly on landing pages.
I wrote a comprehensive guide on how to help countries that do not support PayPal and stripe get their account easily.
To start listing digital products for sales on Landingi, you need an account to access the product section, afterwards, you can begin listing, selling and taking orders.
5. You get to create a sales funnel easily.
The journey potential customers go through on the way to purchase is called a sales funnel. In digital marketing, most times less than 10% of traffic will convert on the same spot.
A sales funnel helps you understand what potential customers are thinking and doing at each stage of the purchasing journey.
These insights allow you to invest in the right marketing activities and channels, create the most relevant messaging during each stage and turn more prospects into paying customers.
You need a way to get your customer converted into paying customers, and one way to do this is by building a sales funnel.
Landingi comes built-in with a sales funnel tool that allows you to build a custom funnel for your business with ease without any coding knowledge.
6. Acces to unlimited Images and Icon library.
Icons are one of the most used graphic elements in our digital age but stem from the most sheltered antiquity.
Icons have served as key points of varied information throughout history and there are extensive studies on the importance of iconography in different human civilizations.
Images are also an important part of creating an effective brand and creating engaging content.
Selecting the right images can take your marketing efforts to the next level making it more effective when connecting to customers.
At some point in time, we need to customize our landing pages with various illustration tools such as images, Icons and so more.
Landingi has made it possible on its platform to access as many licence free icons and images to its platform for the real-life application of its end users.
7. Get to use a WordPress plugin.
WordPress started as a blogging tool, it has developed into a powerful website builder and a robust content management system (CMS) that powers the majority of the internet.
The best part about WordPress is that it's easy to use and flexible enough to make different types of websites. That's the main reason why WordPress has grown so much in fame.
In fact, according to a recent survey, WordPress powers 43% of all websites on the internet.
The majority of us comes from a WordPress background and we do not intend to drop off what we've already built when creating a landing page.
WordPress already made provision for this with the creation of a WordPress plugin to help integrate Landingi landing page builder with your existing WordPress website.
To get started make sure to visit the official plugin market for WordPress and follow the prompt to sync both.
8. Integrate with email marketing.
Did you know email is the widest marketing channel ever? In 2018, there are over 3.8 billion email users around the world and the number is expected to grow to a whopping 5 billion users in 2023.
Landingi has deemed it fit to integrate email marketing in its platform so that customers can make the most of email marketing while on its platform.
Integration with email marketing platforms like Mailchimp has made it easy for anyone to get started with email marketing.
9. Inbuild autoresponder.
Autoresponders help you automate campaigns and manage one-to-one communication with your recipients.
They can be sent in a sequence or at intervals, starting from the day contact signs up to your list to the day they get converted
So, autoresponders are useful if you want to send an automatic message to contacts who join your list.
Sometimes, we want to do automate something when a prospect engages without a landing page, one of these is why Landingi has integrated an awesome performance autoresponder to help lift the heavyweight on your behalf.
Landingi Pricing Plans.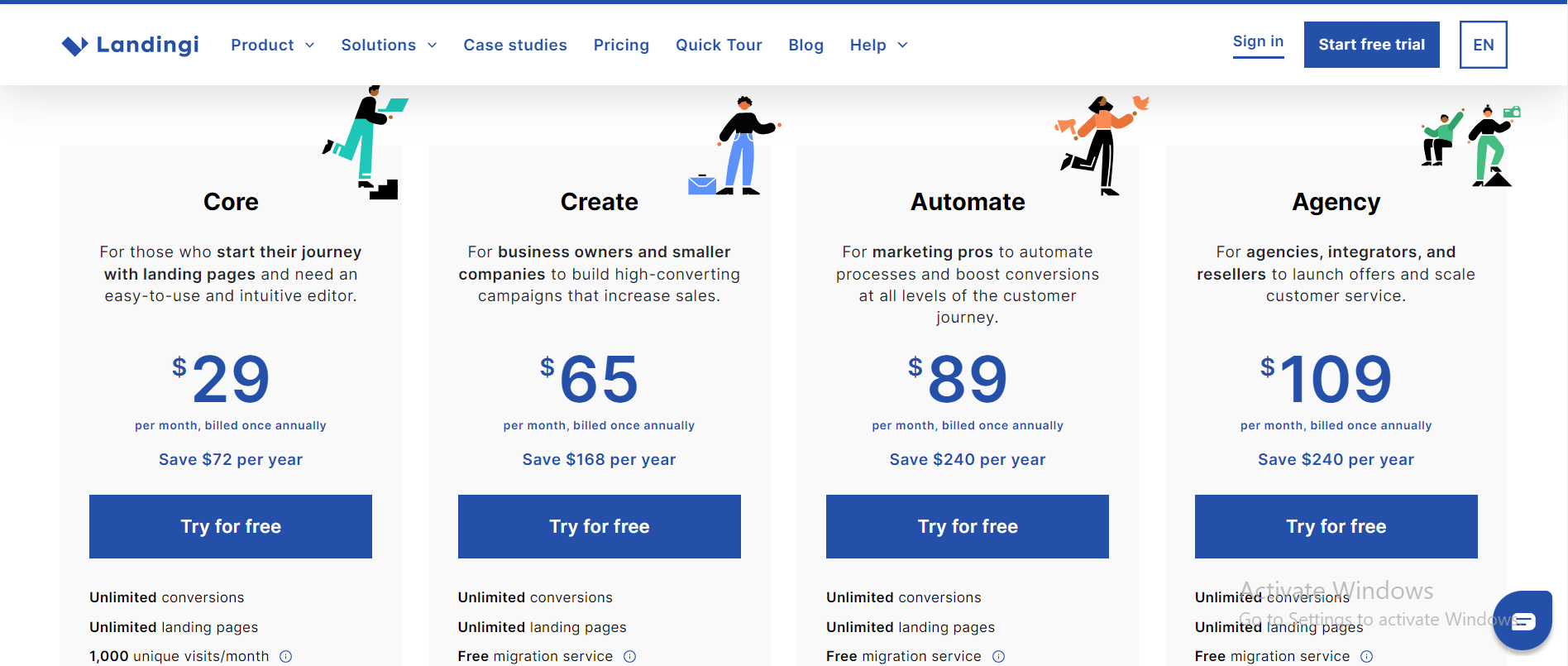 Landingi offers an ideal entry price point for its services. All plans include 200+ templates, unlimited landing pages, visitors, and leads.
When you shift to a higher tier plan, you get additional features like A/B testing, split testing, popups, Zapier integration, and more.
Landingi comes built-in with an affordable plan which gives you the freedom you need to grow.
All plans come with a free 14-day trial, also note that this is an annual and not a monthly plan.
1. Core($29).
This plan is designed for those starting their journey with landing pages and who need an easy-to-use and intuitive editor.
With this plan you get, Unlimited conversions, Unlimited landing pages, 1,000 unique visits/month and 1 custom domain + SSL.
2. Create($65).
This plan is designed for those with businesses or smaller companies to build high-converting campaigns that increase sales.
With this plan, you get Unlimited conversions, Unlimited landing pages, Free migration service, 20,000 unique visits/month and 2 custom domains + SSL
3. Automate($89).
This plan comes designed for those with many years of experience.
With this plan, you get Unlimited conversions, Unlimited landing pages, Free migration service, 40,000 unique visits/month, and 4 custom domains + SSL
4. Agency ($109).
This plan comes built-in for agencies, integrators, and resellers. With this plan, you get Unlimited conversions, Unlimited landing pages, Free migration service, 50,000 unique visits/month, 5 custom domains + SSL, Unlimited subaccounts and a White Label option.
How To Create a Landing page on Landingi.
A landing page is a great way to drive traffic, improve your SEO and build your brand. Approximately 68% of B2B businesses use landing pages to generate leads for future conversion.
Landing pages make it easy to tell the story about your business in a shot. This is your opportunity to create conversions and build your customer base.
1. Logon to the Landingi website.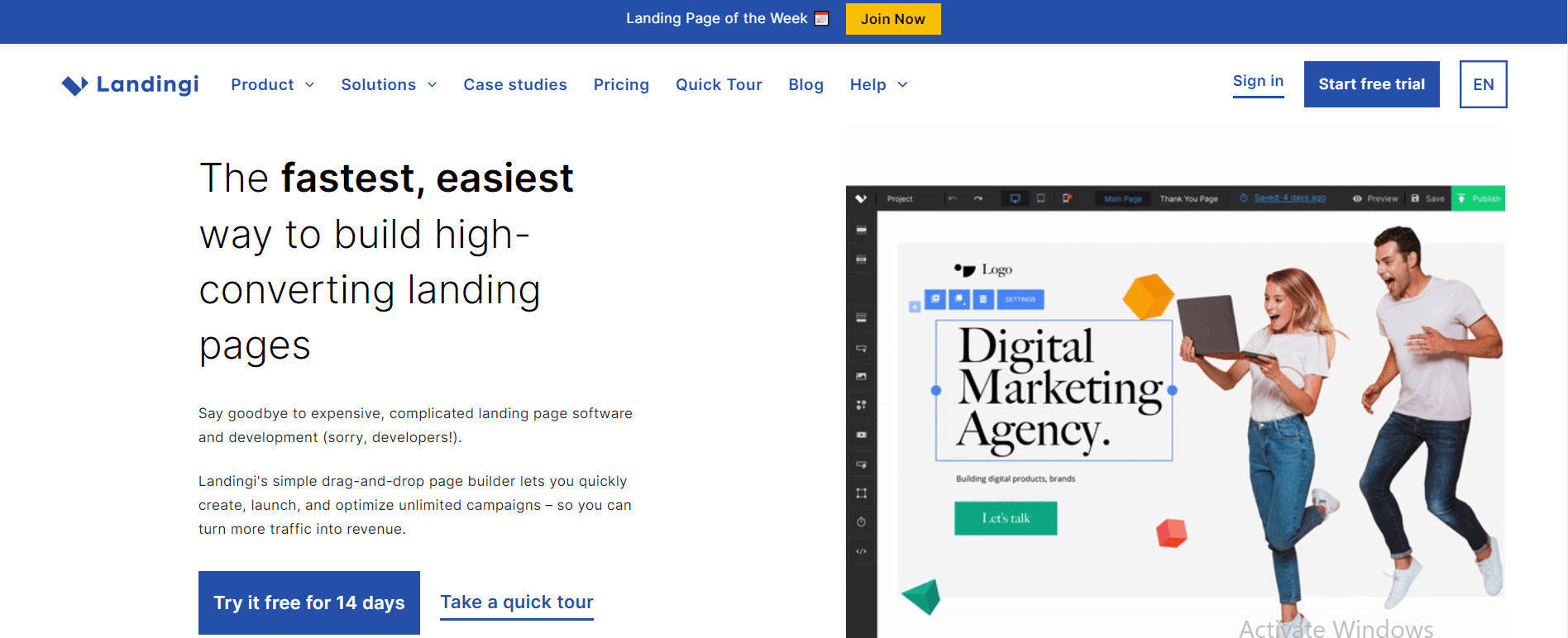 To get started you need to visit the official website of Landingi, and you can do this by clicking the link below.
TRY IT NOW – Landingi.com
2. Register With your details.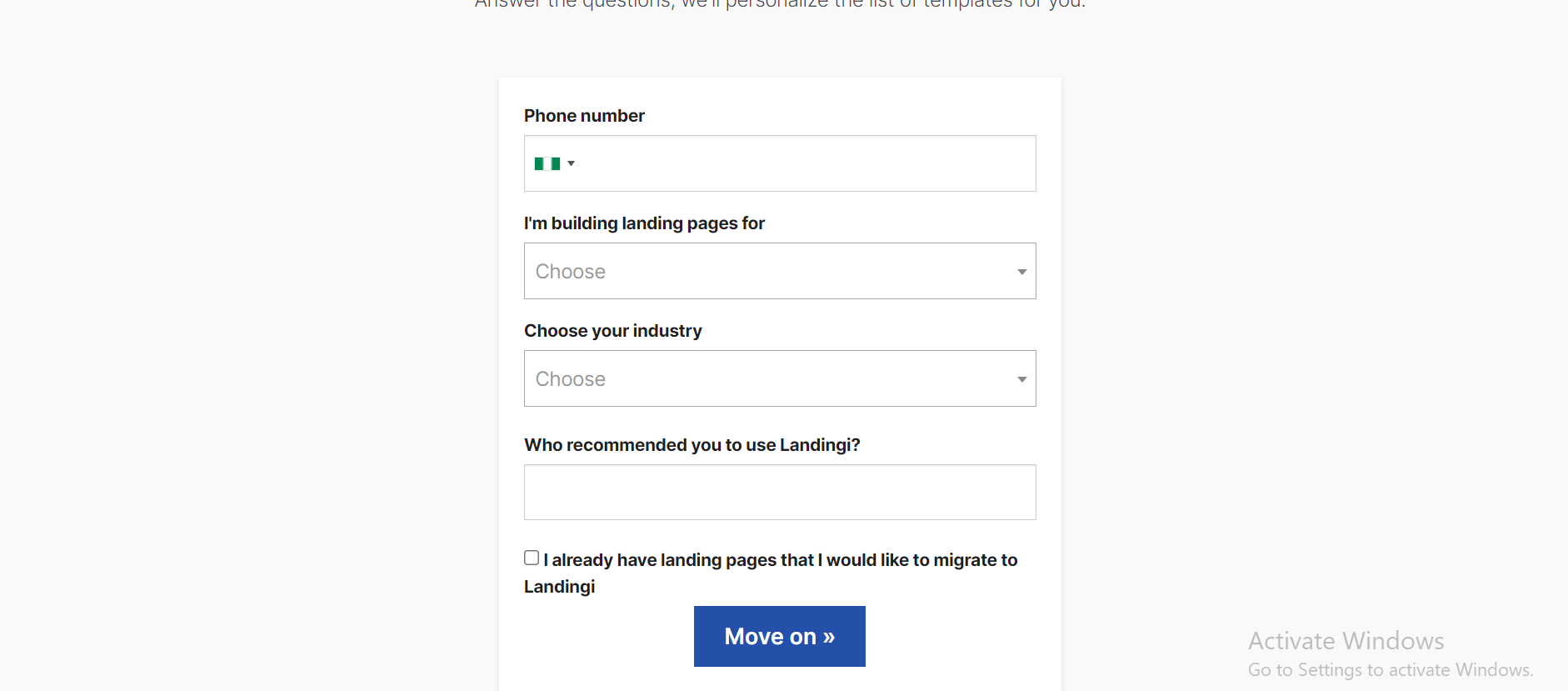 The next step is to register with your prefered details, which can be your email or preferably your Google account to speed things up a bit.
3. Activate your account.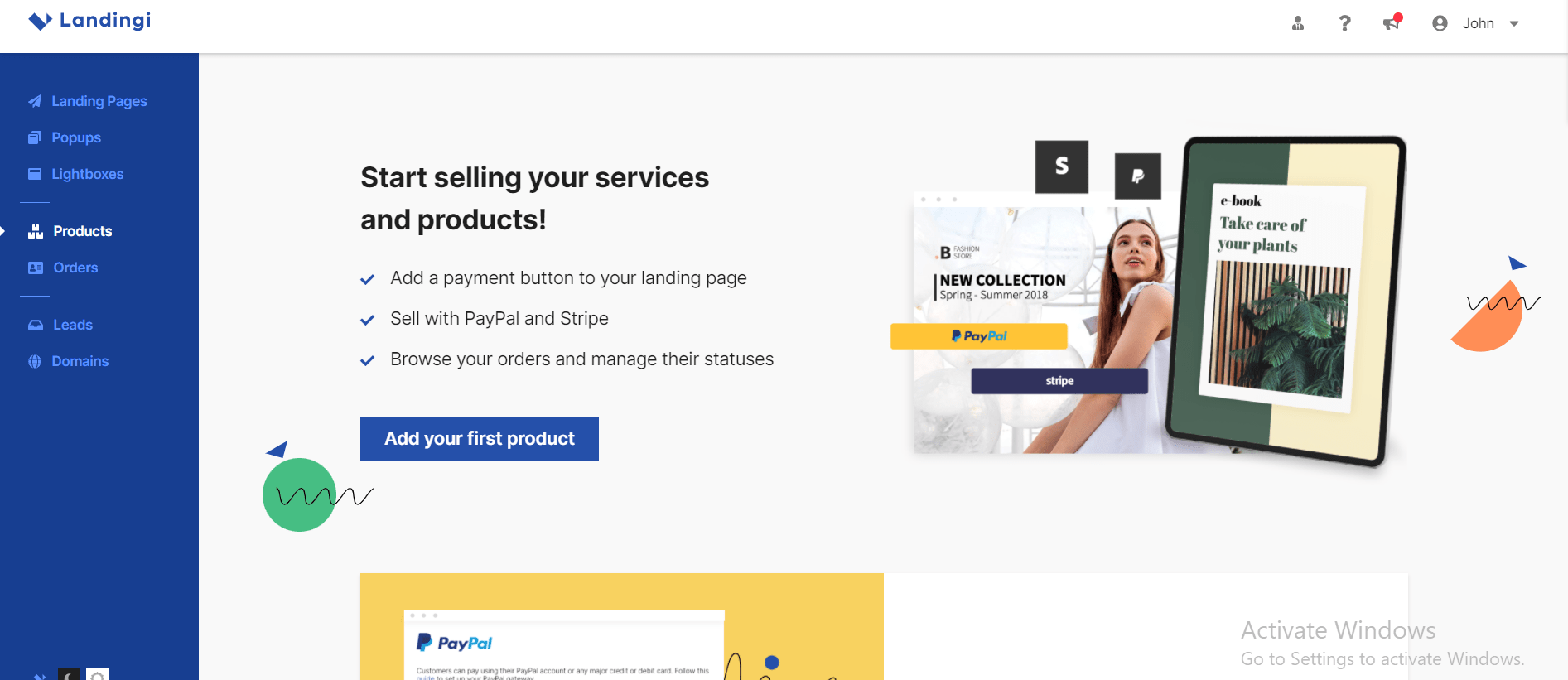 The final step is to activate your account by following the link that would be sent to you via email.
4. Start exploring the dashboard.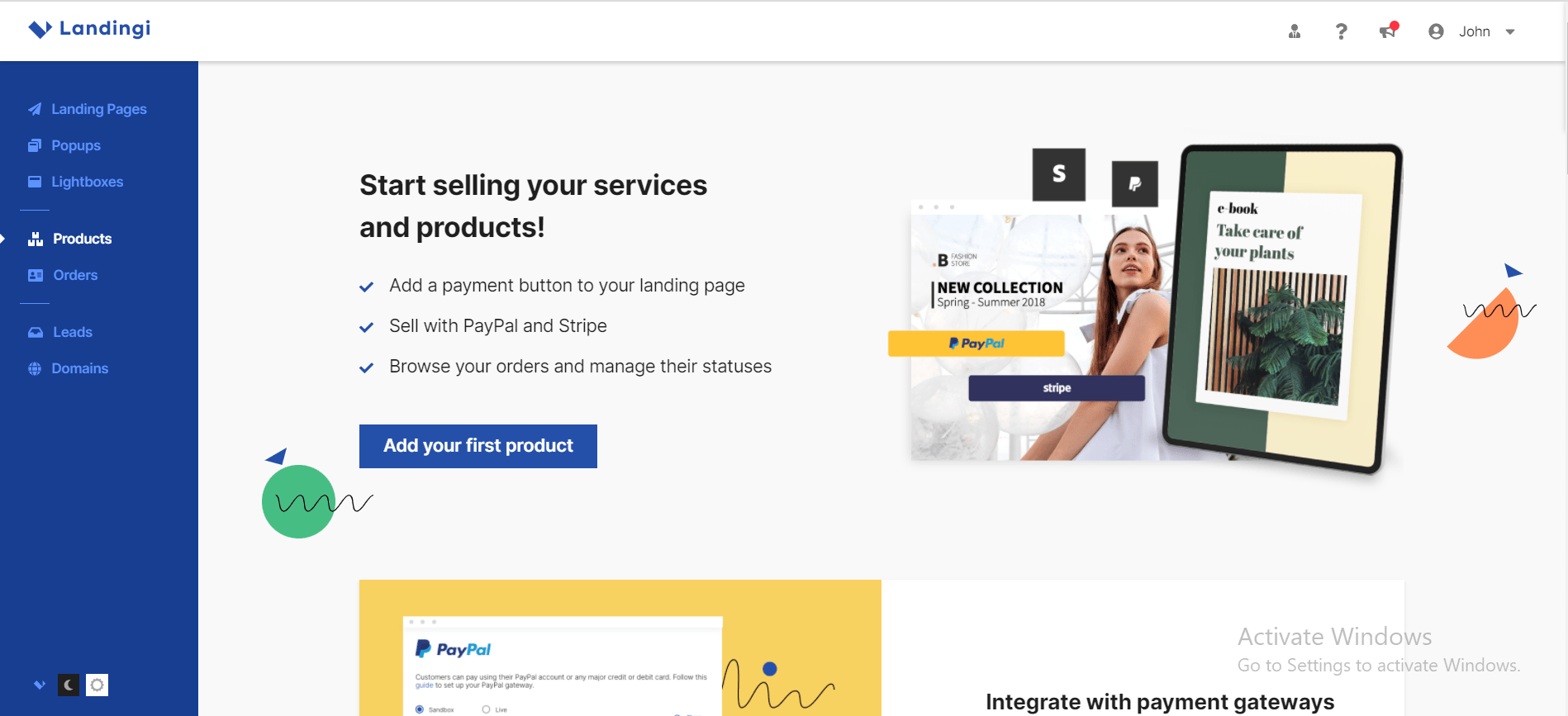 Now that you are in, you can begin exploring things for yourself, the links to the top left make it easy to navigate around Landingi to carry out activities such as landing page creation and many others.
Landingi Pros and Cons.
Pros and Cons are the favourable and unfavourable factors surrounding a particular entity. Landingi might just be the solution you need but it still falls short in some ways. You need to know these factors to waste your time and resources.
Pros.
1. Landingi is Beginner Friendly.
The upside of making use of Landingi is the fact that anyone can use it without any hassle, meaning you don't need to be tech-savvy to get started.
The management of your leads, for instance, is now a piece of cake thanks to its lead organizer tool.
2. Wide selection of templates.
A good template can help you convert prospective clients easily, you don't need to be good at designing to be able to make use of templates in Landingi.
The software provides a wide gallery of pre-made designs of over 200 templates that can be used on your own. All you need to do is modify and optimize them according to your preferences.
3. Organized page builder.
The built-in drag and drop page builder provided by Landingi makes it easy to design landing pages with ease.
The software does not only provide plenty of pre-built pages but its drag and drop creator is also filled with advanced and useful tools. For example, its fonts and icons are both over 800 and still counting.
Cons.
1. A/B testing and analytics are available on high-end plans only.
Unfortunately, their A/B testing, analytics and tracking are included in their high-end packages only.
Analytics is something that should be made available for any serious business to build trust with its end-users, but this feature comes by paying much more.
I think the developers of this product should try as much as possible to review this and make them available.
Landingi Vs Other website builders.
Creating a new website from scratch can be terrifying and requires too much time and effort, which requires checking over and over again to see errors.
If you have the funds, you could hire an agency or a freelancer to design it for you. But if you are a small business with a small budget, you might think that you are out of luck.
However, this may have been true before, but not anymore. Website builders have been created to make work easier for you.
They are simple to use, don't require coding knowledge, and definitely won't deplete your budget.
There are dozens of options out there, each offering different themes, design elements, functionality, and stats to drive your online marketing strategy.
This article described a single website builder called Landingi, but there are many others you might also want to try out.
I wrote a comprehensive guide on the best website and landing page builders that might suit your business needs, click the link below to get started.
Conclusion.
Landingi is a comprehensive marketing tool that was designed to build landing pages and run marketing campaigns using a single instrument. Beginners will find it easy to create new pages or connect third-party services.  
On the other hand, the product lacks in-depth analytics and mainly relies on third-party apps when analyzing traffic.
In other words, Landingi is a product mainly for bigger agencies and enterprises that can afford extra resources or paid facilities, however, if you are a blackbelt in digital marketing or seeking out something to play around with, Landingi is worth trying out, to get started click the link below
TRY IT NOW – Landingi.com