Introduction.
Quora is a question and answer social network that is becoming vastly popular than Other social media platforms like Facebook and Twitter.
Quora has almost 1 billion views every month, this is a huge number. If anyone can drive a small percentage of Quora visitors, that will be a good quantity of traffic for any new website.
Quora was created in 2009 and is over 10 years old at the time of writing.
Are you an online business owner seeking quality traffic from a legitimate source? Quora is one platform that you should try out.
Have you tried out other social media platforms such as Facebook, Twitter, Pinterest, TikTok? I wrote a comprehensive guide on this blog on how to hack your marketing efforts using these platforms, follow the link below to get started.
What is Quora?
Quora is a question-and-answer site for anyone else to ask questions, answer any raised question and also go to find information.
Every piece of content on the site is generated by users, meaning it is created, edited, and organized by the same people that use the website.
Quora was co-founded by former Facebook employees Adam D'Angelo and Charlie Cheever in June 2009. It all started when this duo needed something better than what we popularly called Yahoo Answers back then, sadly we don't have Yahoo Answers anymore.
Quora was designed to be explanatory and more detailed to every question asked, also giving liberty to each author to do as much justice as they could to any question asked on the platform.
Quora is worth more than $ 20 Billion as of 2018 with over 300 Million monthly active users.
Why You Should Grow Your Brand on Quora.
Up until January 2020, Quora documented around 200 million unique visitors per month and over 150 million active users.
By the end of 2020, the number increased to 300 million, mainly as a result of the pandemic.
There are over 200 million active users on Quora monthly. Over 300,000 topics are talked about on Quora.
There are countless reasons why you should choose Quora as part of your marketing strategy and they are;
1. Get High-quality traffic.
A good measurable yardstick for your business is to notice the inflow of traffic to your website.
The more people see your site, the more potential customers you will attract.
Like I always say, traffic is the lifeline of every online business, people need to find you online before they can engage your business.
The number of visitors to your website becomes the number of prospects your business has at giving an impression.
More website traffic does not convert to money all the time but can be an avenue to get visible and build trust.
More website traffic can grow your business, and develop more services and products.
Increasing the quality of the website traffic and visits to your site enables you to increase your conversion numbers as the conversion is an important strategy in building a trustworthy online business.
Like I always tell my readers, It is not always about the number of visitors you have going to your website, but more about the ones that are interested and end up making the purchase.
In the end, it's quality over quantity, Every business needs traffic, but not just any traffic, you need quality traffic and the type that converts.
Quora offers you quality traffic from the US, UK and various parts of the world, all you need do is tap into it.
2. Write on Diverse topics.
Content marketing is a persuasive method to increase your SEO standing, establish expertise in your field, drive traffic to your site, and even drive leads and sales.
Quora is a great platform to apply your content marketing strategy. Not only does the platform keep to driving traffic directly to the relevant questions, but valuable answers on Quora provide long-lasting results.
The popular questions attract attention and constantly receive more traffic.
All you need to do is to answer as many questions as possible. A good answer can be an outstanding contribution.
Once you take the time to answer questions properly, The traffic will keep coming in for as long as possible
Quora is one platform that discusses almost every topic, from web development, life hacks and many others.
With more than 300 million visits each month, Quora remains the platform with the most topic counts.
This presents an opportunity to be able to diversify as much as possible.
If you notice that a particular topic is not fetching you the visibility you deserve, you are free to do your study of the platform and do a switch, You will be surprised at how much you can grow in just a few months.
Perhaps if your blog is on a particular topic, you can do better by engaging with questions about that topic on Quora to divert traffic to your website.
Most people even talk about more than one topic on Quora and still get the result the visibility that their business needs.
I recommend that you don't box yourself into one topic and be free to express yourself as much as you desire.
3. Build Your brand Authority.
Brand authority refers to the trust a brand has gained among audiences over a given period, up to the extent where they get converted into loyal customers or followers.
The internet is a world of influence, there is so much freedom online, and people must decide who they want to listen to.
So many factors can influence authority, including robust and effective content, an active online presence, and engagement over social media.
With a strong brand, prospective clients will be more likely to interact with and use your content when they see it.
This is why Quora has been a platform that helps any brand to build authority.
You should be tactical when writing content on Quora to build brand trust and authority amongst your readers.
Also, you should regularly create new and informative content, to keep your readers active and delighted so that they don't forget you.
4 . Get Noticed by Other Publications.
Quora has over 300 million users out of which are owners of top publications around the world seeking to partner with the right person.
You might be lucky to land a guest post or other writing gig as you continue to write valuable content on the platform.
There are endless opportunities that are yet to be tapped on this platform, and if you are someone who runs a non-profit organization, then this is your best shot at getting lots of people across the globe to notice you.
How do you grow your brand on Quora?
Quora has become most prefered because it is used for SEO purposes. Search engines will index Quora's questions and answers, therefore driving traffic.
Also, it allows Anyone who's answering a query will get their response voted on by the users, the more votes the better their results and visibility will be attested to such person. The next line of action is to learn how you can utilize Quora for your brand and business.
1. Get a Quora account and optimize your profile.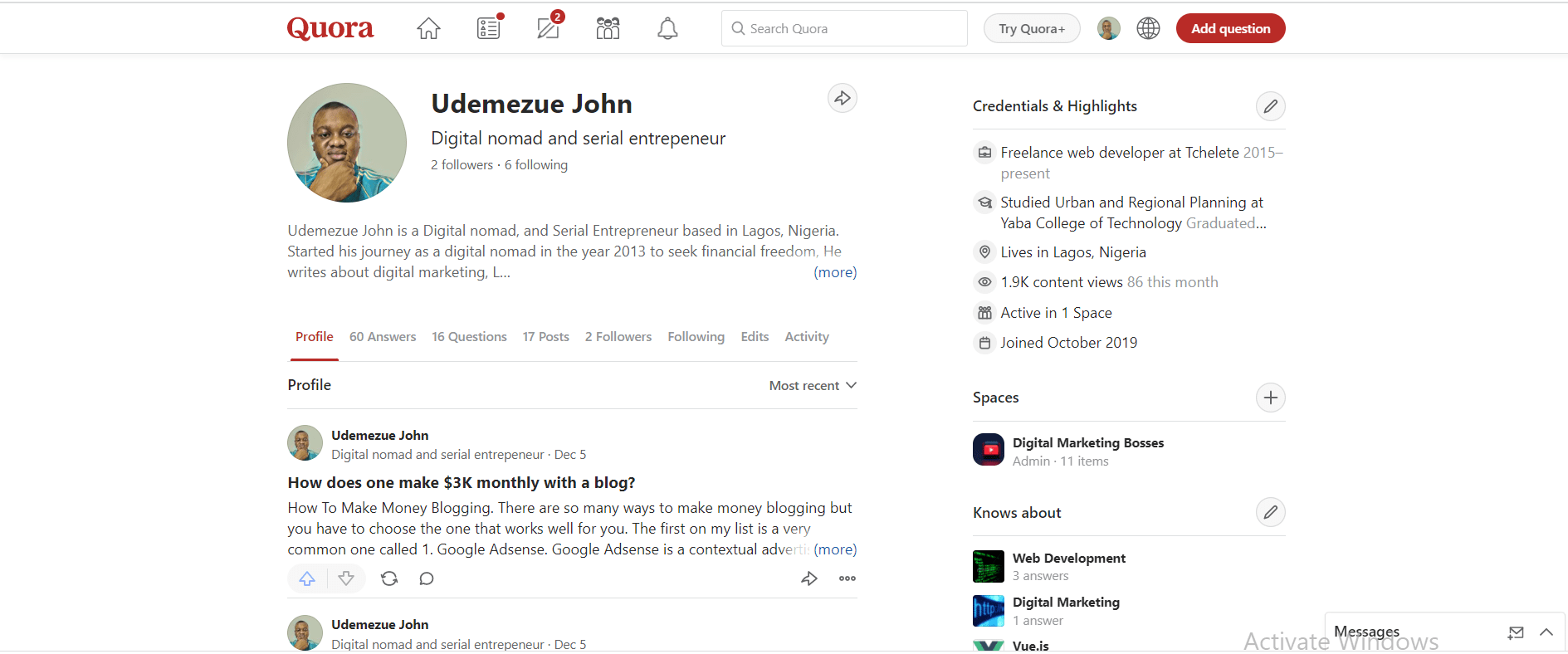 Over 400.000 different topics make Quora one of the best places for sharing knowledge educating your potential customers. Not to mention that 63% of Quora visits are coming from search engines.
Before getting started on Quora, it is important to note that you need an active account, which entails registering with a valid email and password. To make things a lot easier, you can decide to leverage the social media accounts such as Facebook or Google to ease the process.
Many people don't spend time designing and optimizing their Quora profiles which is very important.
Look at your Quora profile as your company's landing page.
Well-designed and informative Quora profiles will help you to build authority and trust on specific topics. Whenever someone looks at your profile, it should be clear in what fields and industries you have knowledge and expertise in.
So, why is it important to have optimized Quora profiles?
Whenever someone looks at your question or maybe your answer to someone's else questions, they will visit your profile afterwards.
If they see that you are an expert in that particular field, they will automatically have more trust in your answers and your reputation will be better maybe even earn a following, an email subscriber or a website visit, most of the time, you get all these benefits.
To be able to achieve this milestone, you need to be able to optimize your profile in such a way that it attracts prospective leads.
You can see the example highlighted above, breaking it down, We have six different sections of his Quora profile, so let's analyze them one by one:
1. Profile Picture.
Every social media platform allows you to upload a profile picture of your choice, it should show your face, smile, and let the emotions shine.
2. Description.
The description is one of the first places where your profile visitors are deciding whether they will or not have trust in your answers and claims.
This section should highlight most of your achievements and most important of all, a link to your website or email link.
3. Credentials.
Your credentials say a lot about your experience, you don't need dozens of credentials to be able to attract the right audience, If you have nothing to show off, you can highlight some of your volunteering experiences.
2. Ask and answer relevant questions.
Quora provides you with opportunities to answer relevant questions, but then the truth is, you are not supposed to answer every question on Quora, because you are not an encyclopedia who knows everything. These few techniques can help you divert traffic to your website by asking and answering the right question.
1. Be the first to answer any questions.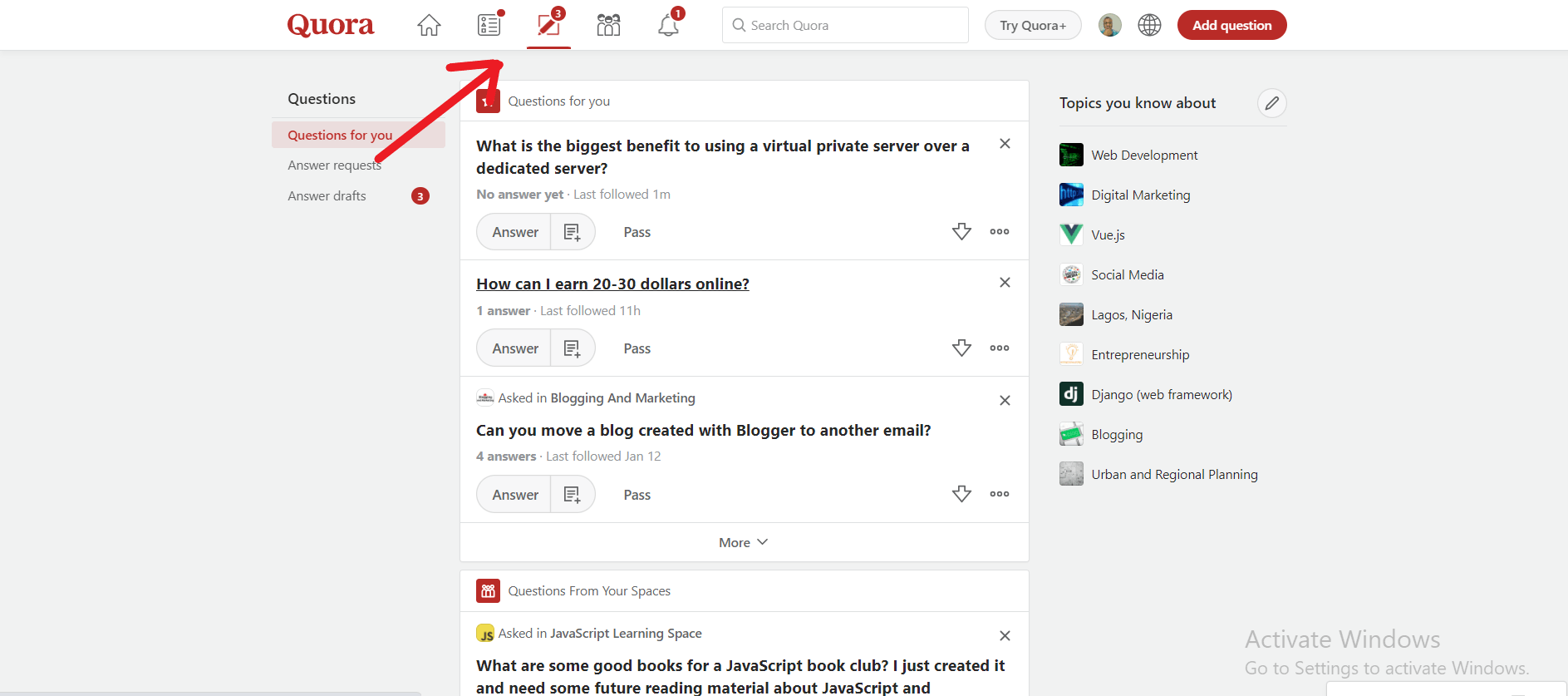 There are thousands of questions being asked on Quora each minute and it's left to decide whether to answer them or not.
Answering these questions makes it easier to get search traffic as fast as possible. If you can't find these answers, you can click the answer button to get started.
The question that pops up is related to your interest and profile. You can answer as many relevant questions as possible, make sure to answer questions you have in-depth knowledge about.
2. Ask a Question Anonymously and Answer It.
If you cannot find a question, you can go ahead to create and answer anonymously.
Remember, the point of marketing on Quora is to provide value to other users on the platform.
In answering your questions, make sure you make it comprehensive enough and also answer the question in debate.
Thoroughly answer a question, but ask visitors to visit your blog or website for supplemental information or resources that can expand on the topic or specific points.
To make it much richer, you should include multiple links in your answer, with a majority going to other reputable sources and a few linking back to your website or blog.
This will help readers regard your website or blog as a reputable source and won't come off as overly promotional.
You should not ask people to buy your book in a Quora answer. Instead, get them to take one action closer to your overall desired action (i.e. make a purchase).
You can ask them to sign up for your newsletter, visit a blog post for more detailed instructions, or visit your YouTube channel to learn more about what you are putting out.
3. Add Links To Your Answers Wisely.
The final thing to do is to add links to your content wisely. Remember, the point of marketing on Quora is to provide value to other users.
This requires being a bit more strategic about your link placement in answers. To help, here are a few strategies you can use:
Thoroughly answer a question, but ask visitors to visit your blog or website for supplemental information or resources that can expand on the topic or specific points, you can generate tons of traffic from the platform.
3. Create a Quora space.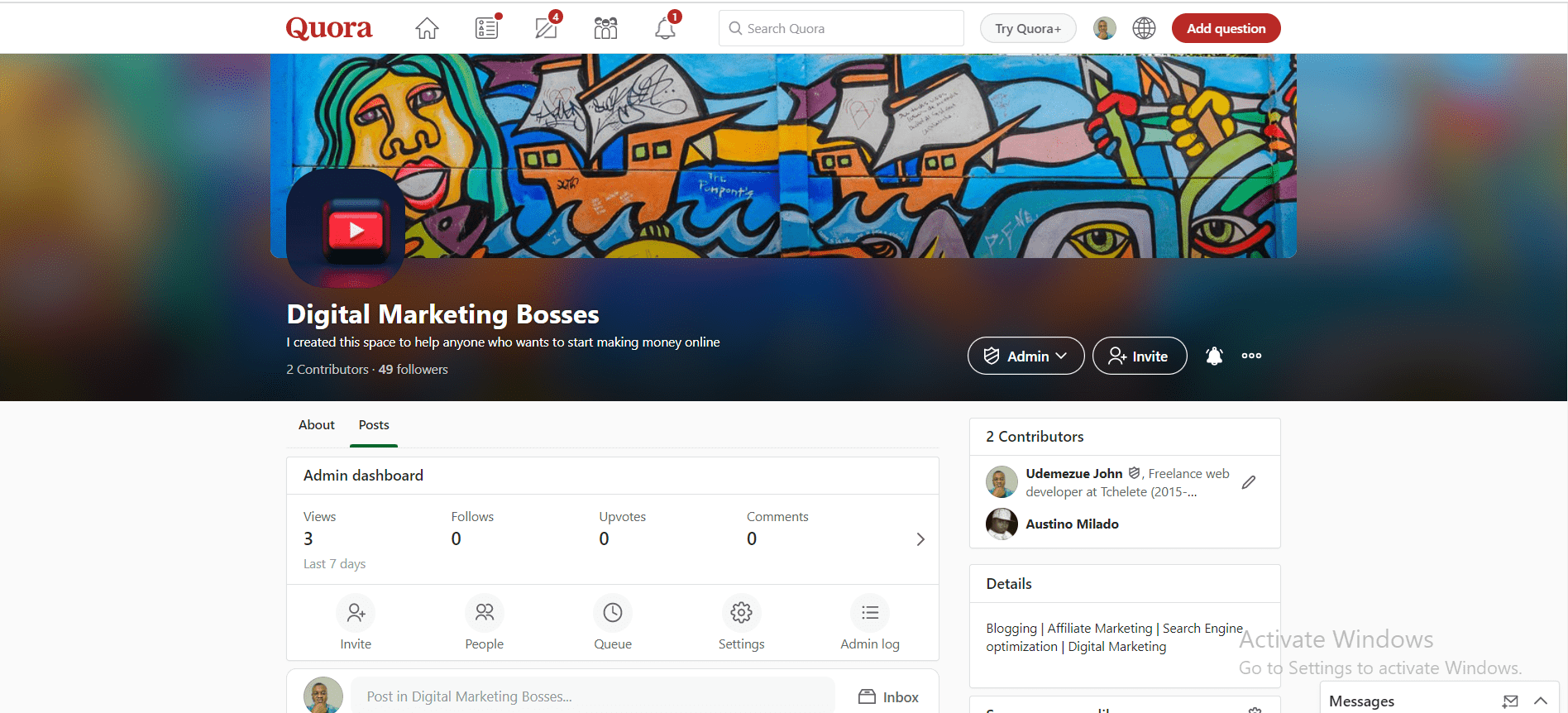 Quora Spaces is a feature introduced by Quora that enables you to create communities and curate posts, questions and answers around specific topics of interest. It works like Facebook Groups, but the difference is not everyone who belongs to the Space can contribute content, as it has to be approved by the admin.
Those who follow the Space can share, but not contribute, content including Quora answers and articles from the web.
Quora Spaces are a valuable way to distribute your content and improve off-page SEO, in the long run, backlinks are generated that boosts the website's visibility.
Quora Spaces are an excellent place to contribute content written by you or your brand, as long as it's relevant to the topic of the Space.
Whether long form or short form, original content allows you to share your content or expertise with the community while linking back to your website or blog
Quora Spaces, allows you to share relevant articles, or Quora answers you think followers will be interested in reading.
You should also note that you have an equal responsibility to promote your Quora space to attract more followers and grow your audience reach.
You can join other vibrant Quora spaces and ask to contribute, to be able to gain the following you need, and if you feel the need to start yours there are various available options to grow your Quora spaces such as email invites, social media sharing and many others.