Introduction
Are you a blogger in a competitive niche seeking to be discovered enough to drive traffic? It would help if you had backlinks to get that traffic to your blog.
If you are new in the SEO world, you ought to know that search engines see backlinks as votes from a reputable website to yours.
The goal of every search engine is to show the most useful websites to their searchers. Search engines like Google determine who ranks by the number and quality of links from reputable sites pointing to yours.
So many bloggers are finding it hard to rank online, most especially newcomers in blogging; the truth is that having enough backlinks to your website sends a signal to search engines that your website is worthy of visibility.
Even though Google denies it all the time, backlinks are still a ranking factor in search engine optimisation.
You should also know that getting authoritative backlinks from a trustworthy website is a search engine ranking factor but can be penalised when you do it the wrong way. So you should attract backlinks from traditional websites and avoid spammy websites.
Also, remember that trying to employ black-hat SEO strategies or buying backlinks to your blogs also goes against the Google guidelines.
I wrote an article on this blog that comprehensively broke down how Google algorithm updates seem to affect your search engine reputation; You should follow the link below to get started.
In this article, I will be going a bit in-depth on how backlinks work and how you can acquire them naturally without being penalised by search engines, most especially Google.
What are Backlinks?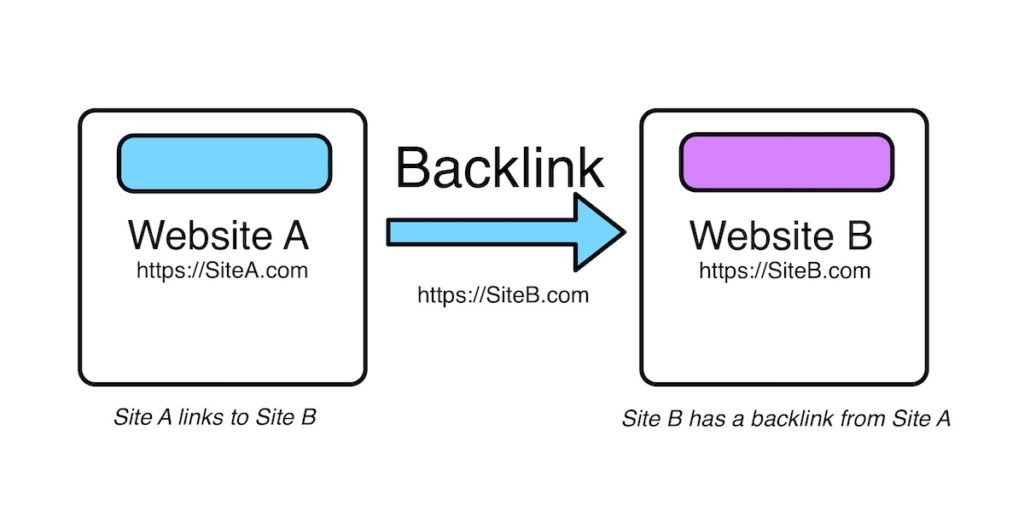 Backlinks are links from an external site to your website. They can also be called votes of trust.
It also means a website means another site found your content engaging and valuable and may decide to drop a deliberate linking from their website to yours; it's preety simple.
Search engines like Google assume that means your content is valuable to users, which eventually leads to more search engine visibility.
To break things down, I want you to study the image above so that you understand what I am trying to explain.
Reasons Why Your Blog Needs Backlinks.
Backlinks are essential for SEO because they signal to Google that another different website finds your content, and they went the extra mile to link back to you.
Blogs with genuine links are more likely to get the attention of search engines than websites with fewer or spammy backlinks. However, things can go wrong when you don't go about it the right way.
1. Backlinks Help boost search engine rankings.
Search engine traffic is the spice in every online business; without it, your business would be confined to a limited reach.
One way to boost your search engine rankings is by building genuine, non-spammy backlinks to your websites.
If your website is getting links from other relevant sites, your content will rank well on the SERPs.
2. Backlinks Help you get indexed quickly.
There are over 30 trillion pages to be indexed each year; this has made search engines like Google only prioritise pages that are most important over the others.
Most websites are stuck in the sandbox because the search engine index does not prioritise them.
A new website takes more years to rank in a competitive space than an older website with authority and backlinks.
Moreover, Search engine spiders are designed to search for new web pages by following backlinks from existing webpages linking to you. This helps you get indexed as quickly as possible.
3. You get Referral traffic as a reward.
Having more backlinks from other websites means that they are comfortable sending you part of their visitors to check out some of the valuable pieces of information that they could not provide.
A person reading a post can click on the post link to learn more about the topic at hand. Therefore, this generated traffic to your website is usually more targeted and less likely to leave the page faster.
Types Backlinks you need to watch out for.
Building backlinks should be strategic to avoid doing it the wrong way. Keep in mind that there is no easy way to build links, and not every type of link is suitable for every kind of business. 
But I am assured that this post will help you find the perfect link building strategies to implement.
1. Do-follow Links.
<a href="" rel="dofollow"> Link to something </a>
Do-follow links are links that allow Google and other search engines to point back to your website or blog when crawling the host website pointing to yours.
For example, a massive blog in your niche like NeilPatel.com decided to send a Do-follow link to an article they found on your blog; this sends a message to search engine spiders when crawling Neilpatel.com also to follow that link to your website.
Do-follow links prioritise indexing which strengthens your authority.
2. Nofollow Links
<a href="" rel="nofollow"> Link to something </a>
Nofollow links are links with a rel="nofollow" HTML tag. 
The difference between a nofollow link and a dofollow link is that the nofollow tag tells search engines to ignore that link. Nofollow links do not have any impact on search engines.
Nofollow links are used for promotional purposes, such as affiliate links and links you want the search engines to ignore.
3. Internal Links.
The following kind of link that you need to pay attention to is internal links. Internal links remain the easiest to build because you control how they are applied.
An internal link is any link from one page on your website to another page on the same website.
Let's assume you are writing an article about something on your blog and you decided to refer your users to something related to the same blog; you can choose to add a link to a reference article.
Search engines also use links to navigate your site; you can use internal links to decide how spiders crawl your website.
4. Social Media Links.
Links from social media websites like Facebook, Twitter, and Instagram do not usually count as No-follow links. Still, they can help with your online reputation, which sends a signal to Google about how authentic you are as an author, which influences your rankings in EAT(Expertise Authoritativeness and Trustworthiness).
If you don't know what Google's EAT means, I wrote a comprehensive guide on this blog on what EAT is.
You should know that Social media does not directly contribute to SEO ranking, but sharing links across social platforms increases brand exposure which adds up and influences search engine optimisation.
This means that you should share your blog post as much as possible across various social media platforms, also, don't forget to mention the link to your blog across your bio on social media.
I wrote a comprehensive guide on utilising social media platforms to grow your business; follow the links below to catch them up.
5. Guest Blogging Links.
Guest blogging is writing content for a website with a more decisive influence than yours to get juicy do-follow links.
This remains the most traditional method used in getting authentic backlinks; though It may seem foolish to spend time writing articles for other websites or blogs when you could be using that time to create content for your site, the results are worth it. Most times, you don't need to do the writing yourself; you could hire writers on your behalf.
I wrote a comprehensive guide on tapping into the world of guest posting; click the link below to get started.
6. Google My Business Link.
Google my business is a free tool created by Google to help local businesses with physical locations appear in search results and maps.
A Google My Business account is the only means you can claim ownership of your Business Profile, attain management rights to it, and unlock additional free features to increase your visibility on Google.
When creating your Google my business profile for your business, you get the privilege to add a link to your blog or website, which will, in turn, convert into a backlink that allows search engines like Google to perceive your website as genuine. You also get the opportunity to show up on relevant search results.
I wrote a comprehensive guide on this blog on how to get started with Google my Business; click the link below to get started.
7. Links From Quora.
Quora is a social question and answer platform where people come together to engage each other intellect on any topic. Globally, people visit Quora to ask questions from a community of people who answer them.
The Google search engine is in the business of showing Quora in its SERP because Quora answers questions, and this has made it rank higher than every other web page. According to Alexa, Quora ranks #345 in traffic out of all sites in the U.S.
Developing a habit of answering questions on Quora can divert traffic to your website, which leads to backlinks being built.
8. Links From YouTube.
YouTube is the second largest search engine after Google search, making it a hot spot for information. So uploading the right content on YouTube with the correct link to your blog will fetch you tons of traffic, getting you backlinks.
I wrote a comprehensive guide on starting a successful YouTube channel; follow the link below.
How To Get Genuine backlinks to your blog.
Every blogger should work to keep your backlink profile filled with high-quality, relevant and trustworthy links that are the only way to rank high on search engines.
Bad link practices such as spamming and buying backlinks from bad websites should be avoided. In this section, I will be listing out white-hat methods to help you gain those genuine-juicy backlinks to your blog.
1. Create comprehensive content on your blog.
Do you know that over 98% of internet users do not trust paid display advertising? This is more reason why so many online users are opting for privacy-based browsers worldwide to avoid the complexity of internet ads.
Over 85% of marketers report building successful brands via purpose-driven content on their blog, search engines like Google rank content in the search results with high Expertise, Authority, and Trustworthiness.
Say it or leave it; the content remains king; the only reason why no blog would link to you is that you are not writing credible content. Corresponding reasonable ranges enable you to rank on Google and, in turn, generate backlinks to your blog.
Genuine backlinks are built when you write great content on your blog; I wrote a comprehensive guide on how to write content that ranks on Google and generates backlinks on your behalf; click the link below to get started.
2. Start Guest blogging.
Guest blogging involves writing articles for a different blog to boost your brand image and gain backlinks.
Guest blogging helps content creators increase their traffic, establish a position as industry leaders and experts and boost domain authority.
Though guest blogging seems like a waste of time because you are giving so much without getting much, I must tell you that guest blogging remains one of the natural ways online to build backlinks.
I wrote a comprehensive post on how to begin your journey into guest blogging; follow the link below to get started.
3. Participate in Podcasts.
A podcast is a digital audio file that can be listened to and made available on the internet for download.
Podcasting is a popular way to create engaging content that other sites may likely find link-worthy. You can either create your podcast or feature in an existing or popular podcast to increase your reach.
Link building will happen when you take on podcasting; you can supercharge the results of your link-building by offering podcast episodes as link targets.
I wrote a comprehensive guide on how to get started with creating your podcast.
4. Participate in Different Forums.
Forums are social communities created for like-minded people to share their ideas and thoughts and grow their brands.
If you are new in the online world, your chances of getting the visibility you desire on your blog are very slim and can take so long; hence, conversing and participating in online forums can help boost the growth of your business.
All you need do to get backlinks from Forums like Reddit, Nairaland, Medium is to post on those forums as often as possible.
Posting on Forums helps you create quality backlinks for your website by adding links through a signature at every post you make.
Most forums are niche-based, while the majority are designed to accommodate all topics. Therefore, you should sign up for a platform that can accommodate the issue you are talking about; one I recommend for bloggers is Medium, Reddit, and Nairaland.
I wrote a comprehensive guide on how to get started with Medium; click the link below to get started.
5. Answer Questions on Quora.
Quora is a question and answer platform created to accommodate questions of all kinds answered by brilliant minds across the internet.
Links from Quora are not do-Follow, so they do not directly impact your SEO but could help create enough awareness, eventually driving traffic to your website.
It's easier to drive traffic from Quora to your website when your content goes viral when you answer the right questions and give the correct answers.
The upvotes could propel you to the top of the answers section, and you could be seeing hundreds, if not thousands, of Quora views, which leads them to visit your website in their millions and gets you the backlinks your websites need to rank.
6. Use Haro.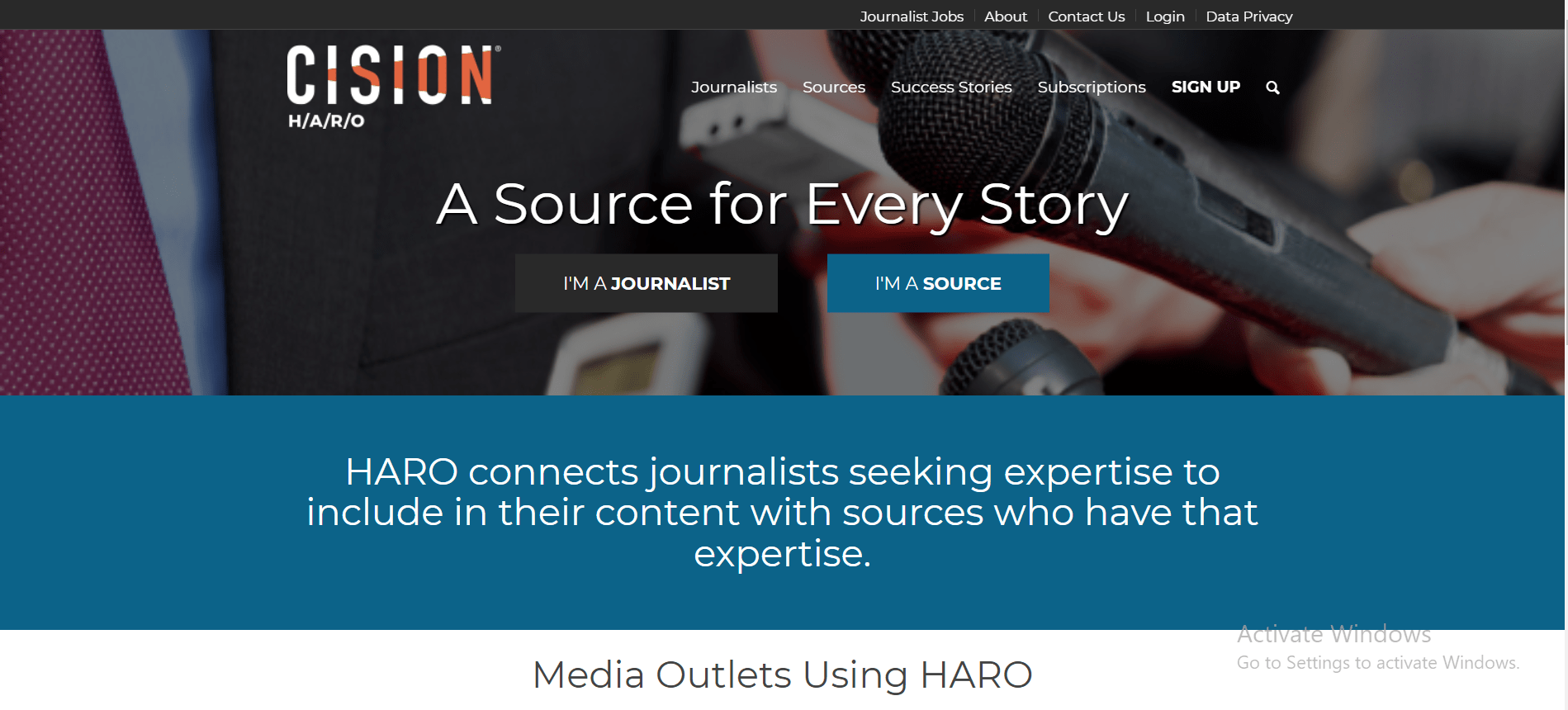 HARO stands for Help A Reporter Out. It is a popular online service for journalists to gather feedback from the public.
Haro provides journalists with a robust database of sources for upcoming stories and daily opportunities for credible sources to secure global media coverage.
This feedback is published in top journals worldwide, which generate backlinks to the source website.
7. Create great infographics.
An infographic is a visual representation of information or data. Infographics come formatted in an image; the only difference is that it carries more readable information than the regular image.
For example, you can describe a "how-to" content using huge infographics, adding all the texts and illustrations in a sky scrapper image. Infographics generate backlinks because of how relevant and informative they are.
8. Use Google Search Console Reports to Get Backlinks.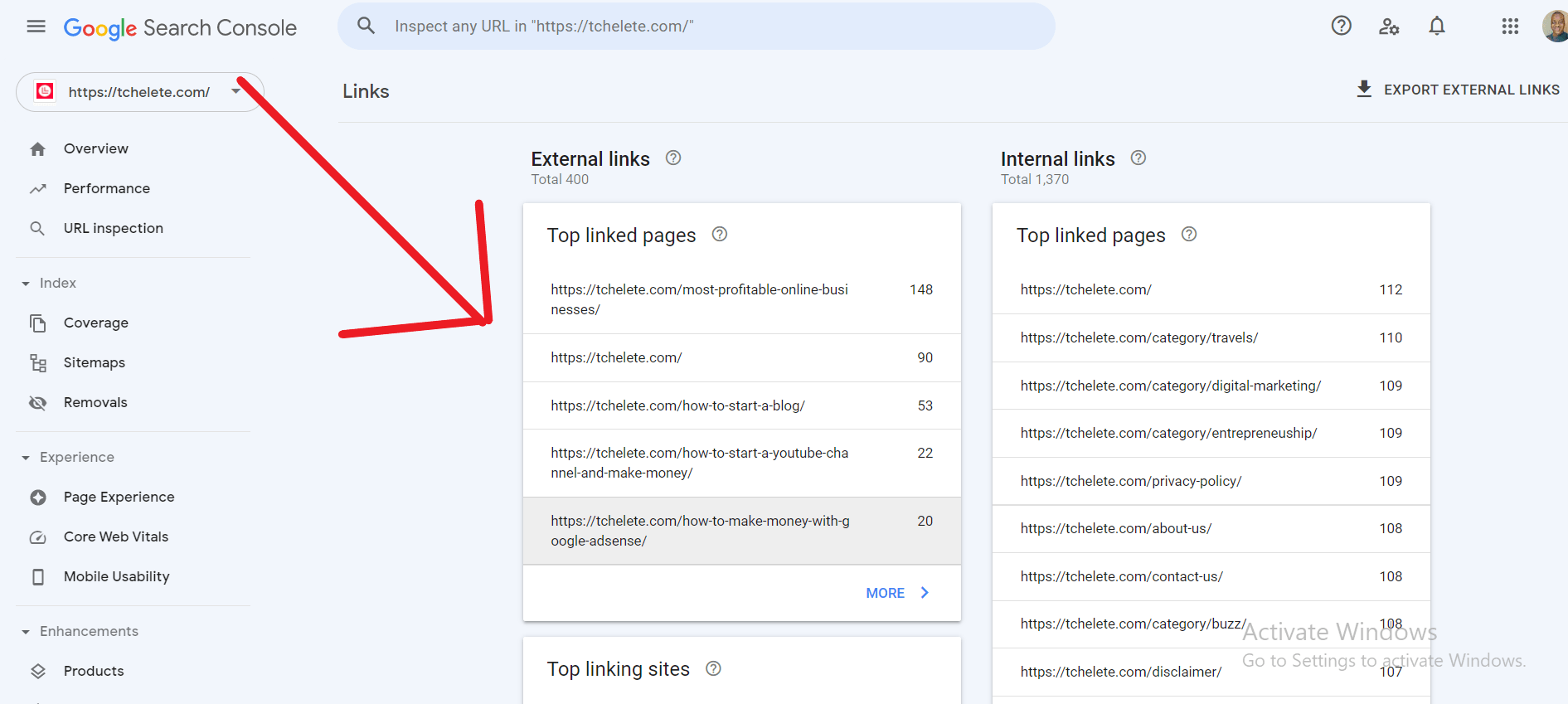 Google Search Console is a free SEO tool developed by Google to allow bloggers or anyone with a website to monitor how their website is being positioned on Google.
The Google search console provides information about your referring domains, mobile site performance, rich search results, and highest-traffic queries and pages.
The Google search console offers so much information, but in building backlinks, you will not make use of it all.
Among them is the Top linking sites report. These are websites that linked back to your site in the past.
You can go through the backlinks and see what type of content they liked and give you a backlink. Once you have this information, you can reach out to these websites and ask for more collaborations.